Mass spectrometric analysis reveals O-methylation of pyruvate kinase from pancreatic cancer cells
Abstract
Pyruvate kinase (PK) is an important glycolytic enzyme that catalyzes the dephosphorylation of phosphoenolpyruvate to pyruvate. Human PK isozyme M2 (PKM2), a splice variant of M1, is overexpressed in many cancer cells, and PKM2 has been investigated as a potential tumor marker for diagnostic assays and as a target for cancer therapy. To facilitate identification and characterization of PK, we studied the enzyme from pancreatic cancer cells and normal pancreatic duct cells by electrophoresis and mass spectrometry, and identified multiple O-methylated residues from PK. These findings advance our knowledge of the biochemical properties of PK and will be important in understanding its biological function in cells.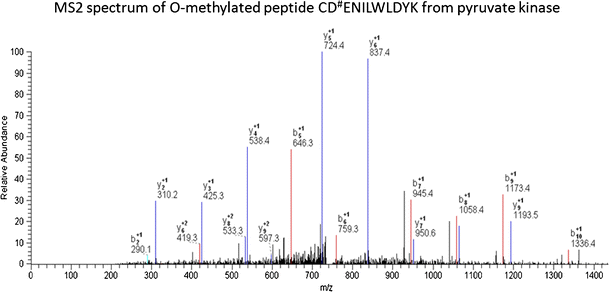 Keywords
PKM2 
Mass spectrometry 
Pancreatic cancer 
Metabolism 
Methylation 
Abbreviations
LC–MS–MS

Liquid chromatography–coupled tandem mass spectrometry

PK

Pyruvate kinase

PKM2

Pyruvate kinase isozyme M2
Notes
Acknowledgments
This work was supported in part by grants from the Fondazione San Paolo (Special Project Oncology), the European Community "Seventh Framework Program European Pancreatic Cancer-Tumor-Microenvironment Network (EPC-TM-Net, no. 256974)", the Associazione Italiana Ricerca sul Cancro (AIRC) 5 x 1000 (no. 12182) and IG (nos 5548 and 11643), the Ministero della Salute "Progetto Integrato Oncologia", Regione Piemonte "Ricerca Industriale e Sviluppo Precompetitivo (BIOPRO and ONCOPROT)", Ricerca Industriale "Converging Technologies" (BIOTHER), Progetti strategici su tematiche di interesse regionale o sovra regionale (IMMONC), Ricerca Sanitaria Finalizzata, Ricerca Sanitaria Applicata, Ministero dell'Istruzione e della Ricerca (MIUR), Progetti di Rilevante Interesse Nazionale (PRIN 2009), and University of Turin-Progetti di Ateneo 2011 "Mechanisms of REsistance to anti-angiogenesis regimens THErapy (grant Rethe-ORTO11RKTW)". MC is recipient of a fellowship from the Fondazione Italiana Ricerca sul Cancro (FIRC). We also thank the support from the College of Science at George Mason University.
Copyright information
© Springer-Verlag Berlin Heidelberg 2013