Sensitive, robust and automated protein analysis of cell differentiation and of primary human blood cells by intact cell MALDI mass spectrometry biotyping
Abstract
Intact cell mass spectrometry biotyping, a collection of methods for classification of cells based on mass spectrometric fingerprints, is an established method in clinical and environmental microbiology. It has recently also been applied to the investigation of mammalian cells including primary blood cells and cultured cells. However, few automated procedures suitable for higher throughput and little analytical standardization of mammalian biotyping approaches have been reported so far. Here, we present a novel automated method that robustly classifies as few as 250 cells per spot. Automatically acquired cell fingerprints from cultured and primary cells show high technical (R > 0.95) and biological reproducibility (R = 0.83–0.96), with a median peak variance below 12 %. Ion suppression is shown to be a major concern at higher cell numbers and needs to be carefully monitored. We demonstrate that intact cell mass spectrometric signatures of different cell lines start to resemble each other at higher trifluoroacetic acid (TFA) concentrations and that therefore low concentrations of TFA in the matrix solution are preferred. We show that in vitro differentiation of HL-60 cells into a neutrophil-like phenotype can be rapidly and robustly monitored. We utilize the method for global analysis of person-to-person differences in mass spectral signatures of intact polymorphonuclear neutrophils and monocytes obtained from healthy volunteers. Our data suggest that automated MALDI mass spectrometry cell biotyping could be a useful complementary approach in clinical cell analysis.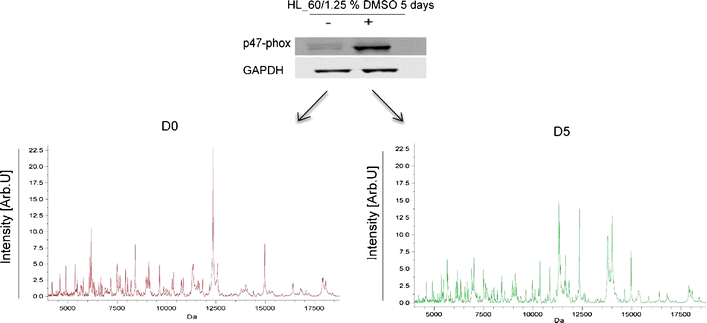 Keywords
Intact cell mass spectrometry 
MALDI 
Mammalian cell biotyping 
Cell differentiation 
Primary blood cells 
Notes
Acknowledgments
This work was supported by the Baden-Württemberg Ministry of Science and Culture (INST 874/2-1 LAGG to C.H.) and by a joint grant ("ZAFH ABIMAS") from ZO IV by the Landesstiftung Baden-Württemberg and the Europäischer Fonds für regionale Entwicklung (EFRE; to C.H.). We are grateful to Dimitri Gerhardt for exploring established IC-MALDI MS methods and to Annette Hallama for generating the p47phox antiserum. The GAPDH antibody was kindly provided by Mathias Hafner. The authors like to thank Mikhail Savitski for helpful discussions.