Detection and characterization of cholesteryl ester hydroperoxides in oxidized LDL and oxidized HDL by use of an Orbitrap mass spectrometer
Abstract
Oxidation of cholesteryl esters in lipoproteins by reactive oxygen species yields cholesteryl ester hydroperoxides (CEOOH). In this study, we developed a novel method for identification and characterization of CEOOH molecules in human lipoproteins by use of reversed-phase liquid chromatography with an hybrid linear ion trap–Orbitrap mass spectrometer (LC–LTQ Orbitrap). Electrospray ionization tandem mass spectrometric analysis was performed in both positive-ion and negative-ion modes. Identification of CEOOH molecules was completed by use of high-mass-accuracy (MA) mass spectrometric data obtained by using the spectrometer in Fourier-transform (FT) mode. Native low-density lipoproteins (nLDL) and native high-density lipoproteins (nHDL) from a healthy donor were oxidized by CuSO4, furnishing oxidized LDL (oxLDL) and oxidized HDL (oxHDL). No CEOOH molecules were detected in the nLDL and the nHDL, whereas six CEOOH molecules were detected in the oxLDL and the oxHDL. In positive-ion mode, CEOOH was detected as [M + NH4]+ and [M + Na]+ ions. In negative-ion mode, CEOOH was detected as [M + CH3COO]− ions. CEOOH were more easily ionized in positive-ion mode than in negative-ion mode. The LC–LTQ Orbitrap method was applied to human plasma and six species of CEOOH were detected. The limit of detection was 0.1 pmol (S/N = 5:1) for synthesized CEOOH.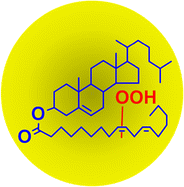 Keywords
Cholesteryl ester hydroperoxide 
Orbitrap 
Molecular species 
Liquid chromatography–electrospray ionization mass spectrometry 
LC–MS 
Abbreviations
CEOOH

Cholesteryl ester hydroperoxide(s)

Ch18:1-OOH

Cholesteryl oleate monohydroperoxide(s)

Ch18:2-OOH

Cholesteryl linoleate monohydroperoxide(s)

Ch18:3-OOH

Cholesteryl linolenate monohydroperoxide(s)

Ch20:4-OOH

Cholesteryl arachidonate monohydroperoxide(s)

Ch20:5-OOH

Cholesteryl eicosapentaenate monohydroperoxide(s)

Ch22:6-OOH

Cholesteryl docosahexaenate monohydroperoxide(s)

ESI–MS

Electrospray ionization mass spectrometry

FFA-OOH

Free fatty hydroperoxide(s)

HPLC

High-performance liquid chromatography

LC–MS

Liquid chromatography–mass spectrometry

LOOH

Lipid hydroperoxides

MA

Mass accuracy

nHDL

Native high-density lipoproteins

nLDL

Native low-density lipoproteins

oxHDL

Oxidized high-density lipoproteins

oxLDL

Oxidized low-density lipoproteins

PBS

Phosphate-buffered saline

RT

Retention time

TIC

Total ion current chromatogram
Notes
Acknowledgments
This study was supported in part by Sapporo Biocluster "Bio-S", The Regional Innovation Cluster Program, The Ministry of Education, Culture, Sports, Science and Technology, Japan, and by a grant-in-Aid from the Japan Society for the Promotion of Science, Japan.