Hyphenated techniques as tools for speciation analysis of metal-based pharmaceuticals: developments and applications
Abstract
Method development and applications of hyphenated techniques as tools for speciation analysis of metal-based pharmaceuticals are summarized within this review. Advantages and limitations of the separation modes—high-performance liquid chromatography (HPLC), capillary electrophoresis (CE), and gas chromatography (GC)—as well as the detection modes—inductively coupled plasma–mass spectrometry (ICP-MS) and electrospray ionization–mass spectrometry (ESI-MS)—are discussed. ICP-MS detection is found to be advantageous for the quantification of drugs containing metals and other heteroatoms. The species-independent sensitivity and multielement capabilities of ICP-MS allow it to be used for quantification even when species-specific standards are not available, as well as to determine the stoichiometry in metallodrug–biomolecule interactions. Molecular information that is totally destroyed when ICP is applied as ionization source and is therefore not obtainable via ICP-MS detection can be accessed by the complementary technique of ESI-MS. Speciation analysis combining both elemental and molecular information is therefore a powerful tool for the analysis of metal-based pharmaceuticals and their metabolites in body fluids and other relevant matrices.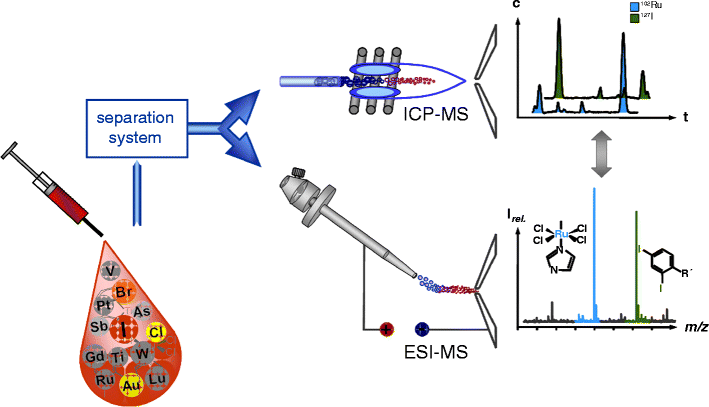 Keywords
Speciation analysis 
Hyphenated techniques 
Metal-based pharmaceuticals 
Metallodrugs 
Complementary information 
ICP-MS 
ESI-MS 
Abbreviations
2D

Two-dimensional

AAS

Atomic absorption spectroscopy

AFS

Atomic fluorescence spectroscopy

AMP

Adenosine monophosphate

APL

Acute promyelocytic leukemia

ATO

Arsenic trioxide

Auranofin

[Tetra-O-acetyl-β-D-(glucopyranosyl)-thio](triethylphosphine)gold(I)]

BEOV

bis(maltolato)oxovanadium(IV)

CE

Capillary electrophoresis

(Cu-)DTPA

Diethylenetriaminepentaacetic acid (copper complex)

DNA

Deoxyribonucleic acid

DRC

Dynamic reaction cell

ECD

Electron capture dissociation

EOF

Electroosmotic flow

ESI-MS

Electrospray ionization–mass spectrometry

(Fe-)DTPA

Diethylenetriaminepentaacetic acid (iron complex)

GC

Gas chromatography

Gd-BOPTA

Gadobenate dimeglumine (Multihance)

Gd-BT-DO3A

Gadobutrol (Gadovist)

Gd-DOTA

Gadoteric acid (Dotarem)

Gd-DTPA

Gadopentetate dimeglumine (Magnevist)

Gd-DTPA-BMA

Gadodiamide (Omniscan)

GMP

Guanosine monophosphate

GSH

Glutathione

Hb

Hemoglobin

HILIC

Hydrophilic interaction chromatography

HIV

Human immunodeficiency virus

HR

High resolution

HTLC

High-temperature liquid chromatography

IC

Ion chromatography

ICP-AES

Inductively coupled plasma–atomic emission spectroscopy

ICP-MS

Inductively coupled plasma–mass spectrometry

ICP-OES

Inductively coupled plasma–optical emission spectrometry

IUPAC

International Union of Pure and Applied Chemistry

KP1019

Indazolium [bis-indazoletetrachlororuthenate(III)]

KP1339

Sodium [bis-indazoletetrachlororuthenate(III)]

LOD

Limit of detection

LOQ

Limit of quantification

MGd

Motexafin gadolinium

MLu

Motexafin lutetium

MRI

Magnetic resonance imaging

NAMI-A

Imidazolium [trans-imidazolemethylsulfoxidetetrachlororuthenate(III)]

NSF

Nephrogenic systemic fibrosis

(RP-)HPLC

(Reverse-phase) high-performance liquid chromatography

SEC

Size-exclusion chromatography

SPE

Solid-phase extraction

SRIXE

Synchrotron radiation-induced X-ray emission

TLC

Thin-layer chromatography

UV/Vis

Ultraviolet/visible (spectroscopy)

X-ray

X-radiation

(Zn-)DTPA

Diethylenetriaminepentaacetic acid (zinc complex)
Notes
Acknowledgment
Prof. Dr. U. Karst is acknowledged for supporting this work.