Multiplexed immunoassay to detect anabolic androgenic steroids in human serum
Abstract
A multianalyte enzyme-linked immunosorbent assay (ELISA) has been developed for the simultaneous detection of anabolic androgenic steroids (AAS) in human serum. The multiplexed method was developed according to a planar strategy in which the analytes are identified by their location in the microtiter plate. In the immunochemical procedure established here, human serum samples are mixed with a cocktail of antibodies and added to the distinct sections of a microplate biofunctionalized with different haptenized biomolecules. The cocktail of antibodies consists of a mixture of polyclonal antibodies raised against stanozolol (ST), boldenone (B), and tetrahydrogestrinone (THG). The whole immunochemical analytical procedure takes around 2 h including sample preparation, and many samples can be processed simultaneously to screen for the presence of the three AAS in a single run. Using this ELISA, ST, B, and THG can be detected and quantified individually. When used as a screening method, due to the cross-reactivity profiles of the immunoreagents used, the presence of up to 11 AAS can be detected simultaneously. The detectabilities achieved by this method in human serum are below the MRPLs (minimum required performance limits) proposed by WADA (World Anti-Doping Agency) and reference laboratories of the European Community.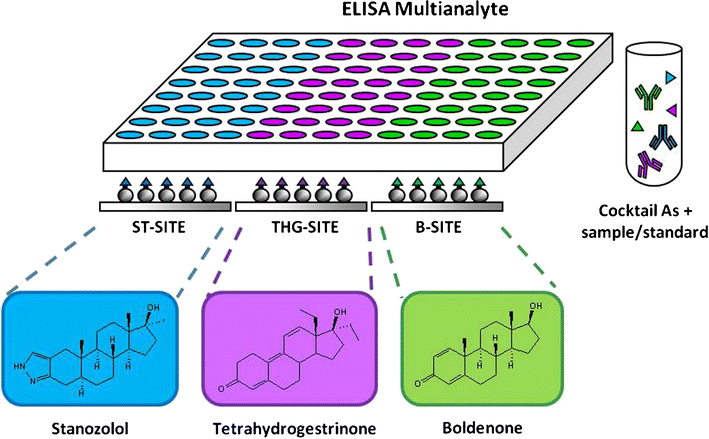 Keywords
Anabolic-androgenic steroids (AAS) 
ELISA 
Multianalyte 
Human serum 
Notes
Acknowledgments
This work has been supported by the Ministry of Science and Innovation (MAT2011-29335-C03-01). The AMR group is a consolidated research group (Grup de Recerca) of the Generalitat de Catalunya and has support from the Departament d'Universitats, Recerca i Societat de la Informació la Generalitat de Catalunya (expedient 2009 SGR 1343). CIBER-BBN is an initiative funded by the VI National R&D&i Plan 2008–2011, Iniciativa Ingenio 2010, Consolider Program, CIBER Actions, and financed by the Instituto de Salud Carlos III with assistance from the European Regional Development Fund. Núria Tort has a FI_B fellowship from the AGAUR (Agència de Gestió d'Ajuts Universitaris i de Recerca) of the Government of Catalonia (Generalitat de Catalunya).