Low–medium resolution HLA-DQ2/DQ8 typing for coeliac disease predisposition analysis by colorimetric assay
Abstract
Coeliac disease is an inflammation of the small intestine, occurring in genetically susceptible individuals triggered by the ingestion of gluten. Human Leukocyte Antigens (HLA) DQ2 and DQ8 gene have been identified as key genetic factors in coeliac disease as they are presented in almost 100 % of the patients. These genes are encoded by the combination of certain alleles in the DQA and DQB region of chromosome 6. Specifically, DQA1*05:01 and DQB1*02:01 alleles for serologically defined leukocyte antigen DQ2 cis, DQA1*05:05 and DQB1*02:02 for DQ2 trans and DQA1*03:01 and DQB1*03:02 alleles for the DQ8. Specific identification of these alleles is a challenge due to the high number of alleles that have been identified so far: 46 in the DQA region and 160 in the DQB region (as of IMGT/HLA Database 10/2011 release). In the reported work, the development of a multiplex colorimetric assay for the low to medium HLA typing of the DQ2 and DQ8 genes is presented. The optimisation of probe design and assay conditions, performed by both surface plasmon resonance and enzyme-linked oligonucleotide assay, are reported. Finally, the performances of the developed typing platform were validated by the analysis of real patient samples and HLA typing, compared with those obtained using hospital based typing technology and an excellent correlation obtained.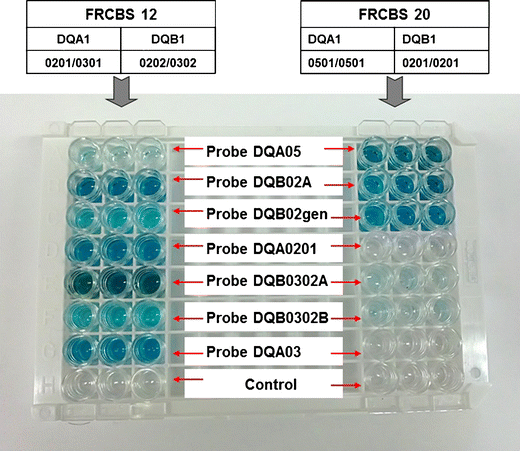 Keywords
Coeliac disease 
HLA typing 
Sequence specific oligonucleotide probes 
SPR 
ELONA 
Notes
Acknowledgements
This work was carried out with the financial support from the Commission of the European Communities, specific RDT program "Coeliac Disease Management Monitoring and Diagnosis using Biosensors and an Integrated Chip System, CD-MEDICs, FP7-2007-ICT-1-216031". V. Beni acknowledges the European Union's Seventh Framework Program (FP7/2007-2013) under grant agreement no. PIGF-GA-2008-220928 for financial support. H. Joda thanks Universitst Rovira i Virgili for the doctoral scholarship. We thank Dr. Markku Heikkinen, MD, PhD (Kuopio University Hospital, Kuopio, Finland) for blood samples of Finnish celiac disease patients and Dr. Taina Jaatinen, PhD, Dr. Katri Haimila, PhD and Juha Peräsaari, MS (Finnish Red Cross Blood Service, Helsinki, Finland) for HLA tissue typing expertise.