Monitoring induced gene expression of single cells in a multilayer microchip
Abstract
We present a microfluidic system that facilitates long-term measurements of single cell response to external stimuli. The difficulty of addressing cells individually was overcome by using a two-layer microfluidic device. The top layer is designed for trapping and culturing of cells while the bottom layer is employed for supplying chemical compounds that can be transported towards the cells in defined concentrations and temporal sequences. A porous polyester membrane that supports transport and diffusion of compounds from below separates the microchannels of both layers. The performance and potential of the device are demonstrated using human embryonic kidney cells (HEK293) transfected with an inducible gene expression system. Expression of a fluorescent protein (ZsGreen1-DR) is observed while varying the concentration and exposure time of the inducer tetracycline. The study reveals the heterogeneous response of the cells as well as average responses of tens of cells that are analyzed in parallel. The microfluidic platform enables systematic studies under defined conditions and is a valuable tool for general single cell studies to obtain insights into mechanisms and kinetics that are not accessible by conventional macroscopic methods.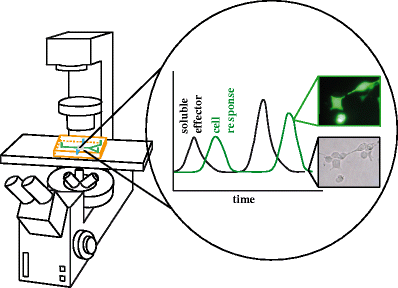 Keywords
Single cell analysis 
Microfluidics 
Multilayer soft lithography 
Fluorescent protein 
Gene expression 
Notes
Acknowledgements
We thank B. Cvetković and P. Kuhn for the fabrication of the master forms and SEM images in the FIRST facility at ETH, C. Bärtschi for building the bubble traps, F. Kurth and K. Eyer for helpful discussions, T. Robinson for proofreading the script, and J-C. Leroux for cell storage. The experiments were performed at the light microscopy centre (LMC), ETH. Furthermore the financial support from the European Research Council (ERC Starting Grant No. 203428–2, nμ-LIPIDS) and the Novartis Doctoral Fellowship Program 2010 (to C. Hanke) are gratefully acknowledged.