Raman-spectroscopy-based noninvasive microanalysis of native lignin structure
Abstract
A new robust, noninvasive, Raman microspectroscopic method is introduced to analyze the structure of native lignin. Lignin spectra of poplar, Arabidopsis, and Miscanthus were recovered and structural differences were unambiguously detected. Compositional analysis of 4-coumarate-CoA ligase suppressed transgenic poplar showed that the syringyl-to-guaiacyl ratio decreased by 35% upon the mutation. A cell-specific compositional analysis of basal stems of Arabidopsis showed similar distributions of S and G monolignols in xylary fiber cells and interfascicular cells.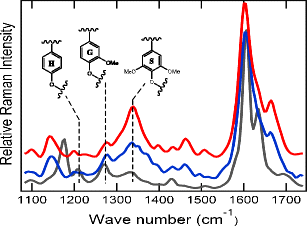 Keywords
Lignin 
Entropy minimization 
Chemometrics 
Cell wall 
Monolignol 
Raman 
Notes
Acknowledgements
We thank Andrew Carroll for providing Arabidopsis samples, Purbasha Sarkar for providing Miscanthus samples, and Lan Sun and Stefan Bauer for assistance with extracting lignin from Miscanthus. This work was supported by the Energy Biosciences Institute, University of California, Berkeley, CA, USA. Work at the Molecular Foundry was supported by the Office of Science, Office of Basic Energy Sciences, of the US Department of Energy under contract no. DE-AC02-05CH1123. The work on transgenic Populus trichocarpa was supported by a grant from the National Research Initiative of the USDA CSREES #2006-35504-17233 to V.L.C.
Copyright information
© Springer-Verlag (outside the USA) 2011