Abstract
Several techniques were evaluated for the establishment of reliable water/moisture content of single-wall carbon nanotubes. Karl Fischer titration (KF) provides a direct measure of the water content and was used for benchmarking against results obtained by conventional oven drying, desiccation over anhydrous magnesium perchlorate as well as by thermogravimetry and prompt gamma-ray activation analysis. Agreement amongst results was satisfactory with the exception of thermogravimetry, although care must be taken with oven drying as it is possible to register mass gain after an initial moisture loss if prolonged drying time or elevated temperatures (120 °C) are used. Thermogravimetric data were precise but a bias was evident that could be accounted for by considering the non-selective loss of mass as volatile carbonaceous components. Simple drying over anhydrous magnesium perchlorate for a minimum period of 8–10 days is recommended if KF is not available for this measurement.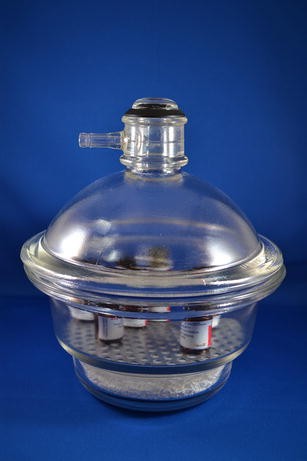 This is a preview of subscription content, log in to check access.
Access options
Buy single article
Instant access to the full article PDF.
US$ 39.95
Price includes VAT for USA
Subscribe to journal
Immediate online access to all issues from 2019. Subscription will auto renew annually.
US$ 157
This is the net price. Taxes to be calculated in checkout.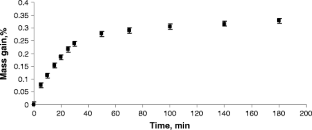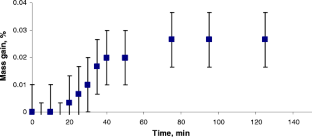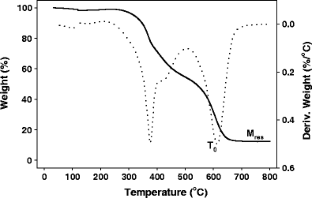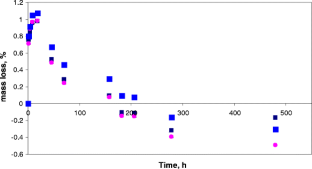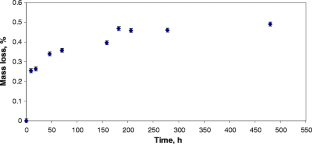 References
1.

ISO TC 229 (2008) Nanotechnologies. ISO/TS 27687. Available at http://www.iso.org/iso/iso_technical_committee?commid=381983

2.

Hassellov M, Readman JW, Ranville JF, Tiede K (2008) Ecotoxicol 17:344–361

3.

Lead JR (2010) Environ Chem 7:1–2

5.

Iijima S (1991) Nat Lond 354:56–58

6.

Zeisler R, Paul RL, Oflaz Spatz R, Yu LL, Mann JL, Kelly WR, Lang BE, Leigh SD, Fagan J (2011) Anal Bioanal Chem 399:509–517

8.

Freiman S, Hooker S, Migler K, Arepalli S (2008) NIST special publication no. 960-19, U.S. Department of Commerce

9.

Decker JE, Hight Walker AR, Bosnick K, Clifford CA, Dai L, Fagan J, Hooker S, Jakubek ZJ, Kingston C, Makar J, Mansfield E, Postek MT, Simard B, Sturgeon RE, Wise S, Vladar AE, Yang L, Zeisler R (2009) Metrologia 46:682–692

10.

Belin T, Epron F (2005) Mater Sci Eng B119:105–118

11.

Ruckold S, Grobecker KH, Isengard H-D (2001) Fresenius J Anal Chem 370:189–193

12.

Naguib N, Ye H, Gogotsi Y, Yazicioglu AG, Megaridis CM, Yoshimura M (2004) Nano Lett 4:2223–2243

13.

Strioloa A, Chialvo AA, Cummings PT, Gubbins KE (2006) J Chem Phys 124:074710–074711

14.

Wang H-J, Xi X-K, Kleinhammes A, Wu Y (2008) Science 322:80–83

15.

Ellison MD, Good AP, Kinnaman CS, Padgett NE (2005) J Phys Chem B 109:10640

16.

Vassileva E, Quetel CR (2008) Food Chem 106:1485–1490

17.

Yazgan S, Bernreuther A, Ulberth F, Isengard H-D (2006) Food Chem 96:411–417

18.

Mann JL, Kelly WR, MacDonald BS (2002) Anal Chem 74:3585–3591

19.

Ruckold S, Grobecker KH, Isengard H-D (2001) Food Control 12:401–407

20.

Ruchold S, Grobecker KH, Isengard H-D (2001) Fresenius J Anal Chem 370:189–193

21.

American Society for Testing and Materials (D3173-03) (2008) Standard test method for moisture in the analysis sample of coal and coke". ASTM International, Barr Harbor, PA

22.

International Organization for Standardization, ISO 579:1990(E), "Coke—determination of moisture content", Geneva, 1999

23.

Isengard H-D (2001) Fresenius J Anal Chem 370:189–193

24.

Kim KS, Cota-Sanchez G, Kingston CT, Imris M, Simard B, Soucy G (2007) J Phys D 40:2375–2387

25.

Resasco DE, Alvarez WE, Pompeo F, Balzano L, Herrera JE, Kitiyanan B, Borgna AJ (2002) Nanopart Res 4:131–136

26.

Schmitt K, Isengard H-D (1998) Fresenius J Anal Chem 360:465–469

27.

Paul RL, Lindstrom RM, Heald AE (1997) J Radioanal Nucl Chem 215:63–68

28.

Zeisler R, Oflaz R, Paul RL, Fagan JA (2011) J Radioanal Nucl Chem, doi:10.1007/s10967-011-1290-9

29.

Isengard H-D (1995) Trends Food Sci Technol 6:155–162

30.

Arepalli S, Nikolaev P, Gorelik O, Hadjiev VG, Holmes W, Files B, Yowell L (2004) Carbon 42:1783–1791
Acknowledgments
The authors thank G. Robertson of NRCC's Institute for Chemical Process and Environmental Technology (ICPET) for making available the TGA-FT-IR apparatus used in this study, F. Toll (ICPET) for performing the carbon content measurements and P. Rasmussen (Health Canada) for measurements of the SWCNT agglomerate particle size.
Additional information
Published in the 10th Anniversary Issue.
About this article
Cite this article
Sturgeon, R.E., Lam, J.W., Windust, A. et al. Determination of moisture content of single-wall carbon nanotubes. Anal Bioanal Chem 402, 429–438 (2012). https://doi.org/10.1007/s00216-011-5509-y
Received:

Revised:

Accepted:

Published:

Issue Date:
Keywords
Single-wall carbon nanotubes

Moisture determination

Oven drying

Desiccator drying

Karl Fischer titration

Prompt gamma-ray activation analysis