Provenance studies on Dead Sea scrolls parchment by means of quantitative micro-XRF
Abstract
In this study, we address the question of the provenance and origin of the Dead Sea Scrolls manuscripts. A characteristic low ratio of chlorine to bromine, corresponding to that of the Dead Sea water, may serve as an indicator for local production. For this aim we developed a non-destructive procedure to determine the Cl/Br ratio in the parchment of these manuscripts. Micro-X-ray fluorescence (μ-XRF) measurements of a large number of parchment and leather fragments from the Dead Sea Scrolls were analyzed with a routine we developed based on fundamental parameter quantification. This routine takes into account the absorption of the collagen matrix and the influence of the different sample thicknesses. To calculate the representative Cl/Br ratio for each fragment, we investigated the lateral homogeneity and determined the total mass deposition using the intensity of the inelastically scattered, characteristic tube radiation. The distribution of the Cl/Br ratios thus obtained from the μ-XRF measurements make it possible to distinguish fragments whose origin lies within the Dead Sea region from those produced in other locations.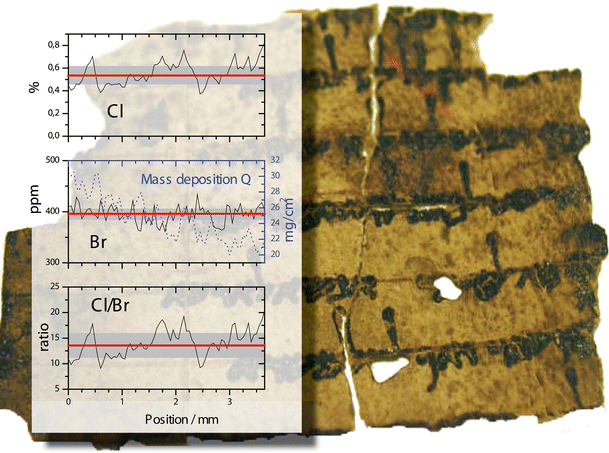 Keywords
Fundamental parameter quantification 
Samples of intermediated thickness 
Chlorine to bromine ratio 
Scatter peak evaluation 
Dark matrix 
Inorganic traces 
Notes
Acknowledgments
The Dead Sea Scrolls Research Project is funded by the Stiftung Preussischer Kulturbesitz. We are grateful to J. Hodgson from the John Rylands University Library and A. Roitman from the Shrine of the Book for permission to study the fragments, to I. Lewitt, G. Benett, and M. Maggen for the documentation on the scrolls, to R. Franke for preparation of the sample holders, to E. Labsch for the CHN analysis of the fragments, to G. Weinberg for the ESEM-EDX analyses, to O. Yoffe for the analysis of the DS water, and to A. Gregor for help with the measurements. We would also like to thank M. Broshi, G. Brooke, E. Tov, M. Stone, D. Stoekl, L. Halicz, and I. Gavrieli for discussions and suggestions of the relevant literature, B. Gillo and S. Pfann for the field trips to the find sites, and M. Binetti for the revision of the manuscript.