Shaping and exploring the micro- and nanoworld using bipolar electrochemistry
Abstract
Bipolar electrochemistry is a technique with a rather young history in the field of analytical chemistry. Being based on the polarization of a conducting object which is exposed to an external electric field, it allowed recently the development of new methods for controlled surface modification at the micro- and nanoscale and very original analytical applications. Using bipolar electrodes, analyte separation and detection becomes possible based on miniaturized systems. Moreover, the modified objects that can be created with bipolar electrochemistry could find applications as key components for detection systems. In this contribution, the principles of bipolar electrochemistry will be reviewed, as well as recent developments that focus on the modification of objects at the nano- and microscale and their potential application in miniaturized analytical systems.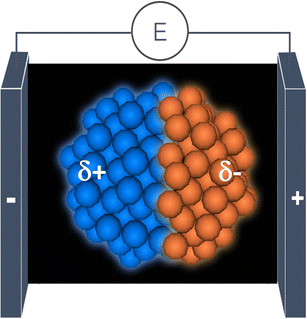 Keywords
Bipolar electrochemistry 
Contactless electrodeposition 
Contactless detection 
Electrogenerated electrochemiluminescence 
Janus particles 
Abbreviations
BE

Bipolar electrode

BODIPY

Boron dipyrromethene

CABED

Capillary-assisted bipolar electrodeposition

CE

Capillary electrophoresis

CLEF

Conctactless electrofunctionalization

CNF

Carbon nanofiber

CNP

Carbon nanopipe

CNT

Carbon nanotube

CT

Carbon tube

ECL

Electrochemiluminescence

EF

Electric field

EOF

Electroosmotic flow

ESEM

Environmental scanning electron microscope

HRP

Horseradish peroxidase

MWCNT

Multiwall carbon nanotube

PDMS

Polydimethylsiloxane

PPY

Polypyrrole

SAM

Self-assembled monolayer

SCBE

Spatially coupled bipolar electrochemistry

TEM

Transmission electron microscope

TMB

Tetramethylbenzidine

TPA

Tripropylamine
Notes
Acknowledgments
This work is part of the CUBIHOLE Project funded by the European NanoSci-Era+ action under contract ANR-08-NSCI-008-01. We would like to thank the authors of the publications that have been used for the figures.