A mussel tissue certified reference material for multiple phycotoxins. Part 1: design and preparation
Abstract
The development of multi-analyte methods for lipophilic shellfish toxins based on liquid chromatography–mass spectrometry permits rapid screening and analysis of samples for a wide variety of toxins in a single run. Validated methods and appropriate certified reference materials (CRMs) are required to ensure accuracy of results. CRMs are essential for accurate instrument calibration, for assessing the complete analytical method from sample extraction to data analysis and for verifying trueness. However, CRMs have hitherto only been available for single toxin groups. Production of a CRM containing six major toxin groups was achieved through an international collaboration. Preparation of this material, CRM-FDMT1, drew on information from earlier studies as well as improved methods for isolation of toxins, handling bulk tissues and production of reference materials. Previous investigations of stabilisation techniques indicated freeze-drying to be a suitable procedure for preparation of shellfish toxin reference materials and applicable to a wide range of toxins. CRM-FDMT1 was initially prepared as a bulk wet tissue homogenate containing domoic acid, okadaic acid, dinophysistoxins, azaspiracids, pectenotoxin-2, yessotoxin and 13-desmethylspirolide C. The homogenate was then freeze-dried, milled and bottled in aliquots suitable for distribution and analysis. The moisture content and particle size distribution were measured, and determined to be appropriate. A preliminary toxin analysis of the final material showed a comprehensive toxin profile.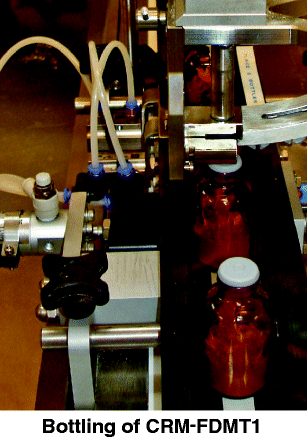 Keywords
CRM-FDMT1 
Certified reference material 
Shellfish toxins 
Phycotoxins 
Accuracy 
Precision 
Liquid chromatography–mass spectrometry 
Notes
Acknowledgements
The staff of the processing sector at IRMM, Jean Charoud-Got, Andrea Bau, Marie-France Tumba-Tshilumba, Paul De Vos and Albert Oostra are gratefully acknowledged for their technical support as well as Hendrik Emons (also at IRMM) for facilitating and supporting this collaboration. The help of the Biotoxin Chemistry team at the Marine Institute is appreciated. We thank Morten Sandvik of the Norwegian Veterinary Institute and Allan D. Hawkes of AgResearch Ltd. for assistance with supply of PTX2 and YTX, respectively, and Jeremy Melanson of NRC for reviewing this manuscript.
This study was supported by the ASTOX project (funded by The Marine Institute and National Development Plan (NDP; ST/02/02, 2003–2006)), by the BIOTOX project (partly funded by the European Commission, through Sixth Framework Programme contract no. 514074, priority Food Quality and Safety), by the Norwegian Research Council grant 139593/140, by the New Zealand Foundation for Research, Science and Technology (FRST), by the International Investment Opportunities Fund (IIOF contract number C10X0406) and by a FRST Post-Doctoral Fellowship (contract number AGRX0402). The routine shellfish toxin monitoring program in Ireland is funded by the Irish government.
This is NRCC publication number 51794.
Copyright information
© Her Majesty the Queen in Right of Canada 2011