Surface-enhanced fluorescence and surface-enhanced Raman scattering of push–pull molecules: sulfur-functionalized 4-amino-7-nitrobenzofurazan adsorbed on Ag and Au nanostructured substrates
Abstract
We investigated the chemisorption of self-assembled monolayers of sulfur-functionalized 4-amino-7-nitrobenzofurazan on gold and silver nanoisland films (NIFs) by means of surface-enhanced fluorescence (SEF) and surface-enhanced Raman scattering (SERS). The ligand is a push–pull molecule, where an intramolecular charge transfer occurs between an electron-donor and an electron-acceptor group, thus exhibiting nonlinear optical properties that are related to both SERS and SEF effects. The presence of different heteroatoms in the molecule ensures the possibility of chemical interaction with both silver and gold substrates. The SERS spectra suggest that furazan is bound to silver via lone pairs of the nitrogen atoms, whereas the ligand is linked to gold via a sulfur atom. Silver NIFs provide more efficient enhancement of both fluorescence and Raman scattering in comparison with gold NIFs. The present SEF and SERS investigation could provide useful information for foreseeing changes in the nonlinear responses of this push–pull molecule.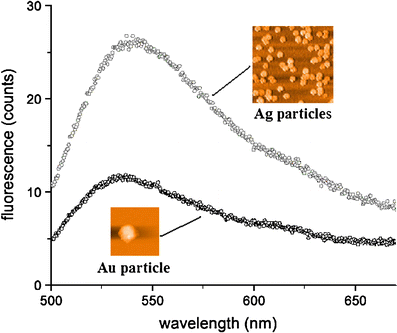 Keywords
Surface-enhanced fluorescence 
Surface-enhanced Raman scattering 
Silver 
Gold 
Nanoparticle 
Notes
Acknowledgements
Funding from the Italian FIRB 2004 "Molecular compounds and hybrid nanostructured materials with resonant and non resonant optical properties for photonic devices" (contract no. RBNE033KMA) and from PRIN 2007 "Metal-organic plasmonic nanostructures for sensors" contract no 2007LN873M_002 is acknowledged.