Conjugation reactions in the preparations of quantum dot-based immunoluminescent probes for analysis of proteins by capillary electrophoresis
Abstract
A number of biologically important molecules, such as DNA, proteins, and antibodies, are routinely conjugated with fluorescent tags for high-sensitivity analyses. Here, the application of quantum dots in the place of bright and size-tunable luminophores is studied. Several selected bioconjugation reactions via zero-length cross-linkers, long-chain linkers, and oriented methods for linking of quantum dots with proteins were tested. Anti-ovalbumin, anti-proliferating cell nuclear antigen, anti-hemagglutinin, and anti-CD3 membrane protein as model antibodies and annexin V were used as high-specificity selectors. The reaction yield and efficiency of the prepared immunoluminescent probes were tested by capillary zone electrophoresis with laser-induced fluorescence detection.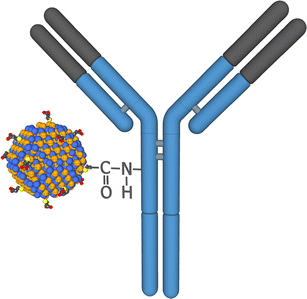 Keywords
CdTe quantum dots 
Luminescent probe 
Capillary zone electrophoresis 
Bioconjugation reactions 
Notes
Acknowledgments
The authors wish to thank Dr. Borivoj Vojtesek from Masaryk Memorial Cancer Institute for the kind gift of a purified anti-hemagglutinin. This work was supported by the following grants: The Grant Agency of the Czech Republic number 203/08/1680 and 301/11/2055, Ministry of Education, Youth and Sports number LC06023, bilateral project CZ-ES 2009-10/6 (2008CZ0017) and institute research plan AV0Z40310501.