Study of behaviour on simulated daylight ageing of artists' acrylic and poly(vinyl acetate) paint films
Abstract
This work proposes a multi-method approach that combines advanced microscopy (SEM/EDX, AFM) and spectroscopy (UV-vis and FTIR) techniques. This approach not only characterises the behaviour of the additives of two commercial poly(vinyl acetate) (PVAc) and acrylic emulsion paints but also simultaneously characterises the changes in chemical composition and morphology observed in the paint films as a result of ageing due to the paints being exposed to an intense source of simulated daylight. In parallel, a series of mechanical tests were performed that correlate the chemical changes in composition and the changes observed in the films' mechanical properties. This work was a comparative study between both types of acrylic and PVAc paints. The results obtained are of great interest for the modern paint conservation field as they provide valuable information on the mid- and long-term behaviours of these synthetic paints.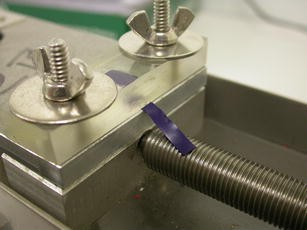 Keywords
Surfactant 
Acrylic artists' paint 
PVAc paint 
FTIR spectroscopy 
AFM 
Tensile tests 
Notes
Acknowledgements
Financial support is gratefully acknowledged from the Spanish "I+D+I MICINN" project CTQ2008-06727-C03-01/BQU supported by ERDEF funds and from the "Generalitat Valenciana" I+D project ACOMP/2009/171 and the AP2006-3223 project ascribed to the Predoctoral Stages Programme of Universitary Researchers in Spanish Universities and Research Centres from the Spanish Ministry of Science and Innovation (MICINN). The authors wish to thank Mr. Manuel Planes i Insausti and Dr. José Luis Moya López, the technical supervisors responsible for the Electron Microscopy Service at the Polytechnic University of Valencia.