Toxicity assessment of nanomaterials: methods and challenges
Abstract
The increasing use of nanomaterials in consumer and industrial products has aroused global concern regarding their fate in biological systems, resulting in a demand for parallel risk assessment. A number of studies on the effects of nanoparticles in in vitro and in vivo systems have been published. However, there is still a need for further studies that conclusively establish their safety/toxicity, due to the many experimental challenges and issues encountered when assessing the toxicity of nanomaterials. Most of the methods used for toxicity assessment were designed and standardized with chemical toxicology in mind. However, nanoparticles display several unique physicochemical properties that can interfere with or pose challenges to classical toxicity assays. Recently, some new methods and modified versions of pre-existing methods have been developed for assessing the toxicity of nanomaterials. This review is an attempt to highlight some important methods employed in nanomaterial toxicology and to provide a critical analysis of the major issues/challenges faced in this emerging field.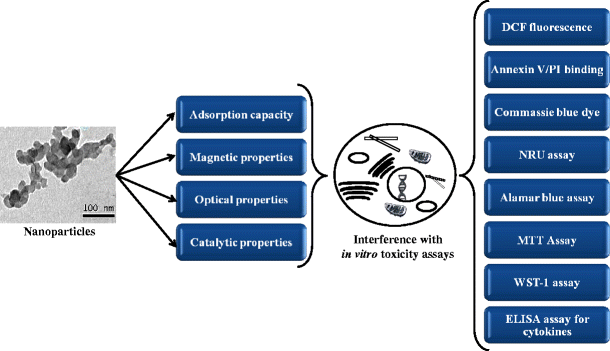 Keywords
Nanomaterial toxicology 
In vitro 
In vivo 
Methods 
Interference 
Challenges 
Notes
Acknowledgements
The authors wish to acknowledge the funding received from the Council of Scientific and Industrial Research, New Delhi, India, under NWP35, SIP 008. Funding by the Department of Science and Technology, Government of India, under the nanomission programme (DST-NSTI grant no. SR/S5/NM-01/2007) and UKIERI-DST (grant no. DST/INT/UKIERI/SA/P-10/2008) is also acknowledged. VS thanks the Council of Scientific and Industrial Research (New Delhi) for the award of a Senior Research Fellowship. IITR communication No. 2858.
Conflict of interest
The authors declare that there is no conflict of interest.