Use of quantum dots in the development of assays for cancer biomarkers
Abstract
Biomarker assays may be useful for screening and diagnosis of cancer if a set of molecular markers can be quantified and statistically differentiated between cancerous cells and healthy cells. Markers of disease are often present at very low concentrations, so methods capable of low detection limits are required. Quantum dots (QDs) are nanoparticles that are emerging as promising probes for ultrasensitive detection of cancer biomarkers. QDs attached to antibodies, aptamers, oligonucleotides, or peptides can be used to target cancer markers. Their fluorescent properties have enabled QDs to be used as labels for in-vitro assays to quantify biomarkers, and they have been investigated as in-vivo imaging agents. QDs can be used as donors in assays involving fluorescence resonance energy transfer (FRET), or as acceptors in bioluminescence resonance energy transfer (BRET). The nanoparticles are also capable of electrochemical detection and are potentially useful for "lab-on-a-chip" applications. Recent developments in silicon QDs, non-blinking QDs, and QDs with reduced-size and controlled-valence further make these QDs bioanalytically attractive because of their low toxicity, biocompatibility, high quantum yields, and diverse surface modification flexibility. The potential of multiplexed sensing using QDs with different wavelengths of emission is promising for simultaneous detection of multiple biomarkers of disease.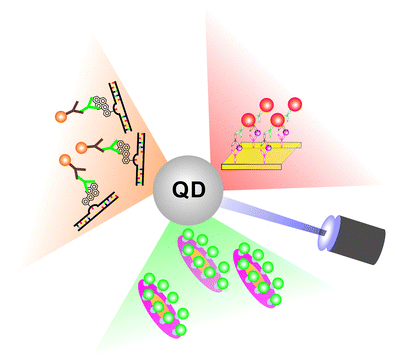 Keywords
Quantum dots 
Nanoparticles 
Tumor markers 
Imaging 
Biosensors 
Fluorescence 
FRET 
BRET 
Electrochemical 
Multiplex 
Aptamers 
Cancer 
Abbreviations
AFP

α-Fetoprotein

BPDE

Benzo[a]pyrene diol epoxide

BRET

Bioluminescence resonance energy transfer

CA

Cancer antigen

CEA

Carcinoembryonic antigen

CK18

Cytokeratin 18

DNA

Deoxyribonucleic acid

ELISA

Enzyme-linked immunosorbent assay

FRET

Fluorescence resonance energy transfer

HER2

Human epidermal growth factor receptor 2

IgG

Immunoglobulin G

MMP

Matrix metalloproteinase

MUC1

Mucin 1

PCR

Polymerase chain reaction

PEG

Poly(ethylene glycol)

PSA

Prostate-specific antigen

PSMA

Prostate-specific membrane antigen

QD

Quantum dot

RCA

Rolling circle amplification

RNA

Ribonucleic acid

SELEX

Systematic evolution of ligands by exponential enrichment

uPA

Urokinase-type plasminogen activator

VEGF

Vascular endothelial growth factor
Notes
Acknowledgements
The authors thank the Natural Sciences and Engineering Research Council of Canada, Canadian Institutes of Health Research, the Canada Research Chairs program, and Alberta Health and Wellness for their support. An Alberta Ingenuity Nanotechnology Scholarship (to MKW) and a China Scholarship Council visiting studentship (to JL) are also acknowledged.