Abstract
In recent years, the number of counterfeit drugs has increased dramatically, including not only "lifestyle" products but also vital medicines. Besides the threat to public health, the financial and reputational damage to pharmaceutical companies is substantial. The lack of robust information on the prevalence of fake drugs is an obstacle in the fight against drug counterfeiting. It is generally accepted that approximately 10% of drugs worldwide could be counterfeit, but it is also well known that this number covers very different situations depending on the country, the places where the drugs are purchased, and the definition of what constitutes a counterfeit drug. The chemical analysis of drugs suspected to be fake is a crucial step as counterfeiters are becoming increasingly sophisticated, rendering visual inspection insufficient to distinguish the genuine products from the counterfeit ones. This article critically reviews the recent analytical methods employed to control the quality of drug formulations, using as an example artemisinin derivatives, medicines particularly targeted by counterfeiters. Indeed, a broad panel of techniques have been reported for their analysis, ranging from simple and cheap in-field ones (colorimetry and thin-layer chromatography) to more advanced laboratory methods (mass spectrometry, nuclear magnetic resonance, and vibrational spectroscopies) through chromatographic methods, which remain the most widely used. The conclusion section of the article highlights the questions to be posed before selecting the most appropriate analytical approach.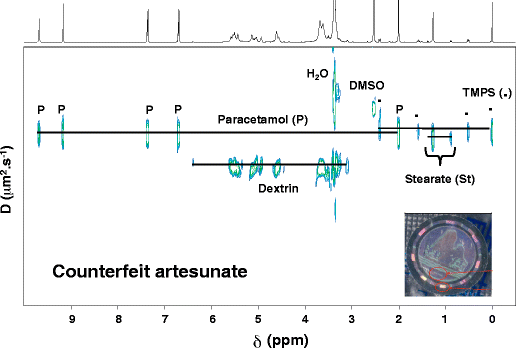 This is a preview of subscription content, log in to check access.
Access options
Buy single article
Instant access to the full article PDF.
US$ 39.95
Price includes VAT for USA
Subscribe to journal
Immediate online access to all issues from 2019. Subscription will auto renew annually.
US$ 157
This is the net price. Taxes to be calculated in checkout.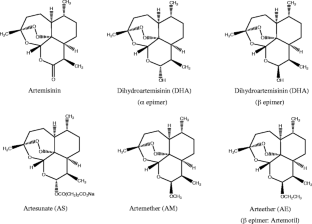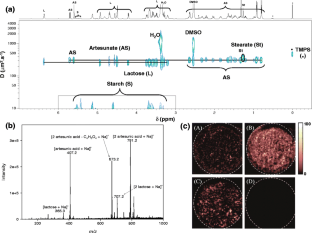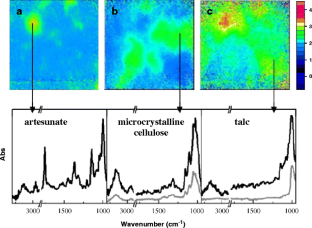 References
1.

Europharm Forum (2009) Framework for a guide on counterfeit medicines for pharmacists. http://www.europharm.org/file/11800. Accessed 6 Feb 2010

2.

World Health Organization (1999) WHO counterfeit drugs. Guidelines for the development of measures to combat counterfeit drugs, vol 99.1. World Health Organization, Geneva. http://www.who.int/medicines/publications/counterfeitguidelines/en/. Accessed 6 Feb 2010

3.

Newton PN, Lee SJ, Goodman C, Fernandez FM, Yeung S, Phanouvong S, Kaur H, Amin AA, Whitty CJM, Kokwaro GO, Lindegardh N, Lukulay P, White LJ, Day NPJ, Green MD, White NJ (2009) PLoS Med 6:e1000052

4.

World Health Organization (2008) WHO world malaria report-2008. http://www.who.int/malaria/wmr2008. Accessed 6 Feb 2010

5.

Newton PN, Green MD, Fernandez FM, Day NPJ, White NJ (2006) Lancet Infect Dis 6:602–613

6.

World Health Organization (2006) Guidelines for the treatment of malaria. http://www.who.int/malaria/docs/TreatmentGuidelines2006.pdf. Accessed 6 Feb 2010

7.

Thomas CG, Ward SA, Edwards G (1992) J Chromatogr 583:131–136

8.

Green MD, Mount DL, Wirtz RA, White NJ (2000) J Pharm Biomed Anal 24:65–70

9.

Green MD, Mount DL, Wirtz RA (2001) Trop Med Int Health 6:980–982

10.

Ioset JR, Kaur H (2009) PLoS One 4:e7270

11.

Green MD, Nettey H, Rojas OV, Pamanivong C, Khounsaknalath L, Ortiz MG, Newton PN, Fernandez FM, Vongsack L, Manolin O (2007) J Pharm Biomed Anal 43:105–110

12.

Atemnkeng MA, De Cock K, Plaizier-Vercammen J (2007) Trop Med Int Health 12:68–74

13.

Atemnkeng MA, Marchand E, Plaizier-Vercammen J (2007) J Pharm Biomed Anal 43:727–732

14.

Cesar IDC, Nogueira FHA, Pianetti GA (2008) J Pharm Biomed Anal 48:951–954

15.

Gaudin K, Kauss T, Lagueny AM, Millet P, Fawaz F, Dubost JP (2009) J Sep Sci 32:231–237

16.

Hall KA, Newton PN, Green MD, de Veij M, Vandenabeele P, Pizzanelli D, Mayxay M, Dondorp A, Fernandez FM (2006) Am J Trop Med Hyg 75:804–811

17.

Lindegardh N, Dondorp AM, Singhasivanon P, White NJ, Day NPJ (2007) J Pharm Biomed Anal 45:149–153

18.

Fernandez FM, Cody RB, Green MD, Hampton CY, McGready R, Sengaloundeth S, White NJ, Newton PN (2006) Chemmedchem 1:702–705

19.

Nyadong L, Green MD, De Jesus VR, Newton PN, Fernandez FM (2007) Anal Chem 79:2150–2157

20.

Nyadong L, Harris GA, Balayssac S, Galhena AS, Malet-Martino M, Martino R, Parry RM, Wang MD, Fernandez FM, Gilard V (2009) Anal Chem 81:4803–4812

21.

Nyadong L, Late S, Green MD, Banga A, Fernandez FM (2008) J Am Soc Mass Spectrom 19:380–388

22.

Ricci C, Nyadong L, Fernandez FM, Newton PN, Kazarian SG (2007) Anal Bioanal Chem 387:551–559

23.

Ricci C, Nyadong L, Yang F, Fernandez FM, Brown CD, Newton PN, Kazarian SG (2008) Anal Chim Acta 623:178–186

24.

Newton PN, Fernandez FM, Plançon A, Mildenhall DC, Green MD, Ziyong L, Christophel EM, Phanouvong S, Howells S, McIntosh E, Laurin P, Blum N, Hampton CY, Faure K, Nyadong L, Soong CWR, Santoso B, Zhiguang W, Newton J, Palmer K (2008) PLoS Med 5:e32

25.

Ricci C, Eliasson C, Macleod NA, Newton PN, Matousek P, Kazarian SG (2007) Anal Bioanal Chem 389:1525–1532

26.

Dowell FE, Maghirang EB, Fernandez FM, Newton PN, Green MD (2008) J Pharm Biomed Anal 48:1011–1014

27.

de Veij M, Vandenabeele P, Hall KA, Fernandez FM, Green MD, White NJ, Dondorp AM, Newton PN, Moens L (2007) J Raman Spectrosc 38:181–187

28.

Marchand E, Atemnkeng MA, Vanermen S, Plaizier-Vercammen J (2008) Biomed Chromatogr 22:454–459

29.

Gabriels M, Plaizier-Vercammen J (2004) J Chromatogr Sci 42:341–347

30.

Agarwal SP, Ali A, Ahuja S (2007) Indian J Pharm Sci 69:841–844

31.

Tayade NG, Nagarsenker MS (2007) J Pharm Biomed Anal 43:839–844

32.

Jahnke RWO (2004) Pharm Ind 66:1187–1193

33.

Basco LK (2004) Am J Trop Med Hyg 70:245–250

34.

Global Pharma Health Fund (2010) The GPHF-Minilab® - protection against counterfeit medicines. http://www.gphf.org/web/en/minilab. Accessed 7 Feb 2010

35.

Ma C, Wang H, Lu X, Xu G, Liu B (2008) J Chromatogr A 1186:412–419

36.

Peng CA, Ferreira JFS, Wood AJ (2006) J Chromatogr A 1133:254–258

37.

Liu S, Tian N, Liu Z, Huang J, Li J, Ferreira JFS (2008) J Chromatogr A 1190:302–306

38.

Liu S, Tian N, Li J, Huang J, Liu Z (2009) Biomed Chromatogr 23:1101–1107

39.

Theoharides AD, Smyth MH, Ashmore RW, Halverson JM, Zhou ZM, Ridder WE, Lin AJ (1988) Anal Chem 60:115–120

40.

Mohamed SS, Khalid SA, Ward SA, Wan TSM, Tang HPO, Zheng M, Haynes RK, Edwards G (1999) J Chromatogr B 731:251–260

41.

Russo R, Guillarme D, Rudaz S, Bicchi C, Veuthey JL (2008) J Sep Sci 31:2377–2387

42.

Ferreira JFS, Gonzalez JM (2009) Phytochem Anal 20:91–97

43.

Souppart C, Gauducheau N, Sandrenan N, Richard F (2002) J Chromatogr B 774:195–203

44.

Naik H, Murry DJ, Kirsch LE, Fleckenstein L (2005) J Chromatogr B 816:233–242

45.

Sabarinath S, Singh RP, Gupta RC (2006) J Chromatogr B 842:36–42

46.

Van Quekelberghe SAA, Soomro SA, Cordonnier JA, Jansen FH (2008) J Anal Toxicol 32:133–139

47.

Anderson CA, Drennen JK, Ciurczak EW (2007) In: Burns DA, Ciurzak EW (eds) Handbook of near-infrared analysis. CRC, Boca Raton, pp 585–612

48.

Eliasson C, Matousek P (2007) Anal Chem 79:1696–1701

49.

Antalek B (2002) Concepts Magn Res 14:225–258

50.

Trefi S, Gilard V, Balayssac S, Malet-Martino M, Martino R (2008) J Pharm Biomed Anal 46:707–722

51.

Trefi S, Routaboul C, Hamieh S, Gilard V, Malet-Martino M, Martino R (2008) J Pharm Biomed Anal 47:103–113

52.

Trefi S, Gilard V, Balayssac S, Malet-Martino M, Martino R (2009) Magn Reson Chem 47:S163–S173

53.

Maurin JK, Plucinski F, Mazurek AP, Fijalek Z (2007) J Pharm Biomed Anal 43:1514–1518
About this article
Cite this article
Martino, R., Malet-Martino, M., Gilard, V. et al. Counterfeit drugs: analytical techniques for their identification. Anal Bioanal Chem 398, 77–92 (2010). https://doi.org/10.1007/s00216-010-3748-y
Received:

Revised:

Accepted:

Published:

Issue Date:
Keywords
Counterfeit drugs

Colorimetry

Chromatography

Mass spectrometry

Diffusion-ordered 1H NMR spectroscopy

Vibrational spectroscopies