In-depth profile analysis of filled alumina and titania nanostructured templates by radiofrequency glow discharge coupled to optical emission spectrometry
Abstract
The development of highly ordered and self-assembled magnetic nanostructures such as arrays of Fe or Ni nanowires and their alloys is arousing increasing interest due to the peculiar magnetic properties of such materials at the nanoscale. These nanostructures can be fabricated using nanoporous anodic alumina membranes or self-assembled nanotubular titanium dioxide as templates. The chemical characterization of the nanostructured layers is of great importance to assist the optimization of the filling procedure or to determine their manufacturing quality. Radiofrequency glow discharge (RF-GD) coupled to optical emission spectrometry (OES) is a powerful tool for the direct analysis of either conducting or insulating materials and to carry out depth profile analysis of thin layers by multi-matrix calibration procedures. Thus, the capability of RF-GD-OES is investigated here for the in-depth quantitative analysis of self-aligned titania nanotubes and self-ordered nanoporous alumina filled with arrays of metallic and magnetic nanowires obtained using the template-assisted filling method. The samples analysed in this work consisted of arrays of Ni nanowires with different lengths (from 1.2 up to 5 µm) and multilayer nanowires of alternating layers with different thicknesses (of 1–2 µm) of Ni and Au, or Au and FeNi alloy, deposited inside the alumina and titania membranes. Results, compared with other techniques such as scanning electron microscopy and energy-dispersive X-ray spectroscopy, show that the RF-GD-OES surface analysis technique proves to be adequate and promising for this challenging application.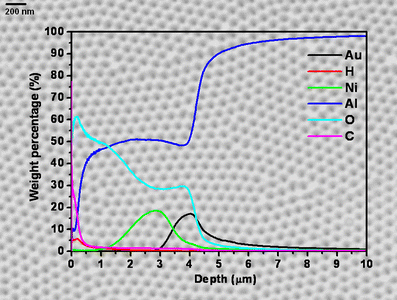 Keywords
Glow discharge 
Optical emission spectrometry 
Nanostructures 
In-depth profile 
Metal nanowires 
Notes
Acknowledgements
The present research was supported by the EU through the Marie Curie Research Training Network (MRTN-CT-2006-035459). This work is part of the activity of WP4 'Analytical studies' of GLADNET [27]. The financial support from "Plan Nacional de I+D+I" (Spanish Ministry of Science and Innovation and FEDER Programme) through the project MAT2007-65097-C02 and FC04-EQP-28 is gratefully acknowledged.
References
1.

Mitura S (2000) Nanotechnology in materials science. Elsevier Science, Amsterdam

Google Scholar

2.

3.

Vazquez M, Pirota K, Hernandez-Vélez M, Prida VM, Navas D, Sanz R, Batallan F, Velasquez J (2004) J Appl Phy 95:6642–6644

CrossRef

Google Scholar

4.

5.

Vazquez M, Hernandez-Vélez M, Pirota K, Asenjo A, Navas D, Velasquez J, Vargas P, Ramos C (2004) Eur Phys JB 40:489–497

Google Scholar

6.

7.

8.

9.

Marcus RK, Broekaert JAC (2003) Glow discharge plasmas in analytical spectroscopy. Wiley, Chichester

Google Scholar

10.

11.

Pisonero J, Costa JM, Pereiro R, Bordel N, Sanz-Medel A (2004) Anal Biochem Chem 379:17–29

Google Scholar

12.

13.

14.

15.

16.

17.

Prida VM, Navas D, Pirota KR, Hernandez-Velez M, Menéndez A, Bordel N, Pereiro R, Sanz-Medel A, Hernando B, Vazquez M (2006) Phys Status Solidi A 203:1241–1247

CrossRef

Google Scholar

18.

Shimizu K, Payling R, Habazaki H, Skeldon P, Thompson GE (2004) J Anal At Spectrom 19:692–695

CrossRef

Google Scholar

19.

20.

Escobar Galindo R, Gago R, Forniés E, Muñoz-Martin A, Climent Font A, Albella JM (2006) Spectrochim Acta Part B 61:545–553

CrossRef

Google Scholar

21.

Prida VM, Hernandez-Vélez M, Pirota KR, Menéndez A, Vazquez M (2005) Nanotechnology 16:2696–2702

CrossRef

Google Scholar

22.

Prida VM, Pirota KR, Navas D, Asenjo A, Hernández-Vélez M, Vázquez M (2007) J Nanosci Nanotec 7:272–285

Google Scholar

23.

24.

25.

26.

27.