Abstract
To identify the explosive used in a terrorist attack, or to obtain an early sign of environmental pollution it is important to use simple and rapid assays able to detect analytes at low levels, possibly on-site. This is particularly true for TNT (2,4,6-trinitrotoluene), one of the most employed explosives in the 20th century and at the same time, because of its toxicity, a well known pollutant. In this work we describe the development of an indirect competitive ELISA with chemiluminescent detection (CL-ELISA) and of a lateral-flow immunoassay (LFIA) based on colloidal gold nanoparticle labels. A commercially available monoclonal antibody was used and 13 specially synthesized conjugates were tested. We optimized the assay by determining the optimal concentration of monoclonal antibody and conjugates and the influence of various non-specific factors such as: tolerance to organic solvents at different concentrations, the washing and competitive step time, and the cross-reactivity with related compounds. The sensitivity and reproducibility of the CL-ELISA were good (LOD and IC50 values in the ng mL−1 range, and CV value about 7%). It has been applied to real samples of various materials involved in a controlled explosion of an "improvised explosive device". Three extraction procedures were tested on these samples, all employing methanol as the solvent. The lateral flow immunoassay (LFIA), developed by using the same immunoreagents, reached a detection limit of 1 μg mL−1 when tested on the same samples analysed by CL-ELISA.

This is a preview of subscription content, log in to check access.
Access options
Buy single article
Instant access to the full article PDF.
US$ 39.95
Price includes VAT for USA
Subscribe to journal
Immediate online access to all issues from 2019. Subscription will auto renew annually.
US$ 157
This is the net price. Taxes to be calculated in checkout.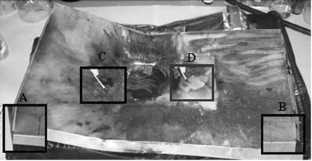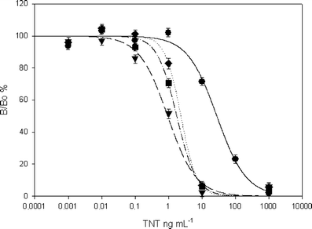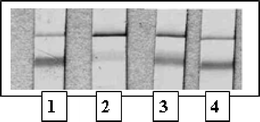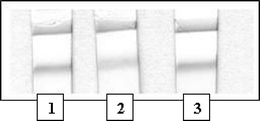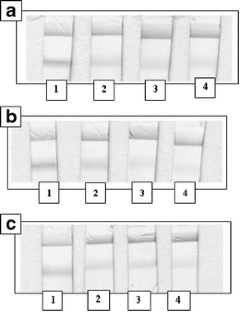 References
1.

Urbanski T (1964) Chemistry and technology of explosives, vol 1. Pergamon Press, Oxford, p 265

2.

Yinon J (1990) Toxicity and metabolism of explosives. CRC Press, Boca Raton, FL

3.

Purohit V, Basu AK (2000) Mutagenicity of nitroaromatic compounds. Chem Res Toxicol 13:673–692

4.

Moore DS, Goodpaster JV (2009) Explosives analysis. Anal Bioanal Chem 395:245–246

5.

EPA. Method 8330 (2000) Nitroaromatics and nitramines by High Performance Liquid Chromatography (HPLC), http://www.epa.gov/waste/hazard/testmethods/pdfs/8330b.pdf. Accessed 14 Sept 2009

6.

EPA. Method 8095 (2000) Explosives by gas chromatography, US Environmental Protection Agency. http://www.epa.gov/epaoswer/hazwaste/test/pdfs/8095.pdf. Accessed 14 Sept 2009

7.

Song L, Bartmess JE (2009) Liquid chromatography/negative ion atmospheric pressure photoionization mass spectrometry: a highly sensitive method for the analysis of organic explosives. Rapid Commun Mass Spectrom 23:77–84

8.

Zhang Y, Ma X, Zhang S, Yang C, Ouyang Z, Zhang X (2009) Direct detection of explosives on solid surfaces by low temperature plasma desorption mass spectrometry. Analyst 134:176–181

9.

Moore DS, Scharff RJ (2008) Portable Raman explosives detection. Anal Bioanal Chem 393:1571–1578

10.

De Lucia FC Jr, Gottfried JL, Miziolek (2009) AW Evaluation of femtosecond laser-induced breakdown spectroscopy for explosive residue detection. Opt Express 17:419–425

11.

Gottfried JL, De Lucia FC, Jr MCA, Miziolek AW (2009) Laser-induced breakdown spectroscopy for detection of explosives residues: a review of recent advances, challenges, and future prospects. Anal Bioanal Chem 395:283–300

12.

Leahy-Hoppa MR, Fitch MJ, Osiander R (2009) Terahertz spectroscopy techniques for explosives detection. Anal Bioanal Chem 395:247–257

13.

Pacheco-Londoño LC, Ortiz-Rivera W, Primera-Pedrozo OM, Hernández-Rivera SP (2009) Vibrational spectroscopy standoff detection of explosives. Anal Bioanal Chem 395:323–335

14.

Meaney MS, McGuffin VL (2008) Luminescence–based methods for sensing and detection of explosives. Anal Bioanal Chem 3391:2557–2576

15.

Pittman TL, Thomson B, Miao W (2009) Ultrasensitive detection of TNT in soil, water, using enhanced electrogenerated chemiluminescence. Anal Chim Acta 632:197–202

16.

Anderson GP, Lamar JD, Charles PT (2007) Development of a luminex based competitive immunoassay for 2, 4, 6-trinitrotoluene (TNT). Environ Sci Technol 8:2888–2893

17.

Anderson GP, Goldman ER (2008) TNT detection using llama antibodies and a two-step competitive fluid array immunoassay. J Immunol Methods 339:47–54

18.

Wang J, Liu G, Wu H, Lin Y (2008) Sensitive electrochemical immunoassay for 2, 4, 6-trinitrotoluene based on functionalized silica nanoparticle labels. Anal Chim Acta 610:112–118

19.

Krämer PM, Kremmer E, Weber CM, Ciumasu IM, Forster S, Kettrup AA (2005) Development of new rat monoclonal antibodies with different selectivities and sensitivities for 2, 4, 6-trinitrotoluene (TNT) and other nitroaromatic compounds. Anal Bioanal Chem 382:1919–1933

20.

Goldman ER, Hayhurst A, Lingerfelt BM, Iverson BL, Geirgiou G, Anderson GP (2003) 2, 4, 6-Trinitrotoluene detection using recombinant antibodies. J Environ Monit 5:380–383

21.

Ciumasu IM, Krämer PM, Weber CM, Kolb G, Tiemann D, Windisch S, Frese I, Kettrup AA (2005) A new, versatile field immunosensor for environmental pollutants: development and proof of principle with TNT, diuron, and atrazine. Biosens Bioelectron 21:354–364

22.

Forzani ES, Lu D, Leright MJ, Aguilar AD, Tsow F, Iglesias RA, Zhang Q, Lu J, Li J, Tao N (2009) A hybrid electrochemical–colorimetric sensing platform for detection of explosives. J Am Chem Soc 131:1390–1391

23.

Halasz A, Groom C, Zhou E, Paquet L, Beaulieu C, Deschamps S, Corriveau A, Thiboutot S, Ampleman G, Dubois C, Hawari J (2002) Detection of explosives and their degradation products in soil environments. J Chromatogr A 963:411–418

24.

Mayfield HT, Burr E, Cantrell M (2006) Analysis of explosives in soil using solid phase microextraction and gas chromatography. Anal Lett 39:1463–1474

25.

Smith RG, D'Souza N, Nicklin S (2008) A review of biosensors and biologically-inspired systems for explosives detection. Analyst 133:571–584

26.

Almog J (2006) Forensic science does not start in the lab: the concept of diagnostic field tests. J Forensic Sci 51:1228–1234

27.

Ewing RG, Atkinson DA, Eiceman GA, Ewing GJ (2001) A critical review of ion mobility spectrometry for the detection of explosives and explosive related compounds. Talanta 54:515–529

28.

Jenkins TF, Walsh ME (1992) Development of field screening methods for TNT, 2, 4-DNT and RDX in soil. Talanta 39:419–428

29.

Üzer A, Erçağ E, Apak R (2005) Selective spectrophotometric determination of TNT in soil and water with dicyclohexylamine extraction. Anal Chim Acta 534:307–317

30.

Üzer A, Erçağ E, Apak R (2008) Selective colorimetric determination of TNT partitioned between an alkaline solution and a strongly basic Dowex 1–X8 anion exchanger. Forensic Sci Int 174:239–243

31.

Strategic Diagnostic Inc (2009) Explosives. http://www.sdix.com/ProductSpecs.asp?nProductID=21. Accessed 14 Sept 2009

32.

Jenkins TF, Schumacher PW, Mason JG, Thorne PG (1996) On-site analysis for high concentrations of explosives in soil. Extraction kinetics and dilution procedures. Special Report No 96-10; CRREL: Hanover, NH, USA

33.

Smith RG (2007) A review of biosensors for explosives detection. Proceedings of the 1st UK-US Conference on Chemical and biological sensors and detectors. London, UK, April 2007

34.

Posthuma-Trumpie GA, Korf J, van Amerongen A (2009) Lateral flow (immuno)assay: its strengths, weaknesses, opportunities and threats. A literature survey. Anal Bioanal Chem 393:569–582

35.

Nadanaciva S, Willis JH, Barker ML, Gharaibeh D, Capaldi RA, Marusich MF, Will Y (2009) Lateral-flow immunoassay for detecting drug-induced inhibition of mitochondrial DNA replication and mtDNA-encoded protein synthesis. J Immunol Methods 343:1–12

36.

Krska R, Molinelli A (2009) Rapid test strips for analysis of mycotoxins in food and feed. Anal Bioanal Chem 393:67–71

37.

Wang S, Zhang C, Zhang Y (2009) Lateral flow colloidal gold-based immunoassay for pesticide. Methods Mol Biol 504:237–252

38.

Zhao Y, Zhang G, Liu Q, Teng M, Yang J, Wang J (2008) Development of a lateral flow colloidal gold immunoassay strip for the rapid detection of enrofloxacin residues. J Agric Food Chem 56:12138–12142

39.

Nielsen K, Yu WL, Lin M, Davis SA, Elmgren C, Mackenzie R, Tanha J, Li S, Dubuc G, Brown EG, Keleta L, Pasick J (2007) Prototype single step lateral flow technology for detection of avian influenza virus and chicken antibody to avian influenza virus. J Immunoassay Immunochem 28:307–318

40.

Xia X, Xu Y, Zhao X, Li Q (2009) Lateral flow immunoassay using europium chelate-loaded silica nanoparticles as labels. Clin Chem 55:179–182

41.

Posthuma-Trumpie GA, Korf J, van Amerongen A (2008) Development of a competitive lateral flow immunoassay for progesterone: influence of coating conjugates and buffer components. Anal Bioanal Chem 392:1215–1223

42.

Maiolini E, Girotti S, Ferri E, Caputo P, Guarnieri G, Eremin SA, Montoya A, Moreno MJ, D'Elia M (2009) Development of chemiluminescent methods for explosives detection. Ovidius Univ Ann Chem 20:57–60

43.

Moreno MJ, Plana E, Montoya A, Caputo P, Manclus JJ (2007) Application of a monoclonal-based immunoassay for the determination of imazalil in fruit juices. Food Addit Contam 24:704–712

44.

Mart'ianov AA, Dzantiev BB, Zherdev AV, Eremin SA, Cespedes R, Petrovic M, Barcelo D (2005) Immunoenzyme assay of nonylphenol: study of selectivity and detection of alkylphenolic non-ionic surfactants in water samples. Talanta 65:367–374

45.

Girotti S, Maiolini E, Ghini S, Ferri E, Fini F, Nodet P, Eremin S (2008) quantification of thiram in honeybees: development of a chemiluminescent ELISA. Anal Lett 41:46–55

46.

Frens G (1973) Controlled nucleation for the regulation of the particle size in monodisperse gold solutions. Nat Phys Sci 241:20–22

47.

Zeck A, Weller MG, Niessner R (1999) Characterization of a monoclonal TNT-antibody by measurement of the cross-reactivities of nitroaromatic compounds. Fresenius' J Anal Chem 364:113–120
Acknowledgments
This work was supported by grants from the Ministry of University and University of Bologna (PRIN 2006033429: "New Analytical Tools for Security and Criminal Investigations: Trace Detection and Identification of Explosives and Related Compounds") and "Fundamental Oriented Research" and Grant 08-03-90301 of the Russian Foundation for Basic Research "New strategy for robust and sensitive chemiluminescent immuno-bio-technology for detection of chlorinated herbicides in environment".
About this article
Cite this article
Girotti, S., Eremin, S., Montoya, A. et al. Development of a chemiluminescent ELISA and a colloidal gold-based LFIA for TNT detection. Anal Bioanal Chem 396, 687–695 (2010). https://doi.org/10.1007/s00216-009-3264-0
Received:

Revised:

Accepted:

Published:

Issue Date:
Keywords
2,4,6-Trinitrotoluene (TNT)

Chemiluminescence

ELISA

LFIA

Immunoassay