Abstract
Differential mobility cytometry (DMC) has recently been established as a powerful method to capture cells and study adhesion processes. DMC uses an oscillation system and cell affinity chromatography to monitor cells as they adhere to a surface. In the past, differential images had to be created individually which limited the throughput of the method. A new method to create differential images is presented. The method involves the subtraction of short movies from each other to create a stack of differential images that can be easily analyzed. In the future, this method will make DMC more accessible and improve throughput.
This is a preview of subscription content, log in to check access.
Access options
Buy single article
Instant unlimited access to the full article PDF.
US$ 39.95
Price includes VAT for USA
Subscribe to journal
Immediate online access to all issues from 2019. Subscription will auto renew annually.
US$ 157
This is the net price. Taxes to be calculated in checkout.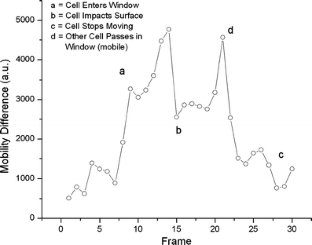 References
1.

Pappas D, Wang K (2007) Anal. Chim. Acta 601:26–35

2.

Voldman J, Gray ML, Toner M, Schmidt MA (2002) Anal. Chem. 74:3984–3990

3.

Wang X-B, Yang Y, Huang Y, Vykoukal J, Becker FF, Gascoyne PRC (2000) Anal. Chem. 72:832–8396

4.

Ujam LB, Clemmitt RH, Clarke SA, Brooks RA, Rushton N, Chase HA (2003) Biotechnol. Bioeng. 83:554–566

5.

Wang K, Cometti B, Pappas D (2007) Anal. Chim. Acta 601:1–9

6.

Wang K, Marshall MK, Garza G, Pappas D (2008) Anal. Chem. 80:2118–2124

7.

Sathe TR, Agrawal A, Nie S (2006) Anal. Chem. 78:5627–5632

8.

Lara O, Tong X, Zborowski M, Farag SS, Chalmers JJ (2006) Biotechnol. Bioeng. 94:66–80

9.

Wang K, Solis-Wever X, Aguas C, Liu Y, Li P, Pappas D (2009) Anal. Chem. 81:3334–3343

10.

National Institute of Health. Available at http://rsbweb.nih.gov/ij/

11.

Reif RD, Martinez MM, Wang K, Pappas D (2009) Anal Bioanal. Chem. 395: 787-795
About this article
Cite this article
Reif, R.D., Wang, K. & Pappas, D. Rapid data analysis method for differential mobility cytometry. Anal Bioanal Chem 395, 2411–2413 (2009) doi:10.1007/s00216-009-3154-5
Received:

Revised:

Accepted:

Published:

Issue Date:
Keywords
Differential mobility cytometry

Cell affinity chromatography

Cell adhesion