Large scale biomimetic membrane arrays
Abstract
To establish planar biomimetic membranes across large scale partition aperture arrays, we created a disposable single-use horizontal chamber design that supports combined optical–electrical measurements. Functional lipid bilayers could easily and efficiently be established across CO2 laser micro-structured 8 × 8 aperture partition arrays with average aperture diameters of 301 ± 5 μm. We addressed the electro-physical properties of the lipid bilayers established across the micro-structured scaffold arrays by controllable reconstitution of biotechnological and physiological relevant membrane peptides and proteins. Next, we tested the scalability of the biomimetic membrane design by establishing lipid bilayers in rectangular 24 × 24 and hexagonal 24 × 27 aperture arrays, respectively. The results presented show that the design is suitable for further developments of sensitive biosensor assays, and furthermore demonstrate that the design can conveniently be scaled up to support planar lipid bilayers in large square-centimeter partition arrays.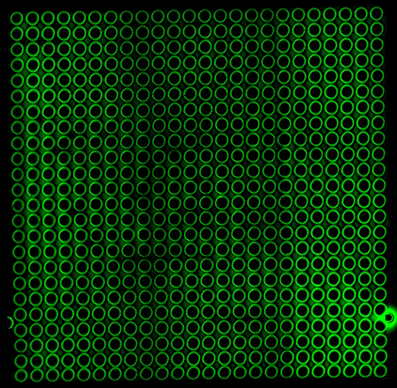 Keywords
Black lipid membrane 
Array 
Optical–electrical measurements 
Membrane-spanning peptides 
Membrane protein 
Abbreviations
α-HL

α-Hemolysin

BLM

Black lipid membrane

DPhPC

1,2-Diphytanoyl-sn-Glycero-3-Phosphocholine

ETFE

Ethylene tetrafluoroethylene

FomA

Fusobacterium nucleatum outer membrane protein A

gA

Gramicidin A

LDAO

N-lauryl-N,N-dimethylammonium-N-oxide

NBD-PC

1-Oleoyl-2-[6-[(7-nitro-2-1,3-benzoxadiazol-4-yl)amino]hexanoyl]-sn-glycero-3-phosphocholine

TEA

Tetraethylammonium
Notes
Acknowledgments
We thank Dr. Jörg H. Kleinschmidt (Universität Konstanz, Germany) for the delivery and guidance with the handling and incorporation of FomA porins. The work was supported through MEMBAQ, a Specific Targeted Research Project (STREP), by the European Commission under the Sixth Framework Program (NMP4-CT-2006-033234), by The Danish National Advanced Technology Foundation (023-2007-1), and The Danish National Research Foundation.