Investigation of the hybrid molecular probe for intracellular studies
Abstract
Monitoring gene expression in vivo is essential to the advancement of biological studies, medical diagnostics, and drug discovery. Adding to major efforts in developing molecular probes for mRNA monitoring, we have recently developed an alternative tool, the hybrid molecular probe (HMP). To optimize the probe, a series of experiments were performed to study the properties of HMP hybridization kinetics and stability. The results demonstrated the potential of the HMP as a prospective tool for use in both hybridization studies and in vitro and in vivo analyses. The HMP has shown no tendency to produce false positive signals, which is a major concern for living cell studies. Moreover, HMP has shown the ability to detect the mRNA expression of different genes inside single cells from both basal and stimulated genes. As an effective alternative to conventional molecular probes, the proven sensitivity, simplicity, and stability of HMPs show promise for their use in monitoring mRNA expression in living cells.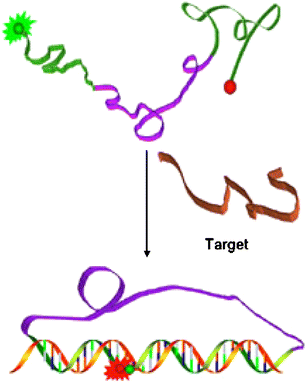 Keywords
DNA detection 
Fluorescence probes 
Molecular beacons 
Fluorescence resonance energy transfer (FRET) 
mRNA monitoring 
Notes
Acknowledgment
This work was supported by NIH grants 5R01GM066137 and 5R21CA122648, and a grant from the Center of Excellence in Bio/nano sensors, State of Florida.