Abstract
A novel method employing high-performance cation chromatography in combination with inductively coupled plasma dynamic reaction cell mass spectrometry (ICP–DRC–MS) for the simultaneous determination of the herbicide glyphosate (N-phosphonomethylglycine) and its main metabolite aminomethyl phosphonic acid (AMPA) is presented. P was measured as 31P16O+ using oxygen as reaction gas. For monitoring the stringent target value of 0.1 μg L−1 for glyphosate, applicable for drinking and surface water within the EU, a two-step enrichment procedure employing Chelex 100 and AG1-X8 resins was applied prior to HPIC–ICP–MS analysis. The presented approach was validated for surface water, revealing concentrations of 0.67 μg L−1 glyphosate and 2.8 μg L−1 AMPA in selected Austrian river water samples. Moreover, investigations at three waste water-treatment plants showed that elimination of the compounds at the present concentration levels was not straightforward. On the contrary, all investigated plant effluents showed significant amounts of both compounds. Concentration levels ranged from 0.5–2 μg L−1 and 4–14 μg L−1 for glyphosate and AMPA, respectively.
This is a preview of subscription content, log in to check access.
Access options
Buy single article
Instant access to the full article PDF.
US$ 39.95
Price includes VAT for USA
Subscribe to journal
Immediate online access to all issues from 2019. Subscription will auto renew annually.
US$ 157
This is the net price. Taxes to be calculated in checkout.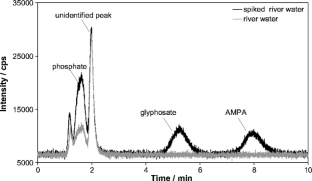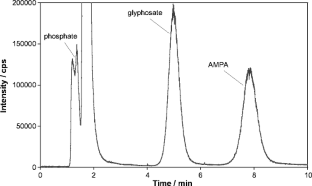 References
1.

Woodburn A (2000) Pestic Manag Sci 56:309–312

2.

Rueppel ML, Brightwell BB, Schaefer J, Marvel JT (1977) J Agric Food Chem 25:517–528

3.

Strange-Hansen R, Holm PE, Jacobsen OS, Jacobsen CS (2004) Pestic Manag Sci 60:570–578

4.

Forlani G, Mangiacalli A, Nielsen E, Suardi CM (1999) Soil Biol Biochem 31:991–997

5.

Vereecken H (2005) Pestic Manag Sci 61:1139–1151

6.

GEUS (2004) Grundvandsovervagning 1998-2003.Geological survey of Denmark and Greenland. <http://www.geus.dk>

7.

Pfeffer M, Kress K, Busch D (2002) Erste Ergebnisse des Glyphosate Monitorings im Rahmen der WGEV. Bericht ALVA - Jahrestagung 2002

8.

Richardson SD (2006) Anal Chem 78:4021–4045

9.

Stalikas CD, Konidari CN (2001) J Chromatogr A 907:1–19

10.

Bauer KH, Knepper TP, Maes A, Schatz V, Voihsel M (1999) J Chromatogr A 837:117–128

11.

Vreeken RJ, Speksnijder P, Bobeldijk-Pastorova I, Noij ThHM (1998) J Chromatogr A 794:187–199

12.

Sadi BBM, Vonderheide AP, Caruso JA (2004) J Chromatogr A 1100:95–101

13.

Guo ZX, Cai Q, Yang Z (2005) J Chromatogr A 1100:160–167

14.

Björjesson E, Torstensson L (1998) J Chromatogr A 886:207–216

15.

Standardarbeitsanweisung SAA33R6502, Bestimmung von Glyphosate und AMPA in Wasser und Böden mittels HPLC-FLD, 2001, ICS-Nummer 67.060, Bundesamt und Forschungszentrum für Landwirtschaft, Vienna

16.

Skark C, Zullei-Seibert N, Schottler U, Schlett C (1998) Int J Environ Anal Chem 70:93–104
Acknowledgement
Financial support by the Austrian Federal Ministry of Agriculture, Forestry, Environment and Water Management (BMLFUW—Project Nr. 1399: "Glyphosate und AMPA in surface water and suspended solids") is gratefully acknowledged.
About this article
Cite this article
Popp, M., Hann, S., Mentler, A. et al. Determination of glyphosate and AMPA in surface and waste water using high-performance ion chromatography coupled to inductively coupled plasma dynamic reaction cell mass spectrometry (HPIC–ICP–DRC–MS). Anal Bioanal Chem 391, 695–699 (2008). https://doi.org/10.1007/s00216-008-2037-5
Received:

Revised:

Accepted:

Published:

Issue Date:
Keywords
Glyphosate

AMPA

Waste water treatment

ICP–MS

Dynamic reaction cell