Development and application of molecularly imprinted polymers as solid-phase sorbents for erythromycin extraction
Abstract
Six molecularly imprinted polymers (MIPs) of erythromycin (ERY) were prepared by noncovalent bulk polymerization using methacrylic acid (MAA) as the functional monomer. On the basis of binding analysis, the MIPs with 1:2 optimum ratio of template to MAA were selected for subsequent scanning electron microscopy and Brunauer–Emmett–Teller analyses, which indicated that the MIPs had more convergent porous structures than the nonimprinted polymers. The equilibrium binding experiments showed that the binding sites of MIPs were heterogeneous, with two dissociation constants of 0.005 and 0.63 mg mL−1, respectively. Furthermore, the performance of the MIPs as solid-phase extraction (SPE) sorbents was evaluated, and the selectivity analysis showed that the MIPs could recognize ERY with moderate cross-reactivity for other macrolides. The overall investigation of molecularly imprinted SPE for cleanup and enrichment of the ERY in pig muscle and tap water confirmed the feasibility of utilizing the MIPs obtained as specific SPE sorbents for ERY extraction in real samples.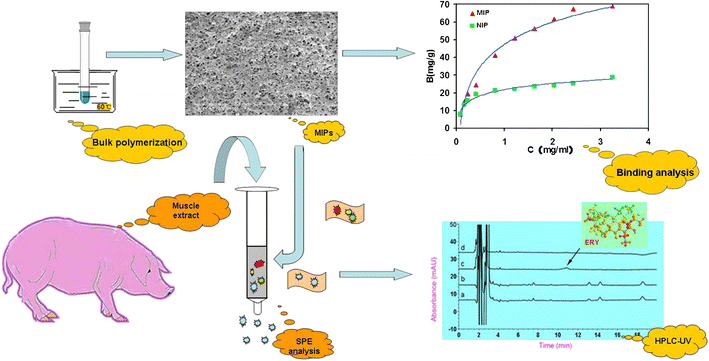 Keywords
Molecularly imprinted polymers 
Erythromycin 
Solid-phase extraction 
Pig muscle 
Tissue sample 
Notes
Acknowledgements
The authors acknowledge the financial support from the National "863'' High-Tech Project (2006AA10Z438), the National Key Project of Scientific and Technical Supporting Programs Funded by Ministry of Science & Technology of China (NO.2006BAK02A09), Shanghai Nano-tech Special Fund (0652nm017) and Shanghai Leading Academic Discipline Project (B205). The authors are grateful to the Instrumental Analysis Center of Shanghai Jiao Tong University, China, for SEM photography. We are grateful to Tom Hsiang (University of Guelph, Canada) for technical language editing.