Rapid and quantitative DNA analysis of genetic mutations for polycystic kidney disease (PKD) using magnetic/luminescent nanoparticles
Abstract
Rapid and accurate detection of genetic mutations based on nanotechnology would provide substantial advances in detection of polycystic kidney disease (PKD), a disease whose current methods of detection are cumbersome due to the large size and duplication of the mutated gene. In this study, a nanotechnology-based DNA assay was developed for detection of SNPs (single nucleotide polymorphisms) in a feline autosomal dominant PKD (ADPKD) model which can readily be adapted to diagnosis of human ADPKD type 1. Europium and terbium phosphors were doped into gadolinium crystal hosts with a magnetic core, providing stable luminescence and the possibility of magnetic manipulations in a solution-based assay. A hybridization-in-solution DNA assay was optimized for feline PKD gene SNP detection using genomic DNA extracted from feline kidney tissue and blood. This assay showed a substantial differentiation between PKD and control specimens. The nanotechnology-based DNA assay is attractive from the viewpoint of rapid availability, simple methodology, and cost reduction for clinical use to detect mutations involved in human ADPKD and other genetic diseases.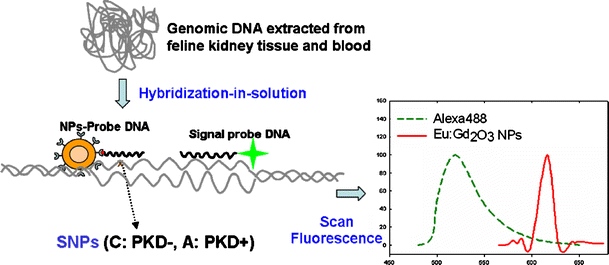 Keywords
Polycystic kidney disease (PKD) 
DNA 
Single nucleotide polymorphisms (SNPs) 
Nanoparticles 
Hybridization-in-solution 
Lanthanide oxide 
Notes
Acknowledgments
We are grateful to Dr Robert A. Grahn and Dr Leslie Lyons in the School of Veterinary Medicine at UC Davis for providing feline kidney tissue and blood. The help of Dr Zhiya Ma in supplying the magnetic iron oxide particles for this study is gratefully acknowledged. This publication was made possible by grant number 5 P42 ES004699 from the National Institute of Environmental Health Sciences (NIEHS), NIH and the contents are solely the responsibility of the authors and do not necessarily represent the official views of the NIEHS, NIH (IMK, KRH). Support was also obtained from the Early Detection Research Network from the NCI (RHW) and grants from the VHL Family Alliance, Dialysis Clinics, Inc., and the Morris Animal Foundation (RHW).