On-line NMR detection of microgram quantities of heparin-derived oligosaccharides and their structure elucidation by microcoil NMR
Abstract
The isolation and purification of sufficient quantities of heparin-derived oligosaccharides for characterization by NMR is a tedious and time-consuming process. In addition, the structural complexity and microheterogeneity of heparin makes its characterization a challenging task. The improved mass-sensitivity of microcoil NMR probe technology makes this technique well suited for characterization of mass-limited heparin-derived oligosaccharides. Although microcoil probes have poorer concentration sensitivity than conventional NMR probes, this limitation can be overcome by coupling capillary isotachophoresis (cITP) with on-line microcoil NMR detection (cITP-NMR). Strategies to improve the sensitivity of on-line NMR detection through changes in probe design and in the cITP-NMR experimental protocol are discussed. These improvements in sensitivity allow acquisition of cITP-NMR survey spectra facilitating tentative identification of unknown oligosaccharides. Complete structure elucidation for microgram quantities of the purified material can be carried out through acquisition of 2D NMR spectra using a CapNMR microcoil probe.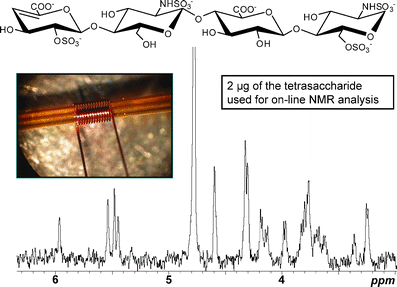 Keywords
Heparin 
Microcoil 
NMR 
Capillary isotachophoresis 
Glycosaminoglycans 
Structure elucidation 
Notes
Acknowledgements
C. K. L. gratefully acknowledges financial support from the National Science Foundation grant CHE-0616811 and the University of California Cancer Research Coordinating Committee grant 5-441096-34384. The authors thank Professors Andrew G. Webb and Jonathan V. Sweedler and their associates for their assistance in the design and construction of the NMR microcoil probes used in this research. The authors also thank Professor Dallas Rabenstein and Khahn Nguyen for the gift of the heparin tetrasaccharide used in this work.