Abstract
A quadrupole inductively coupled plasma mass spectrometer was evaluated for use in the detection of phosphorus. The influences of nitric acid and methanol (simulating the composition of a sample solution after nitric acid digestion) on phosphorus determination were studied using two different measuring methods at different plasma conditions: detection of phosphorus ions at m/z 31 and detection of phosphorus oxide ions at m/z 47. The existence of polyatomic interferences at m/z 31 and 47 was explored. Nitric acid and methanol are shown to be the sources of polyatomic ions and therefore cause poorer detection limits. Better detection limits were achieved in such matrices when phosphorus was detected as 31P+. The presence of methanol improves the system sensitivity towards phosphorus sevenfold; however, this positive effect is hindered by the high background signal due to carbon-based polyatomic ions. For samples with an organic matrix an appropriate mineralization procedure should be applied (high excess of nitric acid and high temperature) to quantitatively oxidize organic compounds to carbon dioxide, which is easily removed from the sample, in order to achieve correct results.
This is a preview of subscription content, log in to check access.
Access options
Buy single article
Instant access to the full article PDF.
US$ 39.95
Price includes VAT for USA
Subscribe to journal
Immediate online access to all issues from 2019. Subscription will auto renew annually.
US$ 157
This is the net price. Taxes to be calculated in checkout.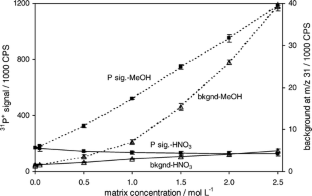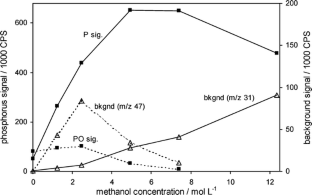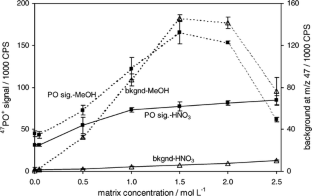 References
1.

Esslemont G, Maher W, Ford P, Krikowa F (2000) At Spectr 21:42–45

2.

Jiang S, Houk RS (1988) Spectrochim Acta B 43:405–411

3.

Fernandez RG, Alonso JIG, Sanz-Medel A (2001) J Anal At Spectrom 16:1035–1039

4.

Divjak B, Novi̇č M, Goessler W (1999) J Chromatogr A 862:39–47

5.

Kovȧčevič M, Gartner A, Novič M (2004) J Chromatogr A 1039:77–82

6.

Wind M, Edler M, Jakubowski N, Linscheid M, Wesch H, Lehmann WD (2001) Anal Chem 73:29–35

7.

Siethoff C, Feldmann I, Jakubowski N, Linscheid M (1999) J Mass Spectrom 34:421–426

8.

Wind M, Eisenmenger A, Lehmann WD (2002) J Anal At Spectrom 17:21–26

9.

Helfrich A, Bettmer J (2004) J Anal At Spectrom 19:1330–1334

10.

Pröfrock D, Leonhard P, Prange A (2003) J Anal At Spectrom 18:708–713

11.

Kovȧčevič M, Leber R, Kohlwein SD, Goessler W (2004) J Anal At Spectrom 19:80–84

12.

Bandura DR, Baranov VI, Tanner SD (2002) Anal Chem 74:1497–1502

13.

Steward II, Olesik JW (1998) J Anal At Spectrom 13:1313–1320

14.

Allain P, Jaunault L, Mauras Y, Mermet JM, Delaporte T (1991) Anal Chem 63:1497–1498

15.

Larsen EH, Stürup S (1994) J Anal At Spectrom 9:1099–1105

16.

Hu Z, Hu S, Gao S, Liu Y, Lin S (2004) Spectrochim Acta B 59:1463–1470

17.

Kozono S, Takahashi S, Haraguchi H (2002) Anal Bioanal Chem 372:542–548

18.

Wasilewska M, Goessler W, Zischka M, Maichin B, Knapp G (2002) J Anal At Spectrom 17:1121–1125
Acknowledgements
The authors thank the Slovenian Research Agency (S1-104-004/19054/2001, P1-0034) and the Ministry of Science, Education and Sport of the Republic of Croatia (0098132) for financial support, Mrs. M. Moder (Petrol) for engine oil reference material and Dr. J. Hinrichs (Thermo) for assistance with SF-ICPMS.
About this article
Cite this article
Kovačevič, M., Goessler, W., Mikac, N. et al. Matrix effects during phosphorus determination with quadrupole inductively coupled plasma mass spectrometry. Anal Bioanal Chem 383, 145–151 (2005). https://doi.org/10.1007/s00216-005-3389-8
Received:

Revised:

Accepted:

Published:

Issue Date:
Keywords
Quadrupole inductively coupled plasma mass spectrometry

Phosphorus

Matrix effects

Polyatomic interferences

Signal enhancement