Abstract
Rationale
Barriers to smoking cessation, including negative affect and cognitive dysfunction, may contribute to high smoking rates among people living with HIV/AIDS (PLWH). Varenicline may help PLWH quit smoking by improving mood and cognition, yet this has not been explored.
Objectives
The goal of this study was to evaluate the effect of varenicline on mood and cognition among PLWH enrolled in a smoking cessation clinical trial.
Methods
In this secondary analysis of a varenicline trial (NCT01710137), we assessed mood (depression, anxiety) and cognition (attention, working memory) at weeks 0 (baseline), 1, 3, and 12 (end-of-treatment, EOT). Primary outcomes were changes in mood and cognition from baseline to EOT. Secondarily, mood and cognition were evaluated as predictors of biochemically confirmed 7-day point-prevalence abstinence at EOT.
Results
Overall, 173 subjects (87 varenicline, 86 placebo) were included. At EOT, varenicline reduced anxiety (P < 0.001), vs. placebo (P = 0.31; interaction P = 0.05). Across both treatment arms, reductions in anxiety from baseline to EOT were associated with a higher likelihood of abstinence (OR = 1.3, 95% CI 1.1 to 1.6, P = 0.01). There were no significant treatment by time interactions for cognition or depression.
Conclusions
These data suggest that varenicline operates, at least in part, by reducing anxiety. Anxiety should be an intervention target for smokers with HIV interested in quitting.
This is a preview of subscription content, log in to check access.
Access options
Buy single article
Instant unlimited access to the full article PDF.
US$ 39.95
Price includes VAT for USA
Subscribe to journal
Immediate online access to all issues from 2019. Subscription will auto renew annually.
US$ 199
This is the net price. Taxes to be calculated in checkout.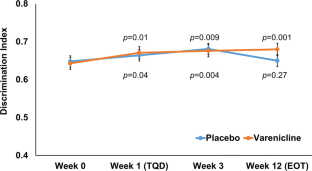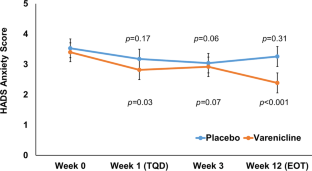 References
Anthenelli RM, Morris C, Ramey TS, Dubrava SJ, Tsilkos K, Russ C, Yunis C (2013) Effects of Varenicline on Smoking Cessation in Adults With Stably Treated Current or Past Major Depression: A Randomized Trial. Ann Intern Med 159:390–400. https://doi.org/10.7326/0003-4819-159-6-201309170-00005

Anthenelli RM et al (2016) Neuropsychiatric safety and efficacy of varenicline, bupropion, and nicotine patch in smokers with and without psychiatric disorders (EAGLES): a double-blind, randomised, placebo-controlled clinical trial. Lancet 387:2507–2520. https://doi.org/10.1016/s0140-6736(16)30272-0

Ashare RL, McKee SA (2012) Effects of varenicline and bupropion on cognitive processes among nicotine-deprived smokers. Exp Clin Psychopharmacol 20:63–70. https://doi.org/10.1037/a0025594

Ashare RL, Falcone M, Lerman C (2014) Cognitive function during nicotine withdrawal: implications for nicotine dependence treatment. Neuropharmacology 76(Pt B):581–591. https://doi.org/10.1016/j.neuropharm.2013.04.034

Ashare RL et al (2019) Placebo-controlled randomized clinical trial testing the efficacy and safety of varenicline for smokers with HIV. Drug Alcohol Depend 200:26–33. https://doi.org/10.1016/j.drugalcdep.2019.03.011

Bing EG et al (2001) Psychiatric disorders and drug use among human immunodeficiency virus-infected adults in the United States. Arch Gen Psychiatry 58:721–728. https://doi.org/10.1001/archpsyc.58.8.721

Brown RA, Burgess ES, Sales SD, Whiteley JA, Evans DM, Miller IW (1998) Reliability and validity of a smoking timeline follow-back interview. Psychol Addict Behav 12:101–112. https://doi.org/10.1037/0893-164X.12.2.101

Burkhalter JE, Springer CM, Chhabra R, Ostroff JS, Rapkin BD (2005) Tobacco use and readiness to quit smoking in low-income HIV-infected persons. Nicotine Tob Res 7:511–522. https://doi.org/10.1080/14622200500186064

Chang L, Lim A, Lau E, Alicata D (2017) Chronic tobacco-smoking on psychopathological symptoms, impulsivity and cognitive deficits in HIV-infected individuals. J Neuroimmune Pharmacol 12:389–401. https://doi.org/10.1007/s11481-017-9728-7

Cinciripini PM et al (2013) Effects of varenicline and bupropion sustained-release use plus intensive smoking cessation counseling on prolonged abstinence from smoking and on depression, negative affect, and other symptoms of nicotine withdrawal. JAMA Psychiatry 70:522–533. https://doi.org/10.1001/jamapsychiatry.2013.678

Dugravot A, Sabia S, Shipley MJ, Welch C, Kivimaki M, Singh-Manoux A (2015) Detection of Outliers Due to Participants' Non-Adherence to Protocol in a Longitudinal Study of Cognitive Decline. PLoS One 10:e0132110–e0132110. https://doi.org/10.1371/journal.pone.0132110

Fekete EM, Williams SL, Skinta MD (2018) Internalised HIV-stigma, loneliness, depressive symptoms and sleep quality in people living with HIV. Psychol Health 33:398–415. https://doi.org/10.1080/08870446.2017.1357816

Foulds J et al (2013) Effect of varenicline on individual nicotine withdrawal symptoms: a combined analysis of eight randomized, placebo-controlled trials. Nicotine Tob Res 15:1849–1857. https://doi.org/10.1093/ntr/ntt066

Gonzales D et al (2006) Varenicline, an alpha4beta2 nicotinic acetylcholine receptor partial agonist, vs sustained-release bupropion and placebo for smoking cessation: a randomized controlled trial. JAMA 296:47–55. https://doi.org/10.1001/jama.296.1.47

Green A et al (2005) Muscarinic and nicotinic receptor modulation of object and spatial n-back working memory in humans. Pharmacol Biochem Behav 81:575–584. https://doi.org/10.1016/j.pbb.2005.04.010

Harrison JD et al (2017) The nature and consequences of cognitive deficits among tobacco smokers with HIV: a comparison to tobacco smokers without HIV. J Neurovirol 23:550–557. https://doi.org/10.1007/s13365-017-0526-z

Heatherton TF, Kozlowski LT, Frecker RC, Fagerstrom KO (1991) The Fagerstrom Test for nicotine dependence: a revision of the Fagerstrom Tolerance Questionnaire. Br J Addict 86:1119–1127

Heaton RK et al (2010) HIV-associated neurocognitive disorders persist in the era of potent antiretroviral therapy: CHARTER study. Neurology 75:2087–2096. https://doi.org/10.1212/WNL.0b013e318200d727

Humfleet GL, Hall SM, Delucchi KL, Dilley JW (2013) A randomized clinical trial of smoking cessation treatments provided in HIV clinical care settings. Nicotine Tob Res 15:1436–1445. https://doi.org/10.1093/ntr/ntt005

Karg RS et al. (2012) Past year mental disorders among adults in the United States: results from the 2008-2012 Mental Health Surveillance Study. In: CBHSQ Data Review. Rockville (MD), pp 1–19

Kurtz MM, Ragland JD, Bilker W, Gur RC, Gur RE (2001) Comparison of the continuous performance test with and without working memory demands in healthy controls and patients with schizophrenia. Schizophr Res 48:307–316

Lam A, Mayo NE, Scott S, Brouillette MJ, Fellows LK (2019) HIV-Related Stigma Affects Cognition in Older Men Living With HIV. J Acquir Immune Defic Syndr 80:198–204. https://doi.org/10.1097/QAI.0000000000001898

Ledgerwood DM, Yskes R (2016) Smoking Cessation for People Living With HIV/AIDS: A Literature Review and Synthesis. Nicotine Tob Res 18:2177–2184. https://doi.org/10.1093/ntr/ntw126

Lester RA (2011) Cognitive mechanisms underlying relapse to nicotine. Rev Neurosci 22:467–470. https://doi.org/10.1515/RNS.2011.038

Lubetkin EI, Guidry JA, Webb A, Ocampo A, Burkhalter JE (2018) Examining transdiagnostic vulnerabilities among HIV positive smokers seen at three inner city community based organizations. AIDS Care 30:140–145. https://doi.org/10.1080/09540121.2017.1363366

McClernon FJ, Addicott MA, Sweitzer MM (2015) Smoking abstinence and neurocognition: implications for cessation and relapse. Curr Top Behav Neurosci 23:193–227. https://doi.org/10.1007/978-3-319-13665-3_8

McKee SA, Smith PH, Kaufman M, Mazure CM, Weinberger AH (2016) Sex Differences in Varenicline Efficacy for Smoking Cessation: A Meta-Analysis. Nicotine Tob Res 18:1002–1011. https://doi.org/10.1093/ntr/ntv207

Mdege ND, Shah S, Ayo-Yusuf OA, Hakim J, Siddiqi K (2017) Tobacco use among people living with HIV: analysis of data from demographic and health surveys from 28 low-income and middle-income countries. Lancet Glob Health 5:e578–e592. https://doi.org/10.1016/S2214-109X(17)30170-5

Mercie P et al (2018) Efficacy and safety of varenicline for smoking cessation in people living with HIV in France (ANRS 144 Inter-ACTIV): a randomised controlled phase 3 clinical trial. Lancet HIV 5:e126–e135. https://doi.org/10.1016/S2352-3018(18)30002-X

Mocking RJ, Patrick Pflanz C, Pringle A, Parsons E, McTavish SF, Cowen PJ, Harmer CJ (2013) Effects of short-term varenicline administration on emotional and cognitive processing in healthy, non-smoking adults: a randomized, double-blind, study. Neuropsychopharmacology 38:476–484. https://doi.org/10.1038/npp.2012.205

Pacek LR, Cioe PA (2015) Tobacco use, use disorders, and smoking cessation interventions in persons living with HIV. Curr HIV/AIDS Rep 12:413–420. https://doi.org/10.1007/s11904-015-0281-9

Patterson F et al (2010) Working memory deficits predict short-term smoking resumption following brief abstinence. Drug Alcohol Depend 106:61–64. https://doi.org/10.1016/j.drugalcdep.2009.07.020

Philip NS, Carpenter LL, Tyrka AR, Whiteley LB, Price LH (2009) Varenicline augmentation in depressed smokers: an 8-week, open-label study. J Clin Psychiatry 70:1026–1031

Piper ME et al (2017) Toward precision smoking cessation treatment II: proximal effects of smoking cessation intervention components on putative mechanisms of action. Drug Alcohol Depend 171:50–58. https://doi.org/10.1016/j.drugalcdep.2016.11.027

Pitasi MA et al (2018) Stigmatizing attitudes toward people living with HIV among adults and adolescents in the United States. AIDS Behav 22:3887–3891. https://doi.org/10.1007/s10461-018-2188-0

Pool ER, Dogar O, Lindsay RP, Weatherburn P, Siddiqi K (2016) Interventions for tobacco use cessation in people living with HIV and AIDS. Cochrane Database Syst Rev:CD011120. https://doi.org/10.1002/14651858.CD011120.pub2

Price S et al (2017) The use of varenicline to treat nicotine dependence among patients with cancer. Psychooncology 26:1526–1534. https://doi.org/10.1002/pon.4166

Raposeiras-Roubin S, Abu-Assi E, Iniguez-Romo A (2017) Tobacco, illicit drugs use and risk of cardiovascular disease in patients living with HIV. Curr Opin HIV AIDS 12:523–527. https://doi.org/10.1097/coh.0000000000000407

Rhodes JD, Hawk LW Jr, Ashare RL, Schlienz NJ, Mahoney MC (2012) The effects of varenicline on attention and inhibitory control among treatment-seeking smokers. Psychopharmacology (Berl) 223:131–138. https://doi.org/10.1007/s00213-012-2700-6

Roberts W, McKee SA (2018) Effects of varenicline on cognitive performance in heavy drinkers: dose-response effects and associations with drinking outcomes. Exp Clin Psychopharmacol 26:49–57. https://doi.org/10.1037/pha0000161

Rooney AS, Moore RC, Paolillo EW, Gouaux B, Umlauf A, Letendre SL, Jeste DV, Moore DJ, HIV Neurobehavioral Research Program (2019) Depression and aging with HIV: associations with health-related quality of life and positive psychological factors. J Affect Disord 251:1–7. https://doi.org/10.1016/j.jad.2019.03.025

Sherbourne CD et al (2000) Impact of psychiatric conditions on health-related quality of life in persons with HIV infection. Am J Psychiatry 157:248–254. https://doi.org/10.1176/appi.ajp.157.2.248

Smith RC, Amiaz R, Si TM, Maayan L, Jin H, Boules S, Sershen H, Li C, Ren J, Liu Y, Youseff M, Lajtha A, Guidotti A, Weiser M, Davis JM (2016) Varenicline effects on smoking, cognition, and psychiatric symptoms in schizophrenia: a double-blind randomized trial. PLoS One 11:e0143490. https://doi.org/10.1371/journal.pone.0143490

Snodgrass JG, Corwin J (1988) Pragmatics of measuring recognition memory: applications to dementia and amnesia. J Exp Psychol Gen 117:34–50

Wandeler G, Johnson LF, Egger M (2016) Trends in life expectancy of HIV-positive adults on antiretroviral therapy across the globe: comparisons with general population. Curr Opin HIV AIDS 11:492–500. https://doi.org/10.1097/coh.0000000000000298

Wang TW et al (2018) Tobacco product use among adults—United States, 2017. MMWR Morb Mortal Wkly Rep 67:1225–1232. https://doi.org/10.15585/mmwr.mm6744a2

Watson CW et al (2019) Effects of trauma, economic hardship, and stress on neurocognition and everyday function in HIV. Health Psychol 38:33–42. https://doi.org/10.1037/hea0000688

West R, Baker CL, Cappelleri JC, Bushmakin AG (2008) Effect of varenicline and bupropion SR on craving, nicotine withdrawal symptoms, and rewarding effects of smoking during a quit attempt. Psychopharmacology (Berl) 197:371–377. https://doi.org/10.1007/s00213-007-1041-3

Winhusen T, Feaster DJ, Duan R, Brown JL, Daar ES, Mandler R, Metsch LR (2018) Baseline cigarette smoking status as a predictor of virologic suppression and CD4 cell count during one-year follow-up in substance users with uncontrolled HIV infection. AIDS Behav 22:2026–2032. https://doi.org/10.1007/s10461-017-1928-x

Zigmond AS, Snaith RP (1983) The hospital anxiety and depression scale. Acta Psychiatr Scand 67:361–370
Acknowledgments
The United States National Institutes of Health and Pfizer had no role in the study design, collection, analysis or interpretation of the data, writing the manuscript, or the decision to submit the paper for publication. The study principal investigator and members of the research team and co-authors had full access to all study data and final responsibility for the decision to submit this paper for publication. We would like to thank Sue Ware and Paul Sanborn for their assistance with data collection and management.
Funding information
This research was supported by grants from the National Institute on Drug Abuse (R01 DA033681, K24 DA045244, R01 DA042682, and R01 DA044906) and through core services and support from the Penn Center for AIDS Research (P30 AI045008) and the Penn Mental Health AIDS Research Center (P30 MH097488). Pfizer provided medication and placebo free of charge.
Ethics declarations
Conflict of interest
Dr. Schnoll receives medication and placebo free of charge from Pfizer for clinical trials and has provided consultation to Pfizer, GlaxoSmithKline, and Curaleaf. Dr. Gross serves on a Pfizer Data and Safety Monitoring Board for a drug unrelated to smoking or HIV. Dr. Ashare has an investigator-initiated grant from Novo Nordisk for a drug unrelated to the current study.
Additional information
Publisher's note
Springer Nature remains neutral with regard to jurisdictional claims in published maps and institutional affiliations.
About this article
Cite this article
Thompson, M., Schnoll, R., Serrano, K. et al. The effect of varenicline on mood and cognition in smokers with HIV. Psychopharmacology (2020). https://doi.org/10.1007/s00213-020-05451-w
Received:

Accepted:

Published:
Keywords
HIV

Smoking cessation

Cognition

Anxiety

Depression