Abstract
Rationale
Comorbid use of heroin and cocaine is highly prevalent among drug users and can greatly increase addiction risk. Nonetheless, little is known regarding how a multi-drug history impacts motivation and cue responsivity to individual drugs.
Objective
We used behavioral-economic procedures to examine motivation to maintain drug consumption and tests of drug-seeking to drug-associated cues to assess sensitivity to heroin and cocaine-associated cues in rats that had a self-administration history of heroin, cocaine, or both drugs.
Results
Unexpectedly, we found that groups with a polydrug history of heroin and cocaine did not have higher levels of motivation or cue-induced reinstatement of drug-seeking for either cocaine or heroin compared to single drug groups. Nonetheless, we did find drug-specific differences in both economic price and cue sensitivity. Specifically, demand elasticity was lower for cocaine compared to heroin in animals with a single drug history, but not with polydrug groups. In addition, cocaine demand was predictive of the degree of cue-induced reinstatement of drug-seeking for cocaine following extinction, whereas heroin demand was predictive of the degree of reactivity to a heroin-associated cue. Furthermore, although cue reactivity following the initial self-administration phase did not differ across cues and drug history, reactivity to both heroin and cocaine cues was greater during subsequent heroin use compared to cocaine use, and this enhanced reactivity to heroin cues persisted during forced abstinence.
Conclusions
These results indicate that there is a greater motivation to maintain cocaine consumption, but higher sensitivity to drug-associated cues with a history of heroin use, suggesting that cocaine and heroin may drive continued drug use through different behavioral processes.
This is a preview of subscription content, log in to check access.
Access options
Buy single article
Instant unlimited access to the full article PDF.
US$ 39.95
Price includes VAT for USA
Subscribe to journal
Immediate online access to all issues from 2019. Subscription will auto renew annually.
US$ 199
This is the net price. Taxes to be calculated in checkout.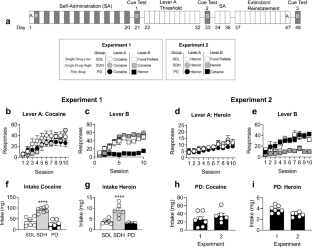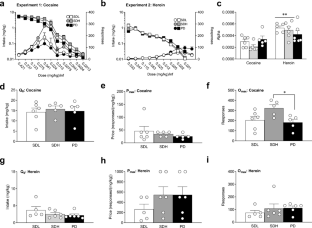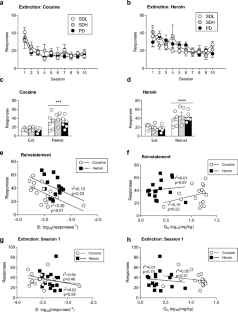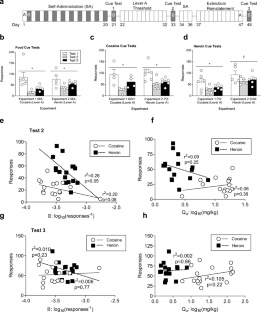 Acknowledgements
The authors would like to thank Ferguson lab members Dr. Aaron F. Garcia, Dr. Kanichi Garcia-Nakata, Timothy O'Neal, Grayson Baden, and Jordyn Richardson for their suggestions and feedback when designing, performing, and analyzing the results of these experiments, as well as Dr. Dave Roberts for his suggestions and insight while designing these experiments. The authors would also like to thank the staff of Seattle Children's Research Institute Office of Animal Care for their support of behavioral experiments, and Dr. Scott Ng-Evans, for his assistance with MED-PC programming and operant chamber support.
Funding information
Financial support for this work was provided by the National Institute on Drug Abuse R01DA036582 to SMF. This material is based upon work supported by the National Science Foundation Graduate Research Fellowship Program under Grant No. DGE-1762114 to EAC. Any opinions, findings, and conclusions or recommendations expressed in this material are those of the author(s) and do not necessarily reflect the views of the National Science Foundation.
Ethics declarations
Conflict of interest
The authors declare that they have no competing interest.
Additional information
Publisher's note
Springer Nature remains neutral with regard to jurisdictional claims in published maps and institutional affiliations.
About this article
Cite this article
Crummy, E.A., Donckels, E.A., Baskin, B.M. et al. The impact of cocaine and heroin drug history on motivation and cue sensitivity in a rat model of polydrug abuse. Psychopharmacology 237, 55–68 (2020). https://doi.org/10.1007/s00213-019-05349-2
Received:

Accepted:

Published:

Issue Date:
Keywords
Drug addiction

Rodent

Behavioral economics

Reward