Abstract
Introduction
Placebo effects in human clinical trials for depression treatment are robust and often comparable to drug effects. Placebo effects are traditionally difficult to study in rodents due to the slow-onset action of classical antidepressant drugs. We hypothesized that the rapid antidepressant actions of ketamine would allow modeling antidepressant placebo effects in rodents.
Methods
Male and female CD-1 mice received either ketamine or saline injections with concomitant exposure to specific environmental conditioning stimuli, for a total of three drug/conditioning sessions each 2 weeks apart. Two weeks later, during an evocation phase, mice were exposed to the drug-paired conditioning stimuli or no conditioned stimuli followed by testing for motor stimulatory actions and antidepressant-like effects using the forced swim test. Negative (no ketamine administration at any time) and positive (acute ketamine administration prior to evocation testing) control groups were included as comparators.
Results
Both male and female mice exhibited increased locomotor activity following ketamine administration during the conditioning phase, which was not observed following exposure to the conditioning stimuli. Exposure to the conditioning stimuli previously paired with ketamine, similar to an acute ketamine administration, reduced immobility time in the forced swim test both 1 and 24 h after administration in male, but not female, mice.
Conclusions
These results represent the first evidence of antidepressant-like placebo-conditioned effects in an animal model. The developed approach can be used as a model to explore the neurobiological mechanisms of placebo effects, their possible sexually dimorphic effects, and relevance to mechanisms underlying antidepressant action.
This is a preview of subscription content, log in to check access.
Access options
Buy single article
Instant unlimited access to the full article PDF.
US$ 39.95
Price includes VAT for USA
Subscribe to journal
Immediate online access to all issues from 2019. Subscription will auto renew annually.
US$ 199
This is the net price. Taxes to be calculated in checkout.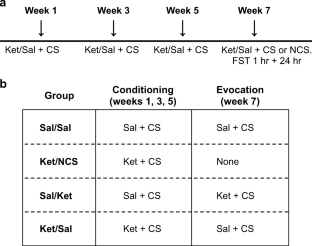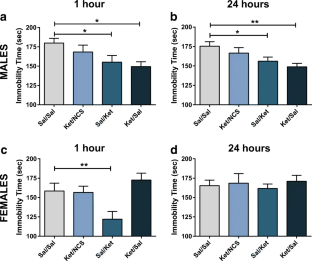 References
Abrams K, Kushner MG (2004) The moderating effects of tension-reduction alcohol outcome expectancies on placebo responding in individuals with social phobia. Addict Behav 29:1221–1224

Aletky PJ, Carlin AS (1975) Sex differences and placebo effects: motivation as an intervening variable. J Consult Clin Psychol 43:278

Amanzio M, Benedetti F (1999) Neuropharmacological dissection of placebo analgesia: expectation-activated opioid systems versus conditioning-activated specific subsystems. J Neurosci 19:484–494

Andrews G (2001) Placebo response in depression: bane of research, boon to therapy. Br J Psychiatry 178:192–194

Aslaksen PM, Flaten MA (2008) The roles of physiological and subjective stress in the effectiveness of a placebo on experimentally induced pain. Psychosom Med 70:811–818

Aslaksen PM, Bystad M, Vambheim SM, Flaten MA (2011) Gender differences in placebo analgesia: event-related potentials and emotional modulation. Psychosom Med 73:193–199

Autry AE, Adachi M, Nosyreva E, Na ES, Los MF, Cheng PF, Kavalali ET, Monteggia LM (2011) NMDA receptor blockade at rest triggers rapid behavioural antidepressant responses. Nature 475:91–95

Benedetti F, Colloca L, Torre E, Lanotte M, Melcarne A, Pesare M, Bergamasco B, Lopiano L (2004) Placebo-responsive Parkinson patients show decreased activity in single neurons of subthalamic nucleus. Nat Neurosci 7:587–588

Benedetti F, Mayberg HS, Wager TD, Stohler CS, Zubieta JK (2005) Neurobiological mechanisms of the placebo effect. J Neurosci 25:10390–10402

Berman RM, Cappiello A, Anand A, Oren DA, Heninger GR, Charney DS, Krystal JH (2000) Antidepressant effects of ketamine in depressed patients. Biol Psychiatry 47:351–354

Bjorkedal E, Flaten MA (2011) Interaction between expectancies and drug effects: an experimental investigation of placebo analgesia with caffeine as an active placebo. Psychopharmacology 215:537–548

Carrier N, Kabbaj M (2013) Sex differences in the antidepressant-like effects of ketamine. Neuropharmacology 70:27–34

Colagiuri B, Schenk LA, Kessler MD, Dorsey SG, Colloca L (2015) The placebo effect: from concepts to genes. Neuroscience 307:171–190

Colloca L (2019) The placebo effect in pain therapies. Annu Rev Pharmacol Toxicol 59:191–211

Colloca L, Klinger R, Flor H, Bingel U (2013) Placebo analgesia: psychological and neurobiological mechanisms. Pain 154:511–514

Colloca L, Enck P, DeGrazia D (2016a) Relieving pain using dose-extending placebos: a scoping review. Pain 157:1590–1598

Colloca L, Pine DS, Ernst M, Miller FG, Grillon C (2016b) Vasopressin boosts placebo analgesic effects in women: a randomized trial. Biol Psychiatry 79:794–802

Fava M, Freeman MP, Flynn M, Judge H, Hoeppner BB, Cusin C, Ionescu DF, Mathew SJ, Chang LC, Iosifescu DV, Murrough J, Debattista C, Schatzberg AF, Trivedi MH, Jha MK, Sanacora G, Wilkinson ST, Papakostas GI (2018) Double-blind, placebo-controlled, dose-ranging trial of intravenous ketamine as adjunctive therapy in treatment-resistant depression (TRD). Mol Psychiatry. https://doi.org/10.1038/s41380-018-0256-5. https://www.ncbi.nlm.nih.gov/pubmed/30283029

Fond G, Loundou A, Rabu C, Macgregor A, Lancon C, Brittner M, Micoulaud-Franchi JA, Richieri R, Courtet P, Abbar M, Roger M, Leboyer M, Boyer L (2014) Ketamine administration in depressive disorders: a systematic review and meta-analysis. Psychopharmacology 231:3663–3676

Fournier JC, DeRubeis RJ, Hollon SD, Dimidjian S, Amsterdam JD, Shelton RC, Fawcett J (2010) Antidepressant drug effects and depression severity: a patient-level meta-analysis. JAMA 303:47–53

Furukawa TA, Cipriani A, Atkinson LZ, Leucht S, Ogawa Y, Takeshima N, Hayasaka Y, Chaimani A, Salanti G (2016) Placebo response rates in antidepressant trials: a systematic review of published and unpublished double-blind randomised controlled studies. Lancet Psychiatry 3:1059–1066

Goebel MU, Trebst AE, Steiner J, Xie YF, Exton MS, Frede S, Canbay AE, Michel MC, Heemann U, Schedlowski M (2002) Behavioral conditioning of immunosuppression is possible in humans. FASEB J 16:1869–1873

Grubbs FE (1969) Procedures for detecting outlying observations in samples. Technometrics 11:1–21

Guo JY, Wang JY, Luo F (2010) Dissection of placebo analgesia in mice: the conditions for activation of opioid and non-opioid systems. J Psychopharmacol 24:1561–1567

Guo JY, Yuan XY, Sui F, Zhang WC, Wang JY, Luo F, Luo J (2011) Placebo analgesia affects the behavioral despair tests and hormonal secretions in mice. Psychopharmacology 217:83–90

Hadamitzky M, Sondermann W, Benson S, Schedlowski M (2018) Placebo effects in the immune system. Int Rev Neurobiol 138:39–59

Haltia LT, Rinne JO, Helin S, Parkkola R, Nagren K, Kaasinen V (2008) Effects of intravenous placebo with glucose expectation on human basal ganglia dopaminergic function. Synapse 62:682–688

Herrnstein RJ (1962) Placebo effect in the rat. Science 138:677–678

Hoflich A, Ganger S, Tik M, Hahn A, Kranz GS, Vanicek T, Spies M, Kraus C, Windischberger C, Kasper S, Winkler D, Lanzenberger R (2017) Imaging the neuroplastic effects of ketamine with VBM and the necessity of placebo control. Neuroimage 147:198–203

Irifune M, Shimizu T, Nomoto M, Fukuda T (1995) Involvement of N-methyl-D-aspartate (NMDA) receptors in noncompetitive NMDA receptor antagonist-induced hyperlocomotion in mice. Pharmacol Biochem Behav 51:291–296

Keller A, Akintola T, Colloca L (2018) Placebo analgesia in rodents: current and future research. Int Rev Neurobiol 138:1–15

Kirsch I (2010) Review: benefits of antidepressants over placebo limited except in very severe depression. Evid Based Ment Health 13:49

Kirsch I (2014) The emperor's new drugs: medication and placebo in the treatment of depression. Handb Exp Pharmacol 225:291–303

Kirsch I, Sapirstein G (1998) Listening to Prozac but hearing placebo: a meta-analysis of antidepressant medication. Prev Treat 1:2a. https://psycnet.apa.org/doiLanding?doi=10.1037%2F1522-3736.1.1.12a

Kirsch I, Deacon BJ, Huedo-Medina TB, Scoboria A, Moore TJ, Johnson BT (2008) Initial severity and antidepressant benefits: a meta-analysis of data submitted to the Food and Drug Administration. PLoS Med 5:e45

Klosterhalfen S, Kellermann S, Braun S, Kowalski A, Schrauth M, Zipfel S, Enck P (2009) Gender and the nocebo response following conditioning and expectancy. J Psychosom Res 66:323–328

Krummenacher P, Kossowsky J, Schwarz C, Brugger P, Kelley JM, Meyer A, Gaab J (2014) Expectancy-induced placebo analgesia in children and the role of magical thinking. J Pain 15:1282–1293

Krystal JH, Karper LP, Seibyl JP, Freeman GK, Delaney R, Bremner JD, Heninger GR, Bowers MB Jr, Charney DS (1994) Subanesthetic effects of the noncompetitive NMDA antagonist, ketamine, in humans. Psychotomimetic, perceptual, cognitive, and neuroendocrine responses. Arch Gen Psychiatry 51:199–214

Lapidus KA, Levitch CF, Perez AM, Brallier JW, Parides MK, Soleimani L, Feder A, Iosifescu DV, Charney DS, Murrough JW (2014) A randomized controlled trial of intranasal ketamine in major depressive disorder. Biol Psychiatry 76:970–976

Li N, Lee B, Liu RJ, Banasr M, Dwyer JM, Iwata M, Li XY, Aghajanian G, Duman RS (2010) mTOR-dependent synapse formation underlies the rapid antidepressant effects of NMDA antagonists. Science 329:959–964

Maeng S, Zarate CA Jr, Du J, Schloesser RJ, McCammon J, Chen G, Manji HK (2008) Cellular mechanisms underlying the antidepressant effects of ketamine: role of alpha-amino-3-hydroxy-5-methylisoxazole-4-propionic acid receptors. Biol Psychiatry 63:349–352

Mayberg HS, Silva JA, Brannan SK, Tekell JL, Mahurin RK, McGinnis S, Jerabek PA (2002) The functional neuroanatomy of the placebo effect. Am J Psychiatry 159:728–737

McNabb CT, White MM, Harris AL, Fuchs PN (2014) The elusive rat model of conditioned placebo analgesia. Pain 155:2022–2032

Montgomery G, Kirsch I (1996) Mechanisms of placebo pain reduction: an empirical investigation. Psychol Sci 7:174–176

Murrough JW, Iosifescu DV, Chang LC, Al Jurdi RK, Green CE, Perez AM, Iqbal S, Pillemer S, Foulkes A, Shah A, Charney DS, Mathew SJ (2013) Antidepressant efficacy of ketamine in treatment-resistant major depression: a two-site randomized controlled trial. Am J Psychiatry 170:1134–1142

Peiris N, Blasini M, Wright T, Colloca L (2018) The placebo phenomenon: a narrow focus on psychological models. Perspect Biol Med 61:388–400

Petit-Demouliere B, Chenu F, Bourin M (2005) Forced swimming test in mice: a review of antidepressant activity. Psychopharmacology 177:245–255

Pollo A, Amanzio M, Arslanian A, Casadio C, Maggi G, Benedetti F (2001) Response expectancies in placebo analgesia and their clinical relevance. Pain 93:77–84

Ramaker MJ, Dulawa SC (2017) Identifying fast-onset antidepressants using rodent models. Mol Psychiatry 22:656–665

Rush AJ, Trivedi MH, Wisniewski SR, Nierenberg AA, Stewart JW, Warden D, Niederehe G, Thase ME, Lavori PW, Lebowitz BD, McGrath PJ, Rosenbaum JF, Sackeim HA, Kupfer DJ, Luther J, Fava M (2006) Acute and longer-term outcomes in depressed outpatients requiring one or several treatment steps: a STAR*D report. Am J Psychiatry 163:1905–1917

Sarkar A, Kabbaj M (2016) Sex differences in effects of ketamine on behavior, spine density, and synaptic proteins in socially isolated rats. Biol Psychiatry 80:448–456

Singh JB, Fedgchin M, Daly EJ, De Boer P, Cooper K, Lim P, Pinter C, Murrough JW, Sanacora G, Shelton RC, Kurian B, Winokur A, Fava M, Manji H, Drevets WC, Van Nueten L (2016) A double-blind, randomized, placebo-controlled, dose-frequency study of intravenous ketamine in patients with treatment-resistant depression. Am J Psychiatry 173:816–826

Stein DJ, Mayberg H (2005) Placebo: the best pill of all. CNS Spectr 10:440–442

Vambheim SM, Flaten MA (2017) A systematic review of sex differences in the placebo and the nocebo effect. J Pain Res 10:1831–1839

Wilkinson ST, Farmer C, Ballard ED, Mathew SJ, Grunebaum MF, Murrough JW, Sos P, Wang G, Gueorguieva R (2019) Zarate CA. Impact of midazolam vs. saline on effect size estimates in controlled trials of ketamine as a rapid-acting antidepressant, Neuropsychopharmacology

Zanos P, Gould TD (2018) Mechanisms of ketamine action as an antidepressant. Mol Psychiatry 23:801–811

Zanos P, Piantadosi SC, Wu HQ, Pribut HJ, Dell MJ, Can A, Snodgrass HR, Zarate CA Jr, Schwarcz R, Gould TD (2015) The prodrug 4-chlorokynurenine causes ketamine-like antidepressant effects, but not side effects, by NMDA/glycineB-site inhibition. J Pharmacol Exp Ther 355:76–85

Zanos P, Moaddel R, Morris PJ, Georgiou P, Fischell J, Elmer GI, Alkondon M, Yuan P, Pribut HJ, Singh NS, Dossou KS, Fang Y, Huang XP, Mayo CL, Wainer IW, Albuquerque EX, Thompson SM, Thomas CJ, Zarate CA Jr, Gould TD (2016) NMDAR inhibition-independent antidepressant actions of ketamine metabolites. Nature 533:481–486

Zarate CA Jr, Singh JB, Carlson PJ, Brutsche NE, Ameli R, Luckenbaugh DA, Charney DS, Manji HK (2006) A randomized trial of an N-methyl-D-aspartate antagonist in treatment-resistant major depression. Arch Gen Psychiatry 63:856–864

Zhang RR, Zhang WC, Wang JY, Guo JY (2013) The opioid placebo analgesia is mediated exclusively through mu-opioid receptor in rat. Int J Neuropsychopharmacol 16:849–856
Ethics declarations
All experimental procedures were approved by the University of Maryland, Baltimore Animal Care and Use Committee and were performed in accordance with the National Institutes of Health Guide for the Care and Use of Laboratory Animals.
Disclaimer
The contents of this manuscript do not represent the views of the U.S. Department of Veterans Affairs or the US Government.
Conflict of interest
TDG has received research funding from Allergan, and Roche Pharmaceuticals, and consultant fees from FSV7 LLC during the preceding 3 years. LC reported having received support for Invited Lectures outside the submitted work.
Additional information
Publisher's note
Springer Nature remains neutral with regard to jurisdictional claims in published maps and institutional affiliations.
Samuel R. Krimmel and Panos Zanos have equal first author contributions.
Luana Colloca and Todd D. Gould have equal senior author contributions.
About this article
Cite this article
Krimmel, S.R., Zanos, P., Georgiou, P. et al. Classical conditioning of antidepressant placebo effects in mice. Psychopharmacology 237, 93–102 (2020) doi:10.1007/s00213-019-05347-4
Received:

Accepted:

Published:

Issue Date:
Keywords
Ketamine

Placebo

Antidepressant

Classical conditioning

Depression

Animal model

Mice

Biological sex