Ethanol actions on the ventral tegmental area: novel potential targets on reward pathway neurons
Abstract
The ventral tegmental area (VTA) evaluates salience of environmental stimuli and provides dopaminergic innervation to many brain areas affected by acute and chronic ethanol exposure. While primarily associated with rewarding and reinforcing stimuli, recent evidence indicates a role for the VTA in aversion as well. Ethanol actions in the VTA may trigger neuroadaptation resulting in reduction of the aversive responses to alcohol and a relative increase in the rewarding responses. In searching for effective pharmacotherapies for the treatment of alcohol abuse and alcoholism, recognition of this imbalance may reveal novel strategies. In addition to conventional receptor/ion channel pharmacotherapies, epigenetic factors that control neuroadaptation to chronic ethanol treatment can be targeted as an avenue for development of therapeutic approaches to restore the balance. Furthermore, when exploring therapies to address reward/aversion imbalance in the action of alcohol in the VTA, sex differences have to be taken into account to ensure effective treatment for both men and women. These principles apply to a VTA-centric approach to therapies, but should hold true when thinking about the overall approach in the development of neuroactive drugs to treat alcohol use disorders. Although the functions of the VTA itself are complex, it is a useful model system to evaluate the reward/aversion imbalance that occurs with ethanol exposure and could be used to provide new leads in the efforts to develop novel drugs to treat alcoholism.
Keywords
VTA 
Epigenetic 
Dopamine 
Reward/aversion 
Sex differences 
Alcoholism 
Ethanol actions on the ventral tegmental area
Epigenetic actions of ethanol: a novel avenue for treatment
In general, adaptive changes in the brain produced by alcohol are long lasting; those brain changes that promote alcohol seeking outlast acute withdrawal and can undermine sobriety years after the individual has stopped drinking. Recent developments in the study of interactions between the environment and the genome point to epigenetics as underlying the nature of those alcohol-induced changes. Approaching therapy for alcoholism from the standpoint of the epigenome may be an effective way to reverse alcohol-induced brain changes as an adjunct to other treatments for alcoholism. While the application of epigenetics methodology to alcohol and substance use disorders is relatively recent, the hope is that overcoming alcohol-induced changes in brain physiology at the level of the epigenome will restore the reward/aversion balance in the VTA, and in other brain areas.
Epigenetics can be broadly defined as alterations of gene information, without affecting the DNA sequence (Holliday 2006), and is an emerging area in the fields of alcohol and substance abuse (Nestler 2013; Pandey et al. 2008). Although genetic factors can be reliable predictors of risk for some diseases, for psychiatric disorders like alcoholism it is commonly accepted that genes themselves account for only about 40–60% of the variance involved in alcoholism (Prescott and Kendler 1999). Some "inheritable" factors of alcoholism are now suggested to be epigenetic-based. For example, parental exposure to ethanol prior to conception, via epigenetic mechanisms, can affect ethanol preference and sensitivity, stress phenotype in offspring and gene expression in VTA (Finegersh and Homanics 2014; Rompala et al. 2017). Social environmental elements also affect the vulnerability to addiction to drugs such as alcohol (Ajonijebu et al. 2017). Growing evidence suggests that epigenetic modifications play critical roles in brain changes induced by drugs of abuse (Nestler 2013), including alcohol (Farris et al. 2015b; Krishnan et al. 2014; Kyzar and Pandey 2015; Moonat and Pandey 2012; Ponomarev et al. 2012; Starkman et al. 2012). From the perspective of the VTA, long-term alteration in function following ethanol exposure, such as changes in GABA sensitivity, may be determined by epigenetic modifications (Arora et al. 2013). Reversing those modifications may restore pre-exposure function and may support abstinence over relapse.
The most commonly accepted epigenetic mechanisms can be categorized into DNA methylation, histone modification, noncoding RNA (ncRNA)-mediated and prion protein-mediated regulation (Bonasio et al.
2010
; Choudhuri
2011
; Houri-Zeevi and Rechavi
2017
). Research into these last two types of epigenetic regulation are emerging but less is currently known with respect to alcohol and alcoholism and will not be examined in depth in this review. Significant evidence has accumulated thus far that DNA methylation, histone acetylation and histone methylation are associated with alcoholism. Briefly, chromatin can be divided into units called nucleosomes that are composed of histone octamers (two copies each of H2A, H2B, H3, and H4) and the DNA that wraps around them. DNA can undergo direct methylation, while histone modifications (acetylation, methylation, phosphorylation, and ubiquitinization) occur on histone "tails." Combinations of different modifications of DNA and the histone tails determine the state of the chromatin to be either "open" (favoring gene transcription) or "condensed" (making gene transcription less likely) (Fig. 
2
). DNA methylation is believed to silence or repress the transcription of DNA information. On the other hand, histone acetylation generally promotes gene transcription. Methylation of DNA and lack of acetylation on histone tails usually results in condensation of chromatin, blocking gene transcription. DNA demethylation and histone acetylation can lead to the opposite effect, opening the chromatin for gene transcription. Histone methylation is a more complex epigenetic modification: the number (mono-, di-, or trimethylation) and location of histone methylation can exert different influences on the chromatin structure. Histone phosphorylation and ubiquitination are also complex mechanisms and their roles in the epigenetics of alcohol are less understood.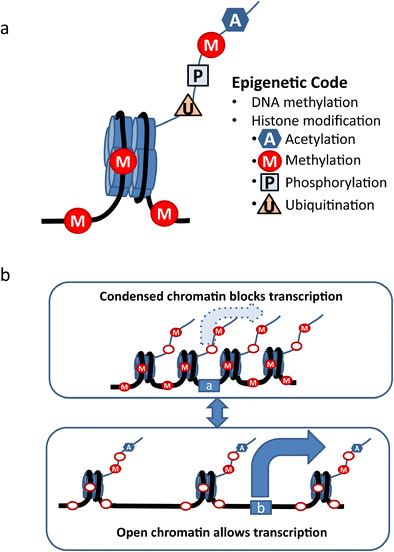 Consideration of sex differences
Layered upon the complexity of the development of any effective treatments for alcohol use disorders (using epigenetic or more conventional strategies) is the issue of sex differences. Numerous studies have established significant sex differences in alcohol drinking. More men than women drink; however, this "gender gap" is declining as the prevalence of alcohol consumption is increasing in women (Keyes et al. 2008). Alcohol-induced impairments, such as impaired cognition, vary between males and females (Dudek and Phillips 1990; Jones and Whitfield 1995; Middaugh et al. 1992). Finally, women are more vulnerable to health risks associated with alcohol consumption such as liver disease and brain damage (Eagon 2010; Mann et al. 1992). Ethanol consumption in animal studies varies with species, with female rodents and male nonhuman primates generally drinking more (Lancaster and Spiegel 1992; Vivian et al. 2001). These sex differences may not be due to differing magnitudes of the same mechanisms, but could be discrete mechanisms. When seeking to restore the aversion/reward balance in the VTA, distinct strategies may be necessary for males and females. The observed sex differences in alcoholism stress the importance of understanding the mechanisms for addictive behaviors in both males and females.
A substantial number of studies have examined sex differences in dopaminergic neurotransmission. Evidence from both clinical and preclinical studies have identified inherent sex differences in dopaminergic systems. Clinical studies have demonstrated that striatal dopamine synthesis and DAT expression levels are higher in females compared to males (Laakso et al. 2002; Lavalaye et al. 2000; Mozley et al. 2001). Dopamine D2 receptor affinities are greater in men than in women (Pohjalainen et al. 1998). Sex-associated structural differences in the VTA may also partially contribute to differences in reward-seeking behaviors. There are a greater number of dopaminergic neurons and a larger VTA volume in females (McArthur et al. 2007a). The general shape of the VTA and localization of cells within the VTA is different between sexes (McArthur et al. 2007a); in males, dopaminergic neuronal subtypes were evenly distributed throughout the layers of the VTA, whereas in females, dopaminergic neuronal subtypes were more segregated in specific regions (McArthur et al. 2007a).
In addition to cytoarchitectural differences in dopamine brain areas, there are also differences in dopamine circuit composition between sexes. There are differences in the distribution of DA VTA neurons making up mesocortical pathways in males and females. In female rats, there is a larger proportion of VTA DA cells projecting to the prefrontal cortex than in males (Kritzer and Creutz 2008). Interestingly, in male rats, there are differences in the composition of androgen and estrogen receptors on DA VTA neurons that project to different brain regions, suggesting sex hormones may play distinct roles in modulating dopamine functions (Creutz and Kritzer 2004).
Sex hormones and dopamine
Hormones play an important role in shaping dopaminergic neurotransmission and tone during prenatal and prepubertal development. Sex chromosomes and gonadal steroids play a major role in the development of the brain, including dopaminergic pathways and establishing sex differences (McCarthy and Arnold 2011). The fetal hormonal development of the brain in males is mediated, in part, by estrogens produced by the aromatization of testosterone (Arnold 2009; McCarthy et al. 2008; Wilson and Davies 2007). Testosterone is required during perinatal development to achieve normal basal dopamine content in the frontal cortex in males (Stewart and Rajabi 1994). There is also a role of estrogens for early brain development in females, suggesting differential expression of sex steroid receptors may coordinate sex differences in brain development (Bakker et al. 2003). During puberty, a critical time for the development of sex differences, sex hormones also drive sexual differentiation of the brain (Juraska et al. 2013; Sisk and Zehr 2005) and may actively modulate the development of dopaminergic systems (Kuhn et al. 2010). The development of sex differences in DA-driven behaviors are sensitive to environmental conditions during these two developmental periods (Gillies et al. 2014; Sisk and Zehr 2005), and exposure to alcohol during these crucial periods may alter the construction and refinement of dopamine reward pathways. Early drug exposure increases the likelihood for the development of abuse later in life (Grant and Dawson 1997). Premature pubertal development in girls is correlated with an earlier age of onset for alcohol consumption (Dick et al. 2000; Wilson et al. 1994). Although no causative relationship between premature pubertal development and alcohol consumption has been established, it would be interesting to investigate whether hormonal treatments for premature development in girls would also delay or prevent the onset of alcohol use. Even during early adulthood, the mesocortical system is still developing (Spear 2000), increasing the relevance of studying the interaction of early alcohol exposure and long-term alteration of DA VTA physiology and reward pathways.
In addition to their role in development, sex hormones may play important roles in modulating dopamine neurotransmission in adults. Both androgens and estrogens affect cortical function in men and women (Cherrier et al. 2003; Miller et al. 2006). Estradiol, the main form of estrogen in adult pre-menopausal females, is synthesized in the brains of both males and females (Do Rego et al. 2009; Pelletier 2010; Simpson and Jones 2006). Estradiol action in the brain is mediated by neuronal estrogen receptors ERα, ERβ, and the G protein-coupled estrogen receptor (GPER) (Levin and Hammes 2016). Both ERα and ERβ are expressed in the VTA (Creutz and Kritzer 2002; Kritzer 1997; Milner et al. 2010; Vanderhorst et al. 2005). In female rodents, estradiol modulates dopamine dynamics such as synthesis, receptor expression, and dopamine transporter quantities (Lammers et al. 1999; McArthur et al. 2007a; Pasqualini et al. 1995). Conversely, castration and hormonal treatments in male rodents had no effect on dopamine dynamics (Becker 1999; McArthur et al. 2007b). Dopamine dynamics are differently altered by sex hormones in males and females, suggesting differences in receptor activities or downstream factors. Estradiol levels fluctuate during the 4–6-day estrous cycle in rodents (Nilsson et al. 2015). Dopamine mesocortical transmission varies with the estrous cycle in naïve female rodents under basal conditions, and ethanol-induced activation of the mesocortical system also varies with the estrous cycle (Dazzi et al. 2007).
Sex hormones and drug reward
Because of this hormonal influence on dopaminergic transmission, sex hormones play an important role in modulating drug reward. Psychostimulant drug reward is stronger in females (Becker and Hu 2008; Carroll et al. 2004; Lynch 2006). The rewarding effects of psychostimulant drugs vary along the hormonal cycle of women, with a heightened response during high estradiol levels (Caldu and Dreher 2007). Ovariectomy reduces the response to amphetamines, and supplementation restores the magnitude of the response (Becker 1999; Ohtani et al. 2001; Xiao and Becker 1994). Amphetamine responses are enhanced in high estradiol states of the estrous cycle in female rats (Becker 1999; Fink et al. 1996). Estradiol also has a role in modulating ethanol consumption. Ovariectomization of female rats reduces ethanol intake, and intake is restored by supplementation with estradiol (Ford et al. 2002a). Correlation with ethanol consumption at different stages of the estrous cycle of rodents is not as evident. While some studies show no differences in ethanol consumption at different estrous stages in rodents (Ford et al. 2002b; Priddy et al. 2017), others have observed such differences (Forger and Morin 1982; Roberts et al. 1998). This discrepancy could be due, in part, to technical challenges in the ability to capture drinking behaviors modulated by rapidly changing hormones in rodents. Hormone-dependent drug responses are ideally similar between high estrogen states in freely cycling and ovariectomized/estrogen-supplemented rodents. For example, we have shown that the sensitivity of DA VTA neurons to inhibition by dopamine and excitation by ethanol is enhanced in high estradiol states in naive freely cycling and ovariectomized female mice (Vandegrift et al. 2017).
An understanding of sex differences in dopaminergic reward systems is needed in order to develop therapies effective for both males and females. Some current treatments for alcoholism exhibit gender differences in effectiveness. One example of these gender differences is the response to naltrexone, an opiate antagonist that has been approved by the FDA to treat alcohol abuse. Naltrexone acts, at least in part, on the reward system (O'Malley et al. 1992; Volpicelli et al. 1992). Naltrexone can be used to treat cocaine and alcohol abuse but it has been a less successful treatment in females (Suh et al. 2008). Women experience more severe side effects of naltrexone, such as nausea (O'Malley et al. 2000); the heightened adverse effects of naltrexone in women reduce compliance and result in women discontinuing use more often than males. This is a clear example of a difference in the reward/aversion balance in females versus males with respect to the influence of opiadergic systems. Sex hormones modulate opioid systems (Piva et al. 1995), and this fact may underlie the sex differences undermining the use of naltrexone to treat females with alcohol use disorders. Investigating the mechanisms of alcohol abuse and the reactions to novel pharmacological interventions should be taken into consideration in both male and female subjects. In order to restore the reward/aversion balance, in the VTA and elsewhere in the brain, it may be necessary to implement treatment regimens based on different pharmacology in men and women.
Summary and conclusions
The VTA is the source of dopamine for reward/reinforcement pathways in the brain, but it also supplies dopamine to brain areas primarily associated with other behavioral functions (e.g., hippocampus, amygdala). The VTA is important for evaluation of the salience of environmental stimuli, including both aversive and rewarding stimuli. Neuroadaptive changes in the VTA induced by chronic alcohol use may change the balance of alcohol effects on the VTA, emphasizing the rewarding effects of alcohol and diminishing the aversive components of alcohol action. The goal in developing therapeutics for the treatment of alcoholism, from the limited perspective of the VTA, may be to restore the reward/aversion balance with respect to alcohol action. This review covered several aspects of alcohol action in the VTA, and provided thoughts regarding treatment development. The pharmacology of ethanol in the VTA, and the neurotransmitters and pathways involved in the acute and chronic effects of alcohol, may provide strategies to counteract the imbalance in the VTA. Epigenetics may reveal mechanisms at the genomic level that could be exploited to reverse some of the neuroadaptation induced by alcohol abuse and restore the reward/aversion balance. Sex differences in VTA physiology and in pharmacological responses indicate that sex-specific therapies may be needed to restore reward/aversion balance in both men and women. Consideration of all of these VTA-related factors also should be relevant in overall approaches for the development of agents useful for the treatment of alcohol use disorders.
Notes
Acknowledgements
The authors gratefully acknowledge that this work was supported by PHS Grant P50AA022538 (MSB) and AA05846. Thanks to Amy W. Lasek for helpful comments on early versions of this manuscript.
Compliance with ethical standards
Conflict of interest
The authors declare that they have no competing interests.
Copyright information
© The Author(s) 2018
Open Access This article is distributed under the terms of the Creative Commons Attribution 4.0 International License (http://creativecommons.org/licenses/by/4.0/), which permits unrestricted use, distribution, and reproduction in any medium, provided you give appropriate credit to the original author(s) and the source, provide a link to the Creative Commons license, and indicate if changes were made.