Abstract
Background
Theobromine, a methylxanthine related to caffeine and present in high levels in cocoa, may contribute to the appeal of chocolate. However, current evidence for this is limited.
Objectives
We conducted a within-subjects placebo-controlled study of a wide range of oral theobromine doses (250, 500, and 1,000 mg) using an active control dose of caffeine (200 mg) in 80 healthy participants.
Results
Caffeine had the expected effects on mood including feelings of alertness and cardiovascular parameters. Theobromine responses differed according to dose; it showed limited subjective effects at 250 mg and negative mood effects at higher doses. It also dose-dependently increased heart rate. In secondary analyses, we also examined individual differences in the drug's effects in relation to genes related to their target receptors, but few associations were detected.
Conclusions
This study represents the highest dose of theobromine studied in humans. We conclude that theobromine at normal intake ranges may contribute to the positive effects of chocolate, but at higher intakes, effects become negative.
This is a preview of subscription content, log in to check access.
Access options
Buy single article
Instant access to the full article PDF.
US$ 39.95
Price includes VAT for USA
Subscribe to journal
Immediate online access to all issues from 2019. Subscription will auto renew annually.
US$ 199
This is the net price. Taxes to be calculated in checkout.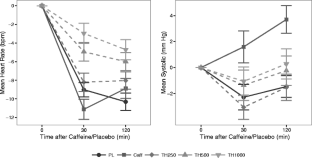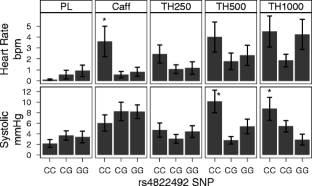 References
Alsene K, Deckert J, Sand P, de Wit H (2003) Association between A2a receptor gene polymorphisms and caffeine-induced anxiety. Neuropsychopharmacology 28:1694–1702

Brandt J (1991) The Hopkins Verbal Memory Test: development of a new memory test with six equivalent forms. Clin Neuropsychol pp 125–142

Brice CF, Smith AP (2002) Effects of caffeine on mood and performance: a study of realistic consumption. Psychopharmacology 164:188–192

Bruinsma K, Taren DL (1999) Chocolate: food or drug? J Am Diet Assoc 1249–56

Brunk SF, Ferguson RK, Toubes DB, Leaverton PE, Nordschow CD, Wilson WR (1973) A teaching format in clinical pharmacology. Comparison of two xanthines and a placebo. J Clin Pharmacol 13:121–126

Brunyé TT, Mahoney CR, Lieberman HR, Giles GE, Taylor HA (2010a) Acute caffeine consumption enhances the executive control of visual attention in habitual consumers. Brain Cogn 186–192

Brunyé TT, Mahoney CR, Lieberman HR, Taylor HA (2010b) Caffeine modulates attention network function. Brain Cogn 72:181–188

Carney JM (1982) Effects of caffeine, theophylline and theobromine on scheduled controlled responding in rats. Br J Pharmacol 451–454

Carney JM, Holloway FA, Modrow HE (1985) Discriminative stimulus properties of methylxanthines and their metabolites in rats. Life Sci 913–920

Childs E, de Wit H (2006) Subjective, behavioral and physiological effects of acute caffeine in light, nondependent caffeine users. Psychopharmacology (Berl) 185(4):514–523

Childs E, Hoffoff C, Deckert J et al (2008) Association between ADORA2A and DRD2 polymorphisms and caffeine-induced anxiety. Neuropsychopharmacology 33:2791–2800

de Wit H, Griffiths RR (1991) Testing the abuse liability of anxiolytic and hypnotic drugs in humans. Drug Alcohol Depend 28:83–111

Dorfman L, Jarvik M (1970) Comparative stimulant and diuretic actions of caffeine and theobromine in man. Clin Pharmacol Ther 11:869

Drouillard D, Vesell E, Dvorchik B (1978) Studies on theobromine disposition in normal subjects. Alterations induced by dietary abstention from or exposure to methylxanthines. Clin Pharmacol Ther 23:296

Fan J, McCandliss BD, Fossella J, Flombaum JI, Posner MI (2005) The activation of attentional networks. NeuroImage 26:471–479

Ferré S (2008) An update on the mechanisms of the psychostimulant effects of caffeine. J Neurochem 105:1067–1079

Fischman MW, Foltin RW (1991) Utility of subjective-effects measurements in assessing abuse liability of drugs in humans. Br J Addict 86:1563–1570

Frary CD, Johnson RK, Wang MQ (2005) Food sources and intakes of caffeine in the diets of persons in the United States. J Am Diet Assoc 105:110–113

Fredholm BB (2007) Adenosine, an endogenous distress signal, modulates tissue damage and repair. Cell Death Differ 1315–1323

Fredholm BB, Bättig K, Holmén J, Nehlig A, Zvartau EE (1999) Actions of caffeine in the brain with special reference to factors that contribute to its widespread use. Pharmacol Rev 51:83–133

Freedman ML, Reich D, Penney KL, McDonald GJ, Mignault AA, Patterson N, Gabriel SB, Topol EJ, Smoller JW, Pato C, et al. (2004) Assessing the impact of population stratification on genetic association studies. Nat Genet 388–393

Haertzen CA (1966) Development of scales based on patterns of drug effects, using the Addiction Research Center Inventory (ARCI). Psychol Rep 163–194

Hart AB, de Wit H, Palmer AA (2012) Genetic factors modulating the response to stimulant drugs in humans. Behavioral Neurogenet 12:537–577

Heim F, Ammon HPT (1969) Caffeine and other methyl xanthines. Schattauer-Verlag, Stuttgart

Johanson CE, Uhlenhuth EH (1980) Drug preference and mood in humans: d-amphetamine. Psychopharmacology 71:275–279

Lelo A, Birkett D, Robson R, Miners J (1986) Comparative pharmacokinetics of caffeine and its primary demethylated metabolites paraxanthine, theobromine and theophylline in man. Br J Clin Pharmacol 22:177

MacLeod JW, Lawrence MA, McConnell MM, Eskes GA, Klein RM, Shore DI (2010) Appraising the ANT: psychometric and theoretical considerations of the Attention Network Test. Neuropsychology 24:637

McNair DM, Lorr M, Droppleman LF (1971) Profile of mood states (POMS). Educational and Industrial Testing Service, San Diego

Mitchell ES, Slettenaar M, vd Meer N, Transler C, Jans L, Quadt F, Berry M (2011) Differential contributions of theobromine and caffeine on mood, psychomotor performance and blood pressure. Physiol Behav 104:816–822

Moffat A (1986) Clarke's isolation and identification of drugs, 2nd edn. Pharmaceutical Press, London

Mumford GK, Evans SM, Kaminski BJ, Preston KL, Sannerud CA, Silverman K, Griffiths RR (1994) Discriminative stimulus and subjective effects of theobromine and caffeine in humans. Psychopharmacology (Berl) 115:1–8

Mumford GK, Benowitz NL, Evans SM, Kaminski BJ, Preston KL, Sannerud CA, Silverman K, Griffiths RR (1996) Absorption rate of methylxanthines following capsules, cola and chocolate. Eur J Clin Pharmacol 51:319–325

Posner MI, Peterson SE (1990) The attentional system of the human brain. Ann Rev Neurosci 25–42

R Development Core Team (2012) R: A language and environment for statistical computing. R Foundation for Statistical Computing Vienna, Austria

Reeves DL, Bleiberg J, Roebuck-Spencer T, Cernich AN, Schwab K, Ivins B, Salazar AM, Harvey SC, Brown FH, Warden D (2006) Reference values for performance on the Automated Neuropsychological Assessment Metrics V3.0 in an active duty military sample. Mil Med 171:982–994

Robinson GA, Butcher RW, Sutherland EW (1967) Adenyl cyclase as an adrenergic receptor. Ann N Y Acad Sci 703–723

Rogers PJ, Hohoff C, Heatherley SV, Mullings EL, Maxfield PJ, Evershed RP, Deckert J, Nutt DJ (2010) Association of the anxiogenic and alerting effects of caffeine with ADORA2A and ADORA1 polymorphisms and habitual level of caffeine consumption. Neuropsychopharmacology 35:1973–1983

Ruxton C (2008) The impact of caffeine on mood, cognitive function, performance and hydration: a review of benefits and risks. Nutr Bull 33:15–25

Schindler CW, Karcz-Kubicha M, Thorndike EB, Müller CE, Tella SR, Ferré S, Goldberg SR (2009) Role of central and peripheral adenosine receptors in the cardiovascular responses to intraperitoneal injections of adenosine A1 and A2A subtype receptor agonists. Br J Pharmacol 144:642–650

Shi D, Daly JW (1999) Chronic effects of xanthines on levels of central receptors in mice. Cell Mol Neurobiol 719–932

Smit HJ (2011) Theobromine and the pharmacology of cocoa. Handb Exp Pharmacol 200:201–234

Smit HJ, Blackburn RJ (2005) Reinforcing effects of caffeine and theobromine as found in chocolate. Psychopharmacology 181:101–6

Snyder S, Katims J, Annau Z, Bruns R, Daly J (1981) Adenosine receptors and behavioral actions of methylxanthines. Proc Natl Acad Sci U S A 78:3260–3264

Svenningsson P, Nomikos GG, Fredholm BB (1999) The stimulatory action and the development of tolerance to caffeine is associated with alterations in gene expression in specific brain regions. J Neurosci 19:4011–4022

Tarka SM, Cornish HH (1982) The toxicology of cocoa and methylxanthines: a review of the literature. CRC Crit Rev Toxicol 9:275–312

The Hershey Company (2012) Chocolate and caffeine. Hershey Company, Pennsylvania

Theocorp Holding Company LLC (2010) GRAS exemption claim for theobromine (3,7-dimethylxanthine) summary of data concerning the safety and GRAS determination of theobromine (3,7-dimethylxanthine) for use as an ingredient in specified foods

UK Joint Food Safety and Standards Group (1998) Survey of caffeine and other methylxanthines in energy drinks and other caffeine-containing products Food Surveillance Information Sheet. Joint Food Safety and Standards Group, London

van den Bogaard B, Draijer R, Westerhof BE, van den Meiracker AH, van Montfrans GA, van den Born BJH (2010) Effects on peripheral and central blood pressure of cocoa with natural or high-dose theobromine: a randomized, double-blind crossover trial. Hypertension 56:839–846

Wechsler D (1958) The measurement and appraisal of adult intelligence, 4th edn. Williams & Wilkins, Baltimore

Wesensten NJ, Killgore WDS, Balkin TJ (2005) Performance and alertness effects of caffeine, dextroamphetamine, and modafinil during sleep deprivation. J Sleep Res 14:255–266

Yang A, Childs E, Palmer AA, de Wit H (2010) More on ADORA. Psychopharmacology (Berl) 212:699–700
Acknowledgments
This research was supported by Unilever R and D. Additional support from T32 MH020065 (MJB), DA02812 (HdW), T32 DA007255 (ABH), and DA021336 (AAP).
Electronic supplementary material
Below is the link to the electronic supplementary material.
About this article
Cite this article
Baggott, M.J., Childs, E., Hart, A.B. et al. Psychopharmacology of theobromine in healthy volunteers. Psychopharmacology 228, 109–118 (2013). https://doi.org/10.1007/s00213-013-3021-0
Received:

Accepted:

Published:

Issue Date:
Keywords
Theobromine

Caffeine

Genetics

Subjective

Cognitive

Healthy volunteers