Abstract
Rationale
Neuropathic pain is associated with significant co-morbidities, including depression, which impact considerably on the overall patient experience. Pain co-morbidity symptoms are rarely assessed in animal models of neuropathic pain. Neuropathic pain is characterized by hyperexcitability within nociceptive pathways and remains difficult to treat with standard analgesics.
Objectives
The present study determined the effect of bis selenide and conventional antidepressants (fluoxetine, amitriptyline, and bupropion) on neuropathic pain using mechanical allodynic and on depressive-like behavior.
Methods
Male mice were subjected to chronic constriction injury (CCI) or sham surgery and were assessed on day 14 after operation. Mice received oral treatment with bis selenide (1–5 mg/kg), fluoxetine, amitriptyline, or bupropion (10–30 mg/kg). The response frequency to mechanical allodynia in mice was measured with von Frey hairs. Mice were evaluated in the forced swimming test (FST) test for depression-like behavior.
Results
The CCI procedure produced mechanical allodynia and increased depressive-like behavior in the FST. All of the drugs produced antiallodynic effects in CCI mice and produced antidepressant effects in control mice without altering locomotor activity. In CCI animals, however, only the amitriptyline and bis selenide treatments significantly reduced immobility in the FST.
Conclusion
These data demonstrate an important dissociation between the antiallodynic and antidepressant effects in mice when tested in a model of neuropathic pain. Depressive behavior in CCI mice was reversed by bis selenide and amitriptyline but not by the conventional antidepressants fluoxetine and buproprion. Bis selenide was more potent than the other drugs tested for antidepressant-like and antiallodynic effects in mice.
This is a preview of subscription content, log in to check access.
Access options
Buy single article
Instant unlimited access to the full article PDF.
US$ 39.95
Price includes VAT for USA
Subscribe to journal
Immediate online access to all issues from 2019. Subscription will auto renew annually.
US$ 199
This is the net price. Taxes to be calculated in checkout.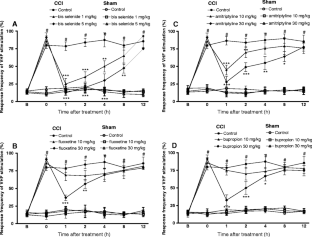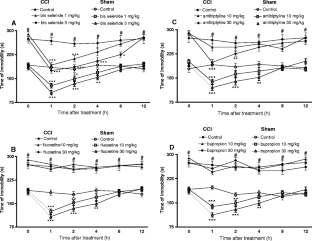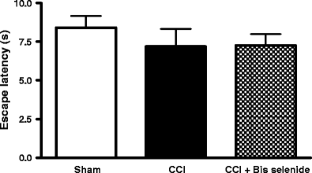 References
Attal N, Cruccu G, Haanpää M, Hansson P, Jensen TS, Nurmikko T, Sampaio C, Sindrup S, Wiffen P (2006) EFNS guidelines on pharmacological treatment of neuropathic pain. Eur J Neurol 13:1153–1169

Benarroch EE (2008) Descending monoaminergic pain modulation: bidirectional control and clinical relevance. Neurology 71:217–221

Benbouzid M, Choucair-Jaafar N, YalcinI WE, Muller A, Freund-Mercier MJ, Barrot M (2008) Chronic, but not acute, tricyclic antidepressant treatment alleviates neuropathic allodynia after sciatic nerve cuffing in mice. Eur J Pain 12:1008–1017

Bennett GJ, Xie YK (1988) A peripheral mononeuropathy in rat that produces disorders of pain sensation like those seen in man. Pain 33:87–107

Berton O, Nestler EJ (2006) New approaches to antidepressant drug discovery: beyond monoamines. Nat Rev Neurosci 7:137–151

Blackburn-Munro G, Bomholt SF, Erichsen HK (2004) Behavioural effects of the novel AMPA/GluR5 selective receptor antagonist NS1209 after systemic administration in animal models of experimental pain. Neuropharmacology 47:351–362

Bomholt SF, Mikkelsen JD, Blackburn-Munro G (2005) Antinociceptive effects of the antidepressants amitriptyline, duloxetine, mirtazapine and citalopram in animals models of acute, persistent and neuropathic pain. Neuropharmacology 48:252–263

Casas J, Gibert-Rahola J, Chover AJ, Mico JA (1995) Test-dependent relationship of the antidepressant and analgesic effects of amitriptyline. Methods Find Exp Clin Pharmacol 17:583–588

Cooper BR, Wang CM, Cox RF, Norton R, Shea V, Ferris RM (1994) Evidence that the acute behavioral and electrophysiological effects of bupropion (Wellbutrin) are mediated by a noradrenergic mechanism. Neuropsychopharmacology 11:133–141

Cryan JF, Holmes A (2005) Model organisms: the ascent of mouse: advances in modelling human depression and anxiety. Nat Rev Drug Discov 4:775–790

Dick IE, Brochu RM, Purohit Y, Kaczorowski GJ, Martin WJ, Priest BT (2007) Sodium channel blockade may contribute to the analgesic efficacy of antidepressants. J Pain 8:315–324

Dowdall T, Robinson I, Meert TF (2005) Comparison of five different rat models of peripheral nerve injury. Pharmacol Biochem Behav 80:93–108

Fishbain D (2000) Evidence-based data on pain relief with antidepressants. Ann Med 32:305–316

Gonçalves L, Silva R, Pinto-Riberio F, Pêgo F, Bessa JM, Pertovaara A, Sousa N, Almeida A (2008) Neuropathic pain is associated with depressive behaviour and induces neuroplasticity in the amygdala of the rat. Exp Neurol 213:48–56

Holtzheimer PE, Nemeroff CB (2006) Advances in the treatment of depression. J NeuroRx 3:42–56

Hyttel J (1994) Pharmacological characterization of selective serotonin reuptake inhibitors (SSRIs). Int Clin Psychopharmacol 1:19–26

Hu B, Doods H, Treede RD, Ceci A (2009) Depression-like behaviour in rats with mononeuropathy is reduced by the CB2-selecetive agonist GW405833. Pain 143:206–212

Jesse CR, Savegnago L, Nogueira CW (2008) Spinal mechanisms of antinociceptive effect caused by oral administration of bis-selenide in mice. Brain Res 1231:25–33

Jesse CR, Savegnago L, Nogueira CW (2009) Mechanisms involved in the antinociceptive and anti-inflammatory effects of bis selenide in mice. J Pharm Pharmacol 61:623–630

Jesse CR, Wilhelm EA, Bortolatto CF, Nogueira CW (2010) Evidence for the involvement of the serotonergic 5-HT2A/C and 5-HT3 receptors in the antidepressant-like effect caused by oral administration of bis selenide in mice. Prog Neuropsychopharmacol Biol Psychiatry 34:294–302

Li Z, Wua CF, Peib G, Xua NJ (2001) Reversal of morphine-induced memory impairment in mice by withdrawal in Morris water maze. Possible involvement of cholinergic system. Pharmacol Biochem Behav 68:507–513

Max MB, Culnane M, Schafer SC, Gracely RH, Walther DJ, Smoller B, Dunbar R (1987) Amitriptyline relieves diabetic neuropathy pain in patients with normal or depressed mood. Neurology 37:589–596

Mico JA, Ardid D, Berrocoso E, Eschalier A (2006) Antidepressants and pain. Trends Pharmacol Sci 7:348–354

Millan MJ (2002) Descending control of pain. Prog Neurobiol 66:355–474

Mitchell HA, Ahern TH, Liles LC, Javors MA, Weinshenker D (2006) The effects of norepinephrine transporter inactivation on locomotor activity in mice. Biol Psychiatry 60:1046–1052

Moro AV, Nogueira CW, Barbosa NBV, Menezes PH, Rocha JBT, Zeni G (2005) Highly stereoselective one-pot producers to prepare bis- and tris-chalcogenide alkenes via addition of disulfides and diselenides to terminal alkynes. J Org Chem 70:5257–5268

Moulin DE, Clark AJ, Gilron I, Ware MA, Watson CP, Sessle BJ, Coderre T, Morley-Forster PK, Stinson J, Boulanger A, Peng P, Finley GA, Taenzer P, Squire P, Dion D, Cholkan A, Gilani A, Gordon A, Henry J, Jovey R, Lynch M, Mailis-Gagnon A, Panju A, Rollman GB, Velly A (2007) Pharmacological management of chronic neuropathic pain—consensus statement and guidelines from the Canadian Pain Society. Pain Res Manag 12:13–21

Nogueira CW, Zeni G, Rocha JB (2004) Organoselenium and organotellurim compounds: toxicology and pharmacology. Chem Rev 104:6255–6285

Pedersen LH, Nielsen AN, Blackburn-Munro G (2005) Anti-nociception is selectively enhanced by parallel inhibition of multiple systems of monoamine transporters in rat models of persistent and neuropathic pain. Psychopharmacology 182:551–556

Phillis J, Wu PH (1982) The effect of various centrally active drugs on adenosine uptake by the central nervous system. Comp Biochem Pharmacol 72:179–187

Porsolt RD, Le Pichon M, Jalfre M (1977) Depression: a new animal model sensitive to antidepressant treatments. Nature 266:730–732

Porsolt RD, Anton G, Blavet N, Jalfre M (1978) Behavioural despair in rats: a new model sensitive to antidepressant treatments. Eur J Pharmacol 47:379–391

Rayman MP (2000) The importance of selenium to human health. Lancet 356:23–41

Redolat R, Vidal J, Gomez MC, Carrasco MC (2005) Effects of acute bupropion administration on locomotor activity in adolescent and adult mice. Behav Pharmacol 16:59–62

Roeska K, Doods H, Arndt K, Treede RD, Ceci A (2008) Anxiety-like behaviour in rats with mononeuropathy is reduced by the analgesic drugs morphine and gabapentin. Pain 139:349–357

Savegnago L, Jesse CR, Moro AV, Borges VC, Santos FW, Rocha JB, Nogueira CW (2006) Bis selenide alkene derivatives. A class of potential antioxidant and antinociceptive agents. Pharmacol Biochem Behav 83:221–229

Savegnago L, Jesse CR, Pinto LG, Rocha JB, Nogueira CW (2007a) Diphenyl diselenide attenuates acute thermal hyperalgesia and persistent inflammatory and neuropathic pain behavior in mice. Brain Res 1175:54–59

Savegnago L, Pinto LG, Jesse CR, Alves D, Rocha JB, Nogueira CW, Zeni G (2007b) Antinociceptive properties of diphenyl diselenide: evidences for the mechanisms of action. Eur J Pharmacol 555:129–138

Savegnago L, Jesse CR, Nogueira CW (2008) Caffeine and a selective adenosine A(2B) receptor antagonist but not imidazoline receptor antagonists modulate antinociception induced by diphenyl diselenide in mice. Neurosci Lett 436:120–123

Sawynok J, Liu XJ (2003) Adenosine in the spinal cord and periphery, release and regulation of pain. Prog Neurobiol 69:313–340

Sawynok J, Reid AR, Esser MJ (1999) Peripheral antinociceptive action of amitriptyline in the rat formalin test: involvement of adenosine. Pain 80:45–55

Sawynok J, Reid AR, Fredholm BB (2008) Caffeine reverses antinociception by amitriptyline in wild type mice but not in those lacking adenosine A1 receptors. Neurosci Lett 440:181–184

Sekihashi K, Sasaki T, Yamamoto A, Kawamura K, Ikka T, Tsuda S, Sasaki YF (2001) A comparison of intraperitoneal and oral gavage administration in comet assay in mouse eight organs. Mutat Res 493:39–54

Seltzer Z, Dubner R, Shir Y (1990) A novel behavioral model of neuropathic pain disorders produced in rats by partial sciatic nerve injury. Pain 43:205–218

Sindrup SH, Brøsen K, Gram LF (1992) Antidepressants in pain treatment: antidepressant or analgesic effect. Clin Neuropharmacol 15(Suppl 1 Pt A):636A–637A

Sindrup SH, Otto M, Finnerup NB, Jensen TS (2005) Antidepressants in the treatment of neuropathic pain. Basic Clin Pharmacol Toxicol 96:399–409

Tal M, Bennett GJ (1994) Extra-territorial pain in rats with a peripheral mononeuropathy: mechano-hyperalgesia and mechano-allodynia in the territory of an uninjured nerve. Pain 57:375–382

Ulugol A, Karadag HC, Tamer M, Firat Z, Aslantas A, Dokmeci I (2002) Involvement of adenosine in the anti-allodynic effect of amitriptyline in streptozotocin-induced diabetic rats. Neurosci Lett 328:129–132

Vissers KCP, Geenen F, Biermans R, Meert TH (2006) Pharmacological correlation between the formalin test and the neuropathic pain behavior in different species with chronic constriction injury. Pharmacol Biochem Behav 84:479–486

Wang LX, Wang ZJ (2003) Animal and cellular models of chronic pain. Adv Drug Deliv Rev 55:949–965

Walsh RN, Cummins RA (1976) The open-field test: a critical review. Psychol Bull 83:482–504

Weiss GF, Papadakos P, Knudson K, Leibowitz SF (1986) Medial hypothalamic serotonin: effects on deprivation and norepinephrine-induced eating. Pharmacol Biochem Behav 25:1223–1230

Wolfe GI, Trivedi JR (2004) Painful peripheral neuropathy and its nonsurgical treatment. Muscle Nerve 30:3–19

Zimmerman M (1983) Ethical guidelines for investigations of experimental pain in conscious animals. Pain 16:109–110
About this article
Cite this article
Jesse, C.R., Wilhelm, E.A. & Nogueira, C.W. Depression-like behavior and mechanical allodynia are reduced by bis selenide treatment in mice with chronic constriction injury: a comparison with fluoxetine, amitriptyline, and bupropion. Psychopharmacology 212, 513–522 (2010) doi:10.1007/s00213-010-1977-6
Received:

Accepted:

Published:

Issue Date:
Keywords
Selenium

Bis selenide

Antidepressant

Neuropathic pain

Chronic constriction injury