Abstract
Mantle cell lymphoma (MCL) is an uncommon type of non-Hodgkin's lymphoma (NHL), comprising about 6% of NHL cases. SOX11 is a member of the group C of Sry-related high-mobility group (HMG) box (Sox) transcription factors, which is ubiquitously expressed in approximate 90% MCL cases. However, the underlying mechanisms of the SOX11 expression aberration are not fully unveiled. In the present study, we firstly observed that miR-132-3p was dramatically down-regulated in CD19+ lymphocytes isolated from peripheral blood mononuclear cells (PBMCs) of MCL patients. Subsequently, we found miR-132-3p exhibited potentials in clinical application, indicated by its negative association with high-risk clinical features. In terms of function, ectopic miR-132-3p aggravated cell apoptosis and arrested cell cycle in G0/G1, and then inhibited cell proliferation in vitro and tumor growth in vivo. Also, we identified miR-132-3p's direct target, SOX11, in MCL cell lines, and loss-function of SOX11 blocked its inhibitory effect on cell proliferation in vitro. Collectively, our observations bring about a novel mechanism to explain the aberrant expression of SOX11 in MCL. Therefore, miR-132-3p may be a promising biomarker for the diagnosis of MCL.
This is a preview of subscription content, log in to check access.
Access options
Buy single article
Instant access to the full article PDF.
US$ 39.95
Price includes VAT for USA
Subscribe to journal
Immediate online access to all issues from 2019. Subscription will auto renew annually.
US$ 199
This is the net price. Taxes to be calculated in checkout.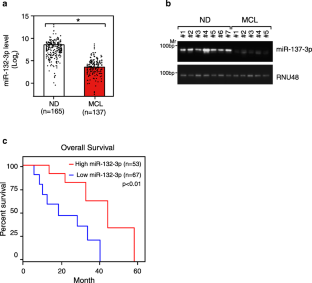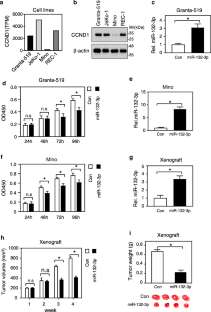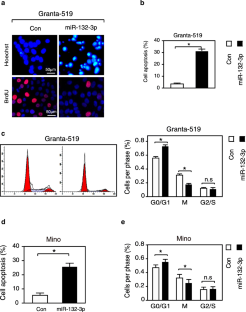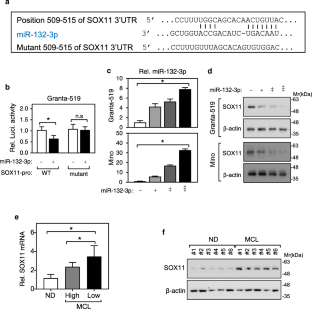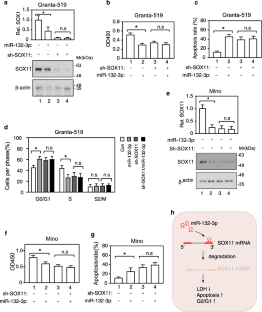 References
Balsas P, Palomero J, Eguileor A, Rodriguez ML, Vegliante MC, Planas-Rigol E, Sureda-Gomez M, Cid MC, Campo E, Amador V (2017) SOX11 promotes tumor protective microenvironment interactions through CXCR4 and FAK regulation in mantle cell lymphoma. Blood 130:501–513

Bartel DP (2004) MicroRNAs: genomics, biogenesis, mechanism, and function. Cell 116:281–297

Beekman R, Amador V, Campo E (2018) SOX11, a key oncogenic factor in mantle cell lymphoma. Curr Opin Hematol 25:299–306

Chang BY, Francesco M, De Rooij MF, Magadala P, Steggerda SM, Huang MM, Kuil A, Herman SE, Chang S, Pals ST, Wilson W, Wiestner A, Spaargaren M, Buggy JJ, Elias L (2013) Egress of CD19(+)CD5(+) cells into peripheral blood following treatment with the Bruton tyrosine kinase inhibitor ibrutinib in mantle cell lymphoma patients. Blood 122:2412–2424

Chazotte B (2011) Labeling nuclear DNA with hoechst 33342. Cold Spring Harb Protoc 2011:pdb prot5557

Cheah CY, Seymour JF, Wang ML (2016) Mantle cell lymphoma. J Clin Oncol 34:1256–1269

Dusaulcy R, Handgraaf S, Visentin F, Vesin C, Philippe J, Gosmain Y (2019) miR-132-3p is a positive regulator of alpha-cell mass and is downregulated in obese hyperglycemic mice. Molec Metabol 22:84–95

Dy P, Penzo-Mendez A, Wang H, Pedraza CE, Macklin WB, Lefebvre V (2008) The three SoxC proteins--Sox4, Sox11 and Sox12--exhibit overlapping expression patterns and molecular properties. Nucleic Acids Res 36:3101–3117

Fabbri M, Croce CM (2011) Role of microRNAs in lymphoid biology and disease. Curr Opin Hematol 18:266–272

Fu K, Weisenburger DD, Greiner TC, Dave S, Wright G, Rosenwald A, Chiorazzi M, Iqbal J, Gesk S, Siebert R, De Jong D, Jaffe ES, Wilson WH, Delabie J, Ott G, Dave BJ, Sanger WG, Smith LM, Rimsza L, Braziel RM, Muller-Hermelink HK, Campo E, Gascoyne RD, Staudt LM, Chan WC, Lymphoma/Leukemia Molecular Profiling P (2005) Cyclin D1-negative mantle cell lymphoma: a clinicopathologic study based on gene expression profiling. Blood 106:4315–4321

Fu W, Tao T, Qi M, Wang L, Hu J, Li X, Xing N, Du R, Han B (2016) MicroRNA-132/212 Upregulation inhibits TGF-beta-mediated epithelial-Mesenchymal transition of prostate Cancer cells by targeting SOX4. Prostate 76:1560–1570

Guan H, Shang G, Cui Y, Liu J, Sun X, Cao W, Wang Y, Li Y (2019) Long noncoding RNA APTR contributes to osteosarcoma progression through repression of miR-132-3p and upregulation of yes-associated protein 1. J Cell Physiol 234:8998–9007

Haenisch S, Zhao Y, Chhibber A, Kaiboriboon K, Do LV, Vogelgesang S, Barbaro NM, Alldredge BK, Lowenstein DH, Cascorbi I, Kroetz DL (2015) SOX11 identified by target gene evaluation of miRNAs differentially expressed in focal and non-focal brain tissue of therapy-resistant epilepsy patients. Neurobiol Dis 77:127–140

Harris NL, Jaffe ES, Diebold J, Flandrin G, Muller-Hermelink HK, Vardiman J, Lister TA, Bloomfield CD (2000) The World Health Organization classification of hematological malignancies report of the clinical advisory committee meeting, Airlie house, Virginia, November 1997. Mod Pathol 13:193–207

Henshall DC, Hamer HM, Pasterkamp RJ, Goldstein DB, Kjems J, Prehn JHM, Schorge S, Lamottke K, Rosenow F (2016) MicroRNAs in epilepsy: pathophysiology and clinical utility. Lancet Neurol 15:1368–1376

Hoster E, Dreyling M, Klapper W, Gisselbrecht C, Van Hoof A, Kluin-Nelemans HC, Pfreundschuh M, Reiser M, Metzner B, Einsele H, Peter N, Jung W, Wormann B, Ludwig WD, Duhrsen U, Eimermacher H, Wandt H, Hasford J, Hiddemann W, Unterhalt M, German Low Grade Lymphoma Study G, and European Mantle Cell Lymphoma N (2008) A new prognostic index (MIPI) for patients with advanced-stage mantle cell lymphoma. Blood 111:558–565

Huppi K, Volfovsky N, Mackiewicz M, Runfola T, Jones TL, Martin SE, Stephens R, Caplen NJ (2007) MicroRNAs and genomic instability. Semin Cancer Biol 17:65–73

Jares P, Colomer D, Campo E (2012) Molecular pathogenesis of mantle cell lymphoma. J Clin Invest 122:3416–3423

Jiang Y, Ding Q, Xie X, Libby RT, Lefebvre V, Gan L (2013) Transcription factors SOX4 and SOX11 function redundantly to regulate the development of mouse retinal ganglion cells. J Biol Chem 288:18429–18438

Lai R, Rassidakis GZ, Medeiros LJ, Leventaki V, Keating M, Mcdonnell TJ (2003) Expression of STAT3 and its phosphorylated forms in mantle cell lymphoma cell lines and tumours. J Pathol 199:84–89

Leinders M, Uceyler N, Pritchard RA, Sommer C, Sorkin LS (2016) Increased miR-132-3p expression is associated with chronic neuropathic pain. Exp Neurol 283:276–286

Li G, Liu K, Du X (2018) Long non-coding RNA TUG1 promotes proliferation and inhibits apoptosis of osteosarcoma cells by sponging miR-132-3p and Upregulating SOX4 expression. Yonsei Med J 59:226–235

Li Y, Zu L, Wang Y, Wang M, Chen P, Zhou Q (2015) miR-132 inhibits lung cancer cell migration and invasion by targeting SOX4. J Thorac Dis 7:1563–1569

Lin L, Wang Z, Jin H, Shi H, Lu Z, Qi Z (2016) MiR-212/132 is epigenetically downregulated by SOX4/EZH2-H3K27me3 feedback loop in ovarian cancer cells. Tumour Biol 37(12):15719–15727

Liu Y, Li Y, Liu J, Wu Y, Zhu Q (2015) MicroRNA-132 inhibits cell growth and metastasis in osteosarcoma cell lines possibly by targeting Sox4. Int J Oncol 47:1672–1684

Mehta A, Mann M, Zhao JL, Marinov GK, Majumdar D, Garcia-Flores Y, Du X, Erikci E, Chowdhury K, Baltimore D (2015) The microRNA-212/132 cluster regulates B cell development by targeting Sox4. J Exp Med 212:1679–1692

Mohr AM, Mott JL (2015) Overview of microRNA biology. Semin Liver Dis 35:3–11

Mozos A, Royo C, Hartmann E, De Jong D, Baro C, Valera A, Fu K, Weisenburger DD, Delabie J, Chuang SS, Jaffe ES, Ruiz-Marcellan C, Dave S, Rimsza L, Braziel R, Gascoyne RD, Sole F, Lopez-Guillermo A, Colomer D, Staudt LM, Rosenwald A, Ott G, Jares P, Campo E et al (2009) SOX11 expression is highly specific for mantle cell lymphoma and identifies the cyclin D1-negative subtype. Haematologica 94(11):1555–1562

Navarro A, Clot G, Prieto M, Royo C, Vegliante MC, Amador V, Hartmann E, Salaverria I, Bea S, Martin-Subero JI, Rosenwald A, Ott G, Wiestner A, Wilson WH, Campo E, Hernandez L (2013) microRNA expression profiles identify subtypes of mantle cell lymphoma with different clinicobiological characteristics. Clin Cancer Res 19:3121–3129

Nygren L, Baumgartner Wennerholm S, Klimkowska M, Christensson B, Kimby E, Sander B (2012) Prognostic role of SOX11 in a population-based cohort of mantle cell lymphoma. Blood 119:4215–4223

Palomero J, Vegliante MC, Rodriguez ML, Eguileor A, Castellano G, Planas-Rigol E, Jares P, Ribera-Cortada I, Cid MC, Campo E, Amador V (2014) SOX11 promotes tumor angiogenesis through transcriptional regulation of PDGFA in mantle cell lymphoma. Blood 124:2235–2247

Rupaimoole R, Calin GA, Lopez-Berestein G, Sood AK (2016) miRNA deregulation in Cancer cells and the tumor microenvironment. Cancer Discov 6:235–246

Skarbnik AP, Goy AH (2015) Mantle cell lymphoma: state of the art. Clin Adv Hematol Oncol 13:44–55

Song H, He P, Shao T, Li Y, Li J, Zhang Y (2017) Long non-coding RNA XIST functions as an oncogene in human colorectal cancer by targeting miR-132-3p. J BUON 22:696–703

Ultimo S, Martelli AM, Zauli G, Vitale M, Calin GA, Neri LM (2018) Roles and clinical implications of microRNAs in acute lymphoblastic leukemia. J Cell Physiol 233:5642–5654

Vegliante MC, Palomero J, Perez-Galan P, Roue G, Castellano G, Navarro A, Clot G, Moros A, Suarez-Cisneros H, Bea S, Hernandez L, Enjuanes A, Jares P, Villamor N, Colomer D, Martin-Subero JI, Campo E, Amador V (2013) SOX11 regulates PAX5 expression and blocks terminal B-cell differentiation in aggressive mantle cell lymphoma. Blood 121:2175–2185

Weber DG, Gawrych K, Casjens S, Brik A, Lehnert M, Taeger D, Pesch B, Kollmeier J, Bauer TT, Johnen G, Bruning T (2017) Circulating miR-132-3p as a candidate diagnostic biomarker for malignant mesothelioma. Dis Markers 2017:9280170

Wu R, Li F, Zhu J, Tang R, Qi Q, Zhou X, Li R, Wang W, Hua D, Chen W (2014) A functional variant at miR-132-3p, miR-212-3p, and miR-361-5p binding site in CD80 gene alters susceptibility to gastric cancer in a Chinese Han population. Med Oncol 31:60

Xu W, Li JY (2010) SOX11 expression in mantle cell lymphoma. Leuk Lymphoma 51:1962–1967

Zhang M, Li Y, Wang H, Yu W, Lin S, Guo J (2019) LncRNA SNHG5 affects cell proliferation, metastasis and migration of colorectal cancer through regulating miR-132-3p/CREB5. Cancer Biol Ther 20:524–536

Zhou K, Feng X, Wang Y, Liu Y, Tian L, Zuo W, Yi S, Wei X, Song Y, Qiu L (2018) miR-223 is repressed and correlates with inferior clinical features in mantle cell lymphoma through targeting SOX11. Exp Hematol 58:27–34 e1
Funding
This work was supported by Grants from the Applied Basic Research Program of Xuzhou (Nos. KC19031). The funders had no role in study design, data collection and analysis, manuscript preparation, or decision to publish.
Ethics declarations
Conflict of interest
The authors declare that they have no conflict of interests.
Additional information
Publisher's note
Springer Nature remains neutral with regard to jurisdictional claims in published maps and institutional affiliations.
About this article
Cite this article
Wu, B., Li, J., Wang, H. et al. MiR-132-3p serves as a tumor suppressor in mantle cell lymphoma via directly targeting SOX11. Naunyn-Schmiedeberg's Arch Pharmacol (2020). https://doi.org/10.1007/s00210-020-01834-0
Received:

Accepted:

Published:
Keywords
Mantle cell lymphoma (MCL)

miR-132-3p

SOX11