Abstract
The current study was designed to evaluate the potential abatement effect of pantoprazole against cisplatin-induced nephrotoxicity and establishing the possible protective mechanisms. Thirty-two male mice were allocated for treatment with saline, single dose of cisplatin (10 mg/kg/i.p), pantoprazole (30 mg/kg/once daily) for 5 days or combination of pantoprazole and cisplatin for 5 days. Urine, blood, and both kidneys were collected for further evaluations. Pantoprazole significantly countermand cisplatin-induced disfigurement of renal histology, kidney weight to body weight ratio, serum levels of creatinine and urea, and microalbuminuria. Furthermore, pantoprazole mostly normalized cisplatin-induced distortion of renal levels of inflammatory cytokines (tumor necrosis factor-alpha, interleukin-6, interleukin-10) and renal content of apoptosis regulating protein expressions (Bax, Bcl2, and active caspase 3). In addition, pantoprazole significantly subsided cisplatin-induced distortion of renal lipid peroxidation marker (MDA), renal superoxide dismutase, and catalase activities and renal reduced glutathione content. This study provides an evidence for the protective utility of short-term pantoprazole against cisplatin-induced nephrotoxicity in mice. The protective mechanism of pantoprazole could be through diminution of cisplatin-induced inflammation, oxidative stress, and their subsequent apoptotic renal cell death via abatement of apoptosis regulating protein expressions (Bax, Bcl2, and active caspase3).
This is a preview of subscription content, log in to check access.
Access options
Buy single article
Instant unlimited access to the full article PDF.
US$ 39.95
Price includes VAT for USA
Subscribe to journal
Immediate online access to all issues from 2019. Subscription will auto renew annually.
US$ 199
This is the net price. Taxes to be calculated in checkout.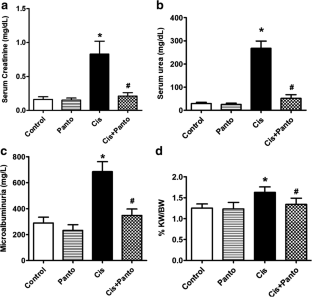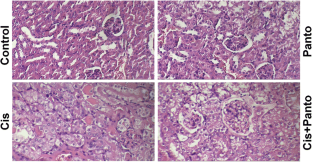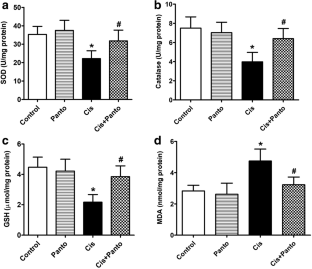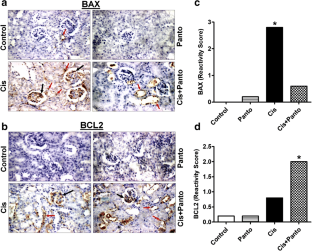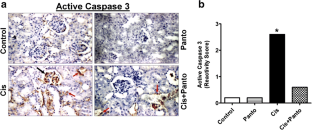 References
Abdelrahman AM, Al Suleimani Y, Shalaby A, Ashique M, Manoj P, Nemmar A, Ali BH (2019) Effect of canagliflozin, a sodium glucose co-transporter 2 inhibitor, on cisplatin-induced nephrotoxicity in mice. Naunyn Schmiedebergs Arch Pharmacol 392:45–53. https://doi.org/10.1007/s00210-018-1564-7

Arany I, Safirstein RL (2003) Cisplatin nephrotoxicity. Semin Nephrol 23:460–464. https://doi.org/10.1016/s0270-9295(03)00089-5

Avnet S, Lemma S, Cortini M, Pellegrini P, Perut F, Zini N, Kusuzaki K, Chano T, Grisendi G, Dominici M, De Milito A, Baldini N (2016) Altered pH gradient at the plasma membrane of osteosarcoma cells is a key mechanism of drug resistance. Oncotarget 7:63408–63423. https://doi.org/10.18632/oncotarget.11503

Bancroft JSA (1996) Enzyme histochemistry: theory and practice of histological techniques. Churchill Livingstone, New York

Bellone M, Calcinotto A, Filipazzi P, De Milito A, Fais S, Rivoltini L (2013) The acidity of the tumor microenvironment is a mechanism of immune escape that can be overcome by proton pump inhibitors. Oncoimmunology 2:e22058. https://doi.org/10.4161/onci.22058

Cai J, Kim TS, Jang JY, Kim J, Shin K, Lee SP, Choi EK, Kim SH, Park M, Kim JB, Kim YB (2014) In vitro and in vivo anti-helicobacter pylori activities of FEMY-R7 composed of fucoidan and evening primrose extract. Lab Anim Res 30:28–34. https://doi.org/10.5625/lar.2014.30.1.28

Casanova AG, Hernandez-Sanchez MT, Lopez-Hernandez FJ, Martinez-Salgado C, Prieto M, Vicente-Vicente L, Morales AI (2019) Systematic review and meta-analysis of the efficacy of clinically tested protectants of cisplatin nephrotoxicity. Eur J Clin Pharmacol:1–11. https://doi.org/10.1007/s00228-019-02771-5

Chen M, Huang SL, Zhang XQ, Zhang B, Zhu H, Yang VW, Zou XP (2012) Reversal effects of pantoprazole on multidrug resistance in human gastric adenocarcinoma cells by down-regulating the V-ATPases/mTOR/HIF-1alpha/P-gp and MRP1 signaling pathway in vitro and in vivo. J Cell Biochem 113:2474–2487. https://doi.org/10.1002/jcb.24122

Crona DJ, Faso A, Nishijima TF, McGraw KA, Galsky MD, Milowsky MI (2017) A systematic review of strategies to prevent cisplatin-induced nephrotoxicity. Oncologist 22:609–619. https://doi.org/10.1634/theoncologist.2016-0319

Dasari S, Tchounwou PB (2014) Cisplatin in cancer therapy: molecular mechanisms of action. Eur J Pharmacol 740:364–378. https://doi.org/10.1016/j.ejphar.2014.07.025

de Jongh FE, Verweij J, Loos WJ, de Wit R, de Jonge MJ, Planting AS, Nooter K, Stoter G, Sparreboom A (2001) Body-surface area-based dosing does not increase accuracy of predicting cisplatin exposure. J Clin Oncol 19:3733–3739. https://doi.org/10.1200/jco.2001.19.17.3733

de Jongh FE, van Veen RN, Veltman SJ, de Wit R, van der Burg ME, van den Bent MJ, Planting AS, Graveland WJ, Stoter G, Verweij J (2003) Weekly high-dose cisplatin is a feasible treatment option: analysis on prognostic factors for toxicity in 400 patients. Br J Cancer 88:1199–1206. https://doi.org/10.1038/sj.bjc.6600884

De Milito A, Fais S (2005) Proton pump inhibitors may reduce tumour resistance. Expert Opin Pharmacother 6:1049–1054. https://doi.org/10.1517/14656566.6.7.1049

De Milito A, Iessi E, Logozzi M, Lozupone F, Spada M, Marino ML, Federici C, Perdicchio M, Matarrese P, Lugini L, Nilsson A, Fais S (2007) Proton pump inhibitors induce apoptosis of human B-cell tumors through a caspase-independent mechanism involving reactive oxygen species. Cancer Res 67:5408–5417. https://doi.org/10.1158/0008-5472.can-06-4095

Dugbartey GJ, Peppone LJ, de Graaf IA (2016) An integrative view of cisplatin-induced renal and cardiac toxicities: molecular mechanisms, current treatment challenges and potential protective measures. Toxicology 371:58–66. https://doi.org/10.1016/j.tox.2016.10.001

Dzagnidze A, Katsarava Z, Makhalova J, Liedert B, Yoon MS, Kaube H, Limmroth V, Thomale J (2007) Repair capacity for platinum-DNA adducts determines the severity of cisplatin-induced peripheral neuropathy. J Neurosci 27:9451–9457. https://doi.org/10.1523/jneurosci.0523-07.2007

Eklow L, Moldeus P, Orrenius S (1984) Oxidation of glutathione during hydroperoxide metabolism. A study using isolated hepatocytes and the glutathione reductase inhibitor 1,3-bis(2-chloroethyl)-1-nitrosourea. Eur J Biochem 138:459–463. https://doi.org/10.1111/j.1432-1033.1984.tb07938.x

Federico A, Morgillo F, Tuccillo C, Ciardiello F, Loguercio C (2007) Chronic inflammation and oxidative stress in human carcinogenesis. Int J Cancer 121:2381–2386. https://doi.org/10.1002/ijc.23192

Filipski KK, Mathijssen RH, Mikkelsen TS, Schinkel AH, Sparreboom A (2009) Contribution of organic cation transporter 2 (OCT2) to cisplatin-induced nephrotoxicity. Clin Pharmacol Ther 86:396–402. https://doi.org/10.1038/clpt.2009.139

Fox E, Levin K, Zhu Y, Segers B, Balamuth N, Womer R, Bagatell R, Balis F (2018) Pantoprazole, an inhibitor of the organic cation transporter 2, does not ameliorate cisplatin-related ototoxicity or nephrotoxicity in children and adolescents with newly diagnosed osteosarcoma treated with methotrexate, doxorubicin, and cisplatin. Oncologist 23:762–e779. https://doi.org/10.1634/theoncologist.2018-0037

Hassan MH, Ghobara MM (2016) Antifibrotic effect of meloxicam in rat liver: role of nuclear factor kappa B, proinflammatory cytokines, and oxidative stress. Naunyn Schmiedebergs Arch Pharmacol 389:971–983. https://doi.org/10.1007/s00210-016-1263-1

Hassan MH, El-Beshbishy HA, Aly H, Attia SM, Bahashwan SA, Ghobara MM (2014) Modulatory effects of meloxicam on cardiotoxicity and antitumor activity of doxorubicin in mice. Cancer Chemother Pharmacol 74:559–569. https://doi.org/10.1007/s00280-014-2544-3

Hassan MH, Bahashawan SA, Abdelghany TM, Abd-Allah GM, Ghobara MM (2015) Crocin abrogates carbon tetrachloride-induced renal toxicity in rats via modulation of metabolizing enzymes and diminution of oxidative stress, apoptosis, and inflammatory cytokines. J Biochem Mol Toxicol 29:330–339. https://doi.org/10.1002/jbt.21702

Johnson DLH (1967) Isolation of liver or kidney mitochondria. In: Ronald WEM (ed) Methods enzymol. Academic Press, pp 94–96

Johnson DA, Oldfield EC (2013) Reported side effects and complications of long-term proton pump inhibitor use: dissecting the evidence. Clin Gastroenterol Hepatol 11:458–464; quiz e437-458. https://doi.org/10.1016/j.cgh.2012.11.031

Karihtala P, Soini Y (2007) Reactive oxygen species and antioxidant mechanisms in human tissues and their relation to malignancies. APMIS 115:81–103. https://doi.org/10.1111/j.1600-0463.2007.apm_514.x

Kohansal P, Rajai N, Dehpour AR, Rashidian A, Shafaroodi H (2019) The protective effect of acute pantoprazole pretreatment on renal ischemia/reperfusion injury in rats. Fundam Clin Pharmacol 33:405–411. https://doi.org/10.1111/fcp.12451

Liu CM, Sun YZ, Sun JM, Ma JQ, Cheng C (2012) Protective role of quercetin against lead-induced inflammatory response in rat kidney through the ROS-mediated MAPKs and NF-kappaB pathway. Biochim Biophys Acta 1820:1693–1703. https://doi.org/10.1016/j.bbagen.2012.06.011

Lowry OH, Rosebrough NJ, Farr AL, Randall RJ (1951) Protein measurement with the Folin phenol reagent. J Biol Chem 193:265–275

Lu Y, Wahl LM (2005) Oxidative stress augments the production of matrix metalloproteinase-1, cyclooxygenase-2, and prostaglandin E2 through enhancement of NF-kappa B activity in lipopolysaccharide-activated human primary monocytes. J Immunol 175:5423–5429. https://doi.org/10.4049/jimmunol.175.8.5423

Luciani F, Spada M, De Milito A, Molinari A, Rivoltini L, Montinaro A, Marra M, Lugini L, Logozzi M, Lozupone F, Federici C, Iessi E, Parmiani G, Arancia G, Belardelli F, Fais S (2004) Effect of proton pump inhibitor pretreatment on resistance of solid tumors to cytotoxic drugs. J Natl Cancer Inst 96:1702–1713. https://doi.org/10.1093/jnci/djh305

Marklund S, Marklund G (1974) Involvement of the superoxide anion radical in the autoxidation of pyrogallol and a convenient assay for superoxide dismutase. Eur J Biochem 47:469–474. https://doi.org/10.1111/j.1432-1033.1974.tb03714.x

Martindale JL, Holbrook NJ (2002) Cellular response to oxidative stress: signaling for suicide and survival. J Cell Physiol 192:1–15. https://doi.org/10.1002/jcp.10119

Moron MS, Depierre JW, Mannervik B (1979) Levels of glutathione, glutathione reductase and glutathione S-transferase activities in rat lung and liver. Biochim Biophys Acta 582:67–78. https://doi.org/10.1016/0304-4165(79)90289-7

Nunez G, Benedict MA, Hu Y, Inohara N (1998) Caspases: the proteases of the apoptotic pathway. Oncogene 17:3237–3245. https://doi.org/10.1038/sj.onc.1202581

Ohkawa H, Ohishi N, Yagi K (1979) Assay for lipid peroxides in animal tissues by thiobarbituric acid reaction. Anal Biochem 95:351–358. https://doi.org/10.1016/0003-2697(79)90738-3

Pabla N, Dong Z (2008) Cisplatin nephrotoxicity: mechanisms and renoprotective strategies. Kidney Int 73:994–1007. https://doi.org/10.1038/sj.ki.5002786

Salama SA, Arab HH, Maghrabi IA, Hassan MH, AlSaeed MS (2016) Gamma-glutamyl cysteine attenuates tissue damage and enhances tissue regeneration in a rat model of lead-induced nephrotoxicity. Biol Trace Elem Res 173:96–107. https://doi.org/10.1007/s12011-016-0624-4

Sanchez-Gonzalez PD, Lopez-Hernandez FJ, Lopez-Novoa JM, Morales AI (2011) An integrative view of the pathophysiological events leading to cisplatin nephrotoxicity. Crit Rev Toxicol 41:803–821. https://doi.org/10.3109/10408444.2011.602662

Shalkami AS, Hassan MIA, Abd El-Ghany AA (2018) Perindopril regulates the inflammatory mediators, NF-kappaB/TNF-alpha/IL-6, and apoptosis in cisplatin-induced renal dysfunction. Naunyn Schmiedebergs Arch Pharmacol 391:1247–1255. https://doi.org/10.1007/s00210-018-1550-0

Sharp CN, Siskind LJ (2017) Developing better mouse models to study cisplatin-induced kidney injury. Am J Physiol Renal Physiol 313:F835–f841. https://doi.org/10.1152/ajprenal.00285.2017

Sheikh-Hamad D, Timmins K, Jalali Z (1997) Cisplatin-induced renal toxicity: possible reversal by N-acetylcysteine treatment. J Am Soc Nephrol 8:1640–1644

Shiraishi A, Sakumi K, Sekiguchi M (2000) Increased susceptibility to chemotherapeutic alkylating agents of mice deficient in DNA repair methyltransferase. Carcinogenesis 21:1879–1883. https://doi.org/10.1093/carcin/21.10.1879

Sinha AK (1972) Colorimetric assay of catalase. Anal Biochem 47:389–394. https://doi.org/10.1016/0003-2697(72)90132-7

Skinner R, Pearson AD, English MW, Price L, Wyllie RA, Coulthard MG, Craft AW (1998) Cisplatin dose rate as a risk factor for nephrotoxicity in children. Br J Cancer 77:1677–1682. https://doi.org/10.1038/bjc.1998.276

Slee EA, Harte MT, Kluck RM, Wolf BB, Casiano CA, Newmeyer DD, Wang HG, Reed JC, Nicholson DW, Alnemri ES, Green DR, Martin SJ (1999) Ordering the cytochrome c-initiated caspase cascade: hierarchical activation of caspases-2, -3, -6, -7, -8, and -10 in a caspase-9-dependent manner. J Cell Biol 144:281–292. https://doi.org/10.1083/jcb.144.2.281

Soni H, Kaminski D, Gangaraju R, Adebiyi A (2018) Cisplatin-induced oxidative stress stimulates renal Fas ligand shedding. Ren Fail 40:314–322. https://doi.org/10.1080/0886022x.2018.1456938

Suliman FA, Khodeer DM, Ibrahiem A, Mehanna ET, El-Kherbetawy MK, Mohammad HMF, Zaitone SA, Moustafa YM (2018) Renoprotective effect of the isoflavonoid biochanin A against cisplatin induced acute kidney injury in mice: effect on inflammatory burden and p53 apoptosis. Int Immunopharmacol 61:8–19. https://doi.org/10.1016/j.intimp.2018.05.010

Tan Q, Joshua AM, Saggar JK, Yu M, Wang M, Kanga N, Zhang JY, Chen X, Wouters BG, Tannock IF (2015) Effect of pantoprazole to enhance activity of docetaxel against human tumour xenografts by inhibiting autophagy. Br J Cancer 112:832–840. https://doi.org/10.1038/bjc.2015.17

Udelnow A, Kreyes A, Ellinger S, Landfester K, Walther P, Klapperstueck T, Wohlrab J, Henne-Bruns D, Knippschild U, Wurl P (2011) Omeprazole inhibits proliferation and modulates autophagy in pancreatic cancer cells. PLoS One 6:e20143. https://doi.org/10.1371/journal.pone.0020143

Wang X, Liu C, Wang J, Fan Y, Wang Z, Wang Y (2017) Proton pump inhibitors increase the chemosensitivity of patients with advanced colorectal cancer. Oncotarget 8:58801–58808. https://doi.org/10.18632/oncotarget.18522

Wilhelm SM, Rjater RG, Kale-Pradhan PB (2013) Perils and pitfalls of long-term effects of proton pump inhibitors. Expert Rev Clin Pharmacol 6:443–451. https://doi.org/10.1586/17512433.2013.811206

Yan XX, Zheng AD, Zhang ZE, Pan GC, Zhou W (2019) Protective effect of pantoprazole against sepsis-induced acute lung and kidney injury in rats. Am J Transl Res 11:5197–5211
Acknowledgments
We are greatly thankful to both Prof. Adel Kholoussy (Professor of Pathology, Cairo University, Egypt) and Dr. Sayed Abdel Raheem (Associate professor of histology, Al-Azhar University, Egypt) for their contribution in the histopathological examination.
Funding
The authors disclosed individual full financial support and funding for this study. The authors disclosed personal financial support from authors MSE and MHH.
Ethics declarations
Conflict of interest
The authors declare that they have no conflict of interest.
Ethical approval
All procedures performed in our study involving animals were in accordance with the ethical standards and guidelines from Ethics Committee of the Experimental Animal Care Society, Al-Azhar University, Cairo, Egypt, and Taibah University, Kingdom of Saudi Arabia. In addition, all applicable international and national, guidelines for the care, and use of animals were followed. The protocol approval number is phr._Med. Research_ Protective. Trial. Anticancer. Drugs. Organs. Toxicity. Mice. 0000007
Additional information
Publisher's note
Springer Nature remains neutral with regard to jurisdictional claims in published maps and institutional affiliations.
About this article
Cite this article
Ismail, R.S., El-Awady, M.S. & Hassan, M.H. Pantoprazole abrogated cisplatin-induced nephrotoxicity in mice via suppression of inflammation, apoptosis, and oxidative stress. Naunyn-Schmiedeberg's Arch Pharmacol (2020) doi:10.1007/s00210-020-01823-3
Received:

Accepted:

Published:
Keywords
Cisplatin

Pantoprazole

Nephrotoxicity

Oxidative stress

Inflammation

Apoptosis