Abstract
The aim of this study is to report the synthesis, characterization, and biocompatibility of lanthanum titanate nanoparticles (LT NPs) in albino mice. Microemulsion method was used to generate LT NPs. Seven-week-old albino mice of both sexes orally received 50 mg/ml saline/kg body weight of nanoparticles for 15 days (group 1) and 29 days (group 2). Control groups were maintained in parallel. Selected behavioral (rotarod, light and dark box, open-field and Morris water maze) tests were conducted, blood biochemical analysis was done, and antioxidants were determined in vital organs of all treatments. Male mice treated with LT NPs for 15 days spent significantly more time in light and less time in dark during light dark box test. While they had made significantly more platform entries and platform maximum visits during acquisition phase of Morris water maze test, they remained unaffected in probe trail performance when compared with control. These male mice had significantly reduced white blood cells, lymphocyte, and monocyte count and significantly increased triglyceride levels in serum than the control group. They had higher level of superoxide dismutase (SOD) in heart and reduced level of malonaldehyde (MDA) in kidney while 15-day LT NP-treated females had significantly higher level of SOD in liver and kidney. Male mice treated with NPs for 29 days had increased anticlockwise rotations during open field, reduced level of triglycerides in serum, and significantly higher level of SOD in kidney and MDA in lungs. In contrast, female mice treated with NPs for 29 days had higher SOD level in liver, kidney, and heart than their control group. Oral supplementation of LT NPs for variable duration improved the exploratory behavior in male but disturbed blood chemistry and antioxidants from vital organs under both experimental conditions.
This is a preview of subscription content, log in to check access.
We're sorry, something doesn't seem to be working properly.
Please try refreshing the page. If that doesn't work, please contact support so we can address the problem.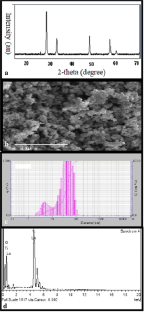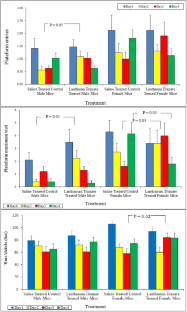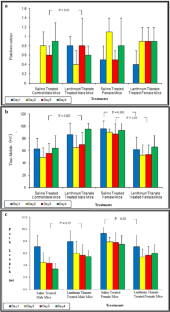 References
Aftab MN, Akram IN, Khosa T, Zahra SQ, Bashir I, Ashiq MN et al (2018) Oral supplementation of lanthanum zirconate nanoparticles moderately affected behavior but drastically disturbed leukocyte count, serum cholesterol levels and antioxidant parameters from vital organs of albino mice in a gender specific manner. Metab Brain Dis 33(5):1421–1429

Akhtar S, Saba S, Rehman S, Hassan A, Samad N, Amir M et al (2018) Microemulsion-based synthesis of strontium hexaferrite cobalt iron oxide nanoparticles and their biocompatibility in albino mice. J Exp Nanosci 13(1):199–210

Asharani PV, Mun GK, Hande MP, Valiyaveettil S (2009) Cytotoxicity and genotoxicity of silver nanoparticles in human cells. ACS Nano 3:279–290

Ashraf S, Perveen A, Iqbal S, Gillani QAU, Iqbal F (2018) Intraperitoneal GABAB receptor antagonist (CGP 55845) injections moderately affect the behavior of male albino mice. Neuroquantol 16(8):22–31

Aula S, Lakkireddy S, Jamil K, Kapley AA, Swamy AVN, Lakkireddy HR (2015) Biophysical, biopharmaceutical and toxicological significance of biomedical nanoparticles. RSC Adv 5:47830–47859

Bahadar H, Maqbool F, Niaz K, Adbollahi M (2016) Toxicity of nanoparticles and an overview of current experimental models. Iran Biomed J 20(1):1–11

Bayart A, Katelnikovas A, Blach JF, Rousseau J, Saitzek S (2016) Synthesis, structural and luminescence properties of (La1−xLnx)2Ti2O7 (Ln=lanthanides) solid solutions. J Alloys Compd 683:634–646

Blake DR, Allen RE, Lunec J (1987) Free radicals in biological systems—a review orientated to inflammatory processes. Br Med Bull 43:371–385

Blokhina O, Virolainen E, Fagerstedt KV (2003) Antioxidants, oxidative damage and oxygen deprivation stress: a review. Ann Bot 91(2):179–194

Briner W, Rycek RF, Moellenberndt A, Dannull K (2000) Neurodevelopmental effects of lanthanum in mice. Neurotoxicol Teratol 22:573–581

Cheng J, Cheng Z, Hu R (2011) Immune dysfunction and liver damage of mice following exposure to lanthanoids. Environ Toxicol. https://doi.org/10.1002/tox

Del Rio D, Stewart AJ, Pellegrini N (2005) A review of recent studies on malondialdehyde as toxic molecule and biological marker of oxidative stress. Nutr Metab Cardiovasc Dis 15(4):316–328

Duan Y, Liu J, Ma L (2010) Toxicological characteristics of nanoparticulate anatase titanium dioxide in mice. Biomaterials 31:894–899

Fasquelle D, Carru JC, LeGendre L (2005) Lanthanum titanate ceramics: electrical characterizations in large temperature and frequency ranges. J Eur Ceram Soc 25(12):2085–2088

Gao Z, Wu L, Lu C, Gu W, Zhang T, Liu G et al (2017) The anisotropic conductivity of ferroelectric La2Ti2O7 ceramics. J Eur Ceram Soc 37(1):137–143

Ghosh M, Chakraborty A, Mukherjee A (2013) Cytotoxic, genotoxic and the hemolytic effect of titanium dioxide (TiO2) nanoparticles on human erythrocyte and lymphocyte cells in vitro. J Appl Toxicol. https://doi.org/10.1002/]jat.2863

He X, Zhang Z, Zhang H, Zhao Y, Chai Z (2008) Neurotoxicological evaluation of long-term lanthanum chloride exposure in rats. Toxicol Sci 103(2):354–361

Henao J, Pacheco Y, Sotelo O, Casales M, Martinez-Gómez L (2019) Lanthanum titanate nanometric powder potentially for rechargeable Ni-batteries: synthesis and electrochemical hydrogen storage. J Mater Res Technol 8(1):759–765

Hu R, Gong X, Duan Y (2010) Neurotoxicological effects and the impairment of spatial recognition memory in mice caused by exposure to TiO2 nanoparticles. Biomaterials 31:8043–8050

Iqbal F, Hoeger H, Lubec G, Bodamer O (2017) Biochemical and behavioral phenotype of AGAT and GAMT deficient mice following long-term creatine monohydrate supplementation. Metab Brain Dis 32(6):1951–1961

Jin C, Tang Y, Yang FG (2011) Cellular toxicity of TiO2 nanoparticles in anatase and rutile crystal phase. Biol Trace Elem Res 141:3–15

Khadija G, Saleem A, Akhtar Z, Naqvi Z, Gull M, Masood M, Mukhtar S, Batool M, Saleem N, Rasheed T, Nizam N, Ibrahim A, Iqbal F (2018) Short term exposure to titanium, aluminum and vanadium (Ti 6Al 4V) alloy powder drastically affects behavior and antioxidant metabolites in vital organs of male albino mice. Toxicol Rep 5:765–770

Khan I, Saeed K, Khan I (2017) Nanoparticles: properties, applications and toxicities. Arab J Chem. https://doi.org/10.1016/j.arabjc.2017.05.011

Labiadh H, Lahbib K, Hidouri S, Touil S, Chaabane TB (2016) Insight of ZnS nanoparticles contribution in different biological uses. Asian Pac J Trop Med 9(8):757–762

Matés JM, Pérez-Gómez C, De Castro IN (1999) Antioxidant enzymes and human diseases. Clin Biochem 32(8):595–603

Nel A, Xia T, Madler L, Lin N (2006) Toxic potential of materials at the nano level. J Sci 311:622–627

Oberdorster G, Oberdorster E, Oberdorster J (2005) Nanotoxicology: an emerging discipline evolving from studies of ultrafine particles. Environ Health Perspect 113:823–839

Rittman DR, Turner KM, Park S, Fuentes AF, Yan J, Ewing RC et al (2017) High-pressure behavior of A2B2O7 pyrochlore (A=Eu,Dy;B=Ti,Zr). J Appl Phys 121(4):045902

Saleem A, Khadija G, Akhtar Z, Mumtaz S, Rafiq M, Rubab M et al (2018) Short term exposure to titanium, aluminum and niobium (Ti-6Al-4Nb) alloy powder can disturb the serum low-density lipoprotein concentrations and antioxidant profile in vital organs but not the behavior of male albino mice. Drug Chem Toxicol. https://doi.org/10.1080/01480545.2018.1525394

Shin SH, Lim CH, Kim YS, Lee YH, Kim SH, Kim JC (2016) Twenty-eight-day repeated inhalation toxicity study of nano-sized lanthanum oxide in male Sprague-Dawley rats. Environ Toxicol 32(4):1226–1240

Shohami E, Beit-Yannai E, Horowitz M, Kohen R (1997) Oxidative stress in closed-head injury: brain antioxidant capacity as an indicator of functional outcome. J Cereb Blood Flow Metab 17:1007–1019

Simko M, Mattsson MO (2010) Risks from accidental exposures to engineered nanoparticles and neurological health effects: a critical review. Part Fibre Toxicol 7:42–45

Takahashi Y, Mizuo K, Shinkai Y, Oshio Y, Takeda K (2010) Prenatal exposure to titanium dioxide nanoparticles increases dopamine levels in the prefrontal cortex and neostriatum of mice. J Toxicol Sci 35(5):749–756

Wan R, Mo Y, Feng L, Chien S, Tollerud DJ, Zhang Q (2012) DNA damage caused by metal nanoparticles: involvement of oxidative stress and activation of ATM. Chem Res Toxicol 25:1402–1411

Wang TC, He X, Zhang ZY, Jia G, Wang X (2006) Effects on serum glucose and lipids in chronic exposure to lanthanum chloride in rat. ZhonghuaYu Fang Yi Xue Za Zhi. Chin J Prevent Med 40(6): 419–421

Yongxing W, Xiaorong W, Zichun H (2000) Genotoxicity of lanthanum (III) and gadolinium (III) in human peripheral blood lymphocytes. Bull Environ Contam Toxicol 64(4):611–616
Ethics declarations
All the animal handling procedures and experimental protocols were approved by the ethical review committee of the Institute of Pure and Applied Biology at Bahauddin Zakariya University Multan (Pakistan) (number Biol/Ethics/38-2017).
Conflict of interest
The authors declare that there are no competing interests.
Additional information
Publisher's note
Springer Nature remains neutral with regard to jurisdictional claims in published maps and institutional affiliations.
Electronic supplementary material
Comparison of gain in body weight for (A) 15 and (B) 29 days on daily basis between Lanthanum Titanate nanoparticles treated (50mg/ ml of saline/ Kg body weight) and untreated adult albino mice of both sexes. P-value represents the results of two sample t-test. N = 8 for each treatment. Data is expressed as mean ± standard error of mean. (JPG 77 kb).
Comparison of Rota rod test performance between Lanthanum Titanate nanoparticles treated (50mg/ ml of saline/ Kg body weight) and untreated adult albino mice of both sexes after (A) 15 and (B) 29 days of treatment. P-value represents the results of two sample t-test calculated for this parameter. N = 8 for each treatment. Data is expressed as mean ± standard error of mean. (JPG 89 kb).
About this article
Cite this article
Akram, I.N., Akhtar, S., Khadija, G. et al. Synthesis, characterization, and biocompatibility of lanthanum titanate nanoparticles in albino mice in a sex-specific manner. Naunyn-Schmiedeberg's Arch Pharmacol (2020). https://doi.org/10.1007/s00210-020-01819-z
Received:

Accepted:

Published:
Keywords
Lanthanum titanate

Neurological test

Complete blood count

Serum biochemistry

Antioxidant metabolites