Abstract
Metastasis is the main cause of death in colorectal cancer (CRC) patients. However, current treatment options for CRC metastasis are very limited. Lupeol, a triterpene that is widely found in vegetables and fruits, has been reported to possess the cancer-preventive and anti-inflammatory functions. However, the roles of Lupeol in the migration and invasion of colorectal cancer remain unclear. Here, we evaluated the effect of Lupeol treatment on colorectal cancer cell lines, HCT116 and SW620, and delineated its underlying mechanisms. Our results showed that Lupeol induced a dose-dependent inhibition of HCT116 and SW620 cells viability, measured by CCK8 assay. Wound healing and Transwell migration and invasion assays revealed that Lupeol significantly suppressed the migration and invasion of CRC cells. Using laser confocal microscope, we observed that the pseudopods and protrusions of HCT116 and SW620 cells decreased and disrupted after treatment with Lupeol. In addition, the quantitative real-time PCR and Western blotting results showed that Lupeol downregulated the expression of RhoA and RhoC, and their downstream effectors ROCK1, Cofilin, p-MLC, and the associated regulatory protein Cyclin A2. Interestingly, the migration and invasion capacity of CRC cells was reduced after RhoA knockdown. And there were no additional changes in CRC cells with RhoA knockdown to treat with Lupeol. These findings demonstrate that Lupeol can suppress the migration and invasion of colorectal cancer cells by remodeling the actin cytoskeleton via RhoA-ROCK1 pathway inhibition, which may provide an effective anti-metastatic agent for CRC patients.
This is a preview of subscription content, log in to check access.
Access options
Buy single article
Instant access to the full article PDF.
US$ 39.95
Price includes VAT for USA
Subscribe to journal
Immediate online access to all issues from 2019. Subscription will auto renew annually.
US$ 199
This is the net price. Taxes to be calculated in checkout.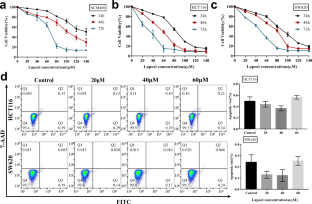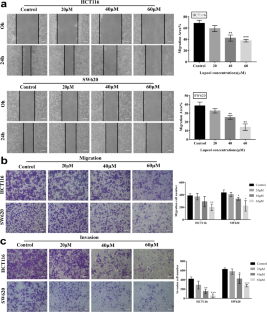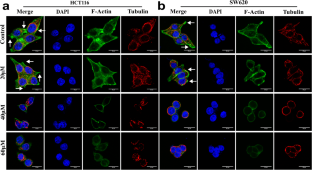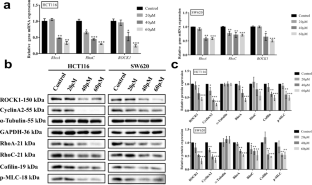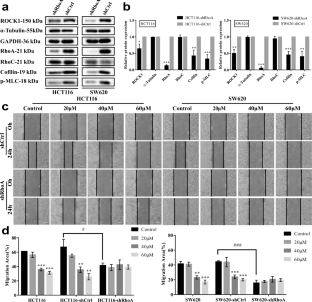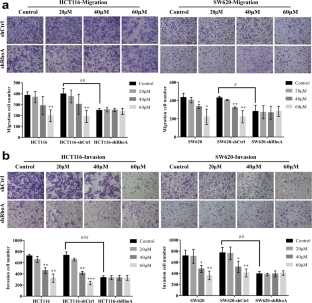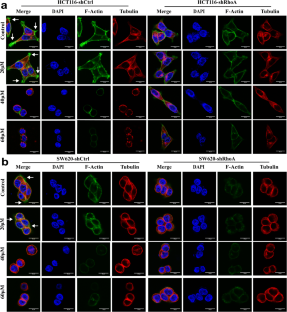 Ethics declarations
Conflict of interest
The authors declare that they have no conflict of interest.
Additional information
Publisher's note
Springer Nature remains neutral with regard to jurisdictional claims in published maps and institutional affiliations.
About this article
Cite this article
Jiang, Y., Hong, D., Lou, Z. et al. Lupeol inhibits migration and invasion of colorectal cancer cells by suppressing RhoA-ROCK1 signaling pathway. Naunyn-Schmiedeberg's Arch Pharmacol (2020). https://doi.org/10.1007/s00210-020-01815-3
Received:

Accepted:

Published:
Keywords
Lupeol

RhoA-ROCK1 signaling pathway

Colorectal cancer

Migration and invasion

Cytoskeleton