Abstract
Cervical cancer is a significant cause of morbidity and mortality in gynecological malignancies. Although autophagy plays a critical role in affecting cell apoptosis and proliferation, the role of hsa-miR-211-5p (miR-211) in modulating autophagy of cervical cancer cells remains unclear. In the current study, the level of miR-211 was downregulated in cervical cancer specimens, compared to the paired para-carcinoma tissues. While Bcl-2 was upregulated, LC3-II/I was decreased in the tumors, indicating inhibited apoptosis and autophagy. The forced expression of miR-211 inhibited proliferation, and promoted apoptosis in SiHa cervical cancer cells, evidenced by increased expression of apoptotic proteins, caspase-3, and PARP. While the miR-211 inhibitor exerted reverse effects on C-33A cervical cancer cells. Further, miR-211 induced autophagy in cervical cancer cells, as manifested by the presence of LC3 puncta, increased LC3-II/I and Beclin1 levels, and decreased p62 level. The miR-211-induced apoptosis was alleviated by an autophagy inhibitor 3-methyladenine (3-MA). In addition, Bcl-2 was identified as a target of miR-211. Besides, the apoptosis and autophagy triggered by miR-211 were attenuated by Bcl-2 in SiHa cells. In summary, our work indicates that miR-211 induced autophagy and autophagy-dependent apoptosis by regulating Bcl-2 in cervical cancer cells, which provided further understanding of autophagy in cervical carcinogenesis.
This is a preview of subscription content, log in to check access.
Access options
Buy single article
Instant access to the full article PDF.
US$ 39.95
Price includes VAT for USA
Subscribe to journal
Immediate online access to all issues from 2019. Subscription will auto renew annually.
US$ 199
This is the net price. Taxes to be calculated in checkout.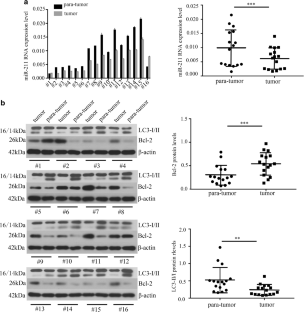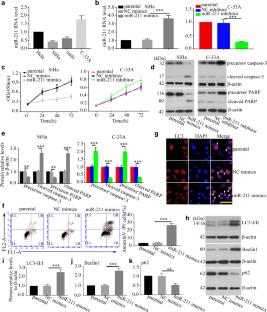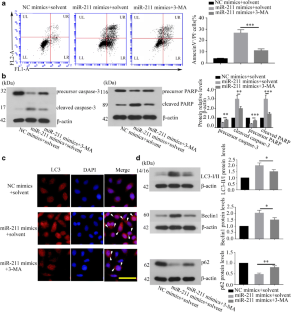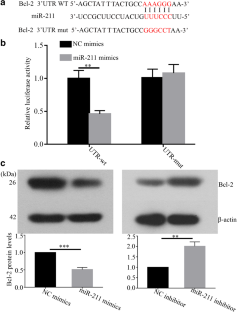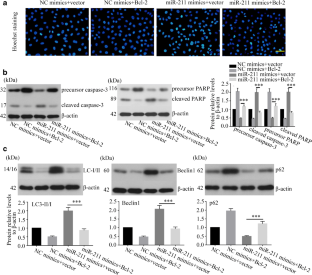 Abbreviations
ATGs:

Autophagy-regulated genes

Atg14:

Autophagy-related gene 14

BAK:

Bcl-2 antagonist/killer

BAX:

Bcl-2-associated X protein

CCK-8:

Cell counting kit-8

CDK6:

Cyclin-dependent kinase 6

DMEM:

Dulbecco's modified Eagle's medium

ECL:

Enhanced chemiluminescence

EMT:

Epithelial-mesenchymal transition

FBS:

Fetal bovine serum

HPV:

Human papillomavirus

IgG-HRP:

Peroxidase-conjugated immunoglobulin G

miRNAs:

MicroRNAs

miR-211:

hsa-miR-211-5p

MEM:

Minimum essential medium Eagle

MITF:

mIcrophthalmia-associated transcription factor

MUC4:

Mucin 4

PE:

Phosphatidylethanolamine

PI:

Propidium iodide

PMSF:

Phenylmethanesulfonyl fluoride

PTEN:

Phosphatase and tensin homolog

PVDF:

Polyvinylidene fluoride

RB1CC1:

RB1 inducible coiled-coil 1

RCC:

Renal cell carcinoma

RPMI-1640:

Roswell park memorial institute-1640

SPARC:

Secreted protein acidic and rich in cysteine

SD:

Standard deviation

SDS-PAGE:

Sodium dodecylsulphate polyacrylamide gel electrophoresis

SOX4:

Sex-determining region Y-related high mobility group box 4

ZEB2:

Zinc finger E-box binding homeobox 2

3′UTR:

3′untranslated region

3-MA:

3-methyladenine
References
Ariga T, Toita T, Kasuya G, Nagai Y, Inamine M, Kudaka W, Kakinohana Y, Aoki Y, Murayama S (2013) External beam boost irradiation for clinically positive pelvic nodes in patients with uterine cervical cancer. J Radiat Res 54:690–696

Bartel DP (2004) MicroRNAs: genomics, biogenesis, mechanism, and function. Cell 116:281–297

Bhat P, Kriel J, Shubha Priya B, Basappa SNS, Loos B (2018) Modulating autophagy in cancer therapy: advancements and challenges for cancer cell death sensitization. Biochem Pharmacol 147:170–182

Bjorkoy G, Lamark T, Brech A, Outzen H, Perander M, Overvatn A, Stenmark H, Johansen T (2005) p62/SQSTM1 forms protein aggregates degraded by autophagy and has a protective effect on huntingtin-induced cell death. J Cell Biol 171:603–614

Bray F, Ren JS, Masuyer E, Ferlay J (2013) Global estimates of cancer prevalence for 27 sites in the adult population in 2008. Int J Cancer 132:1133–1145

Calin GA, Croce CM (2006) MicroRNA signatures in human cancers. Nat Rev Cancer 6:857–866

Certo M, Del Gaizo MV, Nishino M, Wei G, Korsmeyer S, Armstrong SA, Letai A (2006) Mitochondria primed by death signals determine cellular addiction to antiapoptotic BCL-2 family members. Cancer Cell 9:351–365

Chang C, Liu T, Huang Y, Qin W, Yang H, Chen J (2017) MicroRNA-134-3p is a novel potential inhibitor of human ovarian cancer stem cells by targeting RAB27A. Gene 605:99–107

Chen T, Ren H, Thakur A, Yang T, Li Y, Zhang S, Wang T, Chen M (2017) miR-382 inhibits tumor progression by targeting SETD8 in non-small cell lung cancer. Biomed Pharmacother 86:248–253

Crum CP, Abbott DW, Quade BJ (2003) Cervical cancer screening: from the Papanicolaou smear to the vaccine era. J Clin Oncol Off J Am Soc Clin Oncol 21:224s–230s

De Luca T, Pelosi A, Trisciuoglio D, D'Aguanno S, Desideri M, Farini V, Di Martile M, Bellei B, Tupone MG, Candiloro A, Regazzo G, Rizzo MG, Del Bufalo D (2016) miR-211 and MITF modulation by Bcl-2 protein in melanoma cells. Mol Carcinog 55:2304–2312

Deng B, Qu L, Li J, Fang J, Yang S, Cao Z, Mei Z, Sun X (2016) MiRNA-211 suppresses cell proliferation, migration and invasion by targeting SPARC in human hepatocellular carcinoma. Sci Rep 6:26679

Ferlay J, Soerjomataram I, Ervik M, Dikshit R, Eser S (2013) GLOBOCAN 2012 v1.0, cancer incidence and mortality worldwide: IARC CancerBase no. 11. International Agency for Research on Cancer, Lyon

Fujii S, Hara H, Araya J, Takasaka N, Kojima J, Ito S, Minagawa S, Yumino Y, Ishikawa T, Numata T, Kawaishi M, Hirano J, Odaka M, Morikawa T, Nishimura S, Nakayama K, Kuwano K (2012) Insufficient autophagy promotes bronchial epithelial cell senescence in chronic obstructive pulmonary disease. Oncoimmunology 1:630–641

Jiang G, Wen L, Deng W, Jian Z, Zheng H (2017) Regulatory role of miR-211-5p in hepatocellular carcinoma metastasis by targeting ZEB2. Biomed Pharmacother 90:806–812

Kamada Y, Sekito T, Ohsumi Y (2004) Autophagy in yeast: a TOR-mediated response to nutrient starvation. Curr Top Microbiol Immunol 279:73–84

Klionsky DJ (2005) The molecular machinery of autophagy: unanswered questions. J Cell Sci 118:7–18

Levy JMM, Towers CG, Thorburn A (2017) Targeting autophagy in cancer. Nat Rev Cancer 17:528–542

Maiuri MC, Le Toumelin G, Criollo A, Rain JC, Gautier F, Juin P, Tasdemir E, Pierron G, Troulinaki K, Tavernarakis N, Hickman JA, Geneste O, Kroemer G (2007) Functional and physical interaction between Bcl-X(L) and a BH3-like domain in Beclin-1. EMBO J 26:2527–2539

Mazar J, Qi F, Lee B, Marchica J, Govindarajan S, Shelley J, Li JL, Ray A, Perera RJ (2016) MicroRNA 211 functions as a metabolic switch in human melanoma cells. Mol Cell Biol 36:1090–1108

Mizushima N, Yoshimori T, Ohsumi Y (2011) The role of Atg proteins in autophagosome formation. Annu Rev Cell Dev Biol 27:107–132

Ngabire D, Kim GD (2017) Autophagy and inflammatory response in the tumor microenvironment. International journal of molecular sciences 18

Ozeki N, Hase N, Hiyama T, Yamaguchi H, Kawai-Asano R, Nakata K, Mogi M (2017) MicroRNA-211 and autophagy-related gene 14 signaling regulate osteoblast-like cell differentiation of human induced pluripotent stem cells. Exp Cell Res 352:63–74

Pimple S, Mishra G, Shastri S (2016) Global strategies for cervical cancer prevention. Curr Opin Obstet Gynecol 28:4–10

Qu X, Gao D, Ren Q, Jiang X, Bai J, Sheng L (2018) miR-211 inhibits proliferation, invasion and migration of cervical cancer via targeting SPARC. Oncol Lett 16:853–860

Quan J, Pan X, He T, Lin C, Lai Y, Chen P, Zhang Z, Yang S, Wang T (2018) Tumor suppressor miR-211-5p is associated with cellular migration, proliferation and apoptosis in renal cell carcinoma. Exp Ther Med 15:4019–4028

Rogers L, Siu SS, Luesley D, Bryant A, Dickinson HO (2012) Radiotherapy and chemoradiation after surgery for early cervical cancer. Cochrane Database Syst Rev CD007583

Rosenfeldt MT, Ryan KM (2011) The multiple roles of autophagy in cancer. Carcinogenesis 32:955–963

Rubinsztein DC, Marino G, Kroemer G (2011) Autophagy and aging. Cell 146:682–695

Shui Y, Yu X, Duan R, Bao Q, Wu J, Yuan H, Ma C (2017) miR-130b-3p inhibits cell invasion and migration by targeting the notch ligand Delta-like 1 in breast carcinoma. Gene 609:80–87

Siegel RL, Miller KD, Jemal A (2018) Cancer statistics, 2018. CA Cancer J Clin 68:7–30

Song L, Liu S, Zhang L, Yao H, Gao F, Xu D, Li Q (2016) MiR-21 modulates radiosensitivity of cervical cancer through inhibiting autophagy via the PTEN/Akt/HIF-1alpha feedback loop and the Akt-mTOR signaling pathway. Tumour Biol 37:12161–12168

Sumbul AT, Gogebakan B, Bayram S, Batmaci CY, Oztuzcu S (2015) MicroRNA 211 expression is upregulated and associated with poor prognosis in colorectal cancer: a case-control study. Tumour Biol 36:9703–9709

Udono T, Yasumoto K, Takeda K, Amae S, Watanabe K, Saito H, Fuse N, Tachibana M, Takahashi K, Tamai M, Shibahara S (2000) Structural organization of the human microphthalmia-associated transcription factor gene containing four alternative promoters. Biochim Biophys Acta 1491:205–219

Waggoner SE (2003) Cervical cancer. Lancet 361:2217–2225

Waite KA, De-La Mota-Peynado A, Vontz G, Roelofs J (2016) Starvation induces proteasome autophagy with different pathways for core and regulatory particles. J Biol Chem 291:3239–3253

Wang RC, Levine B (2010) Autophagy in cellular growth control. FEBS Lett 584:1417–1426

Wang CY, Hua L, Sun J, Yao KH, Chen JT, Zhang JJ, Hu JH (2015) MiR-211 inhibits cell proliferation and invasion of gastric cancer by down-regulating SOX4. Int J Clin Exp Pathol 8:14013–14020

Xia B, Yang S, Liu T, Lou G (2015) miR-211 suppresses epithelial ovarian cancer proliferation and cell-cycle progression by targeting cyclin D1 and CDK6. Mol Cancer 14:57

Xu D, Liu S, Zhang L, Song L (2017) MiR-211 inhibits invasion and epithelial-to-mesenchymal transition (EMT) of cervical cancer cells via targeting MUC4. Biochem Biophys Res Commun 485:556–562

Ye L, Wang H, Liu B (2016) miR-211 promotes non-small cell lung cancer proliferation by targeting SRCIN1. Tumour Biol 37:1151–1157

Zhang J, Lv J, Zhang F, Che H, Liao Q, Huang W, Li S, Li Y (2017) MicroRNA-211 expression is down-regulated and associated with poor prognosis in human glioma. J Neuro-Oncol 133:553–559
Funding
This study was supported by grants from the National Natural Science Foundation of China (No. 81602272), the Natural Science Foundation of Heilongjiang Province (No. H2017012), and the Startup Foundation for Post-doctor of Heilongjiang Province (No. LBH-Q16145).
Ethics declarations
Ethical approval
All procedures were conducted according to Declaration of Helsinki, and approved by Ethic Committee of Cancer Hospital Affiliated of Harbin Medical University.
Conflict of interest
The authors declare that they have no conflict of interest.
Additional information
Publisher's note
Springer Nature remains neutral with regard to jurisdictional claims in published maps and institutional affiliations.
About this article
Cite this article
Liu, S., Wang, H., Mu, J. et al. MiRNA-211 triggers an autophagy-dependent apoptosis in cervical cancer cells: regulation of Bcl-2. Naunyn-Schmiedeberg's Arch Pharmacol 393, 359–370 (2020). https://doi.org/10.1007/s00210-019-01720-4
Received:

Accepted:

Published:

Issue Date:
Keywords
Cervical cancer

miR-211

Bcl-2

Apoptosis

Autophagy