Topical application of phenolic compounds suppresses Propionibacterium acnes-induced inflammatory responses in mice with ear edema
Abstract
Acne vulgaris (AV), a severe chronic inflammatory dermatosis, commonly treated with systemic or topical antibiotics that exacerbate bacterial resistance and pose adverse side effects, new approaches for suppressing or reducing Propionibacterium acnes-induced inflammatory responses and thereby treating AV remain necessary. In response, the goal of our study was to investigate the therapeutic potential of phenolic compounds in the in vivo inflammatory process induced by P. acnes. Mice were intradermally challenged with a suspension containing 1.0 × 107 CFU/mL of P. acnes per ear, after which groups of mice were variously treated with 20 μg of resveratrol, quercetin, gallic acid, or benzoyl peroxide. Mice ears were measured (mm) before each inducement and treatment. At the end of the experiment, activity catalase and superoxide dismutase, levels of myeloperoxidase (MPO), interleukin-1 beta (IL-1β), tumor necrosis factor alpha, thiobarbituric acid reactive substances (TBARS), and glutathione were evaluated. Mice treated with resveratrol, quercetin, or gallic acid produced a 40%, 40%, and 30% reduction of the edema, respectively, while mice treated with resveratrol or gallic acid produced a 50 and 45% reduction in IL-1β, also respectively, and a 35% reduction in MPO. Compared to mice in the control group (210 ± 21 μmol/mg protein) and ones treated with benzoyl peroxide (339.7 ± 21.3 μmol/mg protein), mice treated with resveratrol, quercetin, or gallic acid showed low levels of TBARS (71 ± 12 μmol/mg, 62 ± 10 μmol/mg, and 104 ± 15 μmol/mg protein, respectively). Such results suggest that phenolic compounds are a good alternative for the development of cosmetics that can be used to treat AV.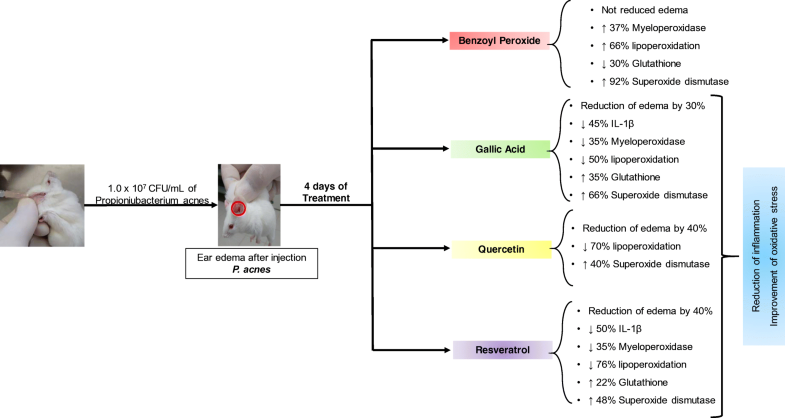 Keywords
Acne 
Skin 
Inflammation 
Oxidative stress 
Notes
Acknowledgements
The authors would like to thank the Department of Science and Biotechnology at the Universidade do Oeste de Santa Catarina, Videira, SC, Brazil.
Author contributions
ZMQS, MQS, VZ, EHB, GMN, and JMLG contributed to data acquisition and analysis and conducted the research. ZMQS, GMN, and CL contributed to the study design, data interpretation, and writing of the manuscript. All the authors provided critical review of the draft manuscript and approved submission of the final manuscript for publication.
Funding information
This study was financed in part by the Coordenação de Aperfeiçoamento de Pessoal de Nivel Su'perior Brazil (CAPES)—Finance code 001.
Compliance with ethical standards
All the procedure described herein were approved by animal ethics committee Universidade do Oeste de Santa Catarina's (UNOESC) by law number 26/2015.
Conflict of interest
The authors declare that they have no conflict of interest.
Copyright information
© Springer-Verlag GmbH Germany, part of Springer Nature 2019