Abstract
Osteosarcoma chemotherapy is often limited by chemoresistance, resulting in poor prognosis. Combined chemotherapy could, therefore, be used to prevent resistance to chemotherapeutics. Here, the effects of fisetin on osteosarcoma cells were investigated, as well as cytostatic potential in combination with the anti-cancer drug etoposide. For this, different osteosarcoma cell lines were treated with fisetin, with etoposide and with respective combinations. Fisetin was associated with decrease in colony formation in Saos-2 and in U2OS cells but not in MG-63 cells. Notwithstanding, upon evaluation of cellular growth by crystal violet assay, MG-63 and Saos-2 cells showed decreased cell proliferation at 40 and 20 µM fisetin, respectively. Depending on the relative concentrations, fisetin:etoposide combinations showed negative-to-positive interactions on the inhibition of cell proliferation. In addition, fisetin treatment up to 50 µM for 48 h resulted in G2-phase cell cycle arrest. Regardless of the combination, fisetin:etoposide increased % cells in G2-phase and decreased % cells in G1-phase. In addition, mixtures with more positive combined effects induced increased % cells in S-phase. Compared to etoposide treatment, these combinations resulted in decreased levels of cyclins B1 and E1, pointing to the role of these regulators in fisetin-induced cell cycle arrest. In conclusion, these results show that the combination of fisetin with etoposide has higher anti-proliferative effects in osteosarcoma associated with cell cycle arrest, allowing the use of lower doses of the chemotherapeutic agent, which has important implications for osteosarcoma treatment.
This is a preview of subscription content, log in to check access.
Access options
Buy single article
Instant access to the full article PDF.
US$ 39.95
Price includes VAT for USA
Subscribe to journal
Immediate online access to all issues from 2019. Subscription will auto renew annually.
US$ 199
This is the net price. Taxes to be calculated in checkout.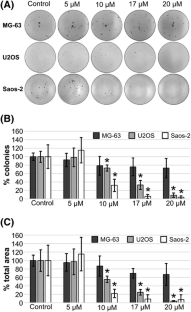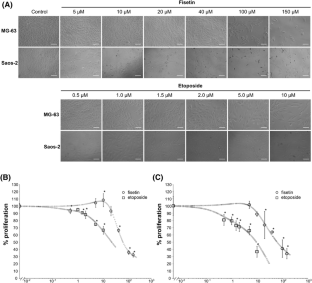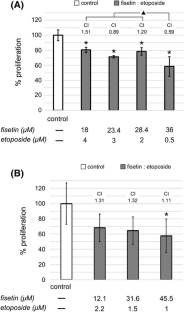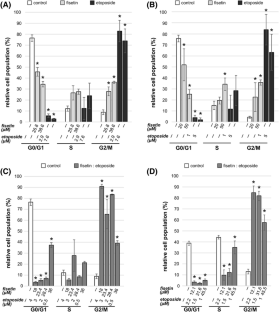 References
Abràmoff MD, Magalhães PJ, Ram SJ (2004) Image processing with imageJ. Biophoton Int 11:36–41. https://doi.org/10.1117/1.3589100

Adan A, Baran Y (2015) Fisetin and hesperetin induced apoptosis and cell cycle arrest in chronic myeloid leukemia cells accompanied by modulation of cellular signaling. Tumor Biol. https://doi.org/10.1007/s13277-015-4118-3

Anderson ME (2016) Update on Survival in Osteosarcoma. Orthop Clin North Am 47:283–292. https://doi.org/10.1016/j.ocl.2015.08.022

Azarova AM, Lyu YL, Lin C et al (2007) Roles of DNA topoisomerase II isozymes in chemotherapy and secondary malignancies. Proc Natl Acad Sci USA 104:11014–11019. https://doi.org/10.1073/pnas.0704002104

Bandele OJ, Osheroff N (2007) Bioflavonoids as poisons of human topoisomerase II alpha and II beta. Biochemistry 46:6097–6108. https://doi.org/10.1021/bi7000664

Chen YC, Shen SC, Lee WR et al (2002) Wogonin and fisetin induction of apoptosis through activation of caspase 3 cascade and alternative expression of p21 protein in hepatocellular carcinoma cells SK-HEP-1. Arch Toxicol 76:351–359. https://doi.org/10.1007/s00204-002-0346-6

Choi SW, Son YJ, Yun JM, Kim SH (2012) Fisetin inhibits osteoclast differentiation via downregulation of p38 and c-Fos-NFATc1 signaling pathways. Evid based Complement Alternat Med 2012:810563. https://doi.org/10.1155/2012/810563

Chou T (2006) Theoretical basis, experimental design, and computerized simulation of synergism and antagonism in drug combination studies. Pharmacol Rev 58:621–681. https://doi.org/10.1124/pr.58.3.10

Chou TC, Martin N (2005) CompuSyn for drug combinations: PC software and user's guide: a computer program for quantitation of synergism and antagonism in drug combinations, and the determination of IC50 and ED50 and LD50 values. ComboSyn Inc, Paramus

Coutinho L, Oliveira H, Pacheco AR et al (2017) Hesperetin-etoposide combinations induce cytotoxicity in U2OS cells: Implications on therapeutic developments for osteosarcoma. DNA Repair 50:36–42. https://doi.org/10.1016/j.dnarep.2016.12.006

Di Fiore R, Marcatti M, Drago-Ferrante R et al (2014) Mutant p53 gain of function can be at the root of dedifferentiation of human osteosarcoma MG63 cells into 3AB-OS cancer stem cells. Bone 60:198–212. https://doi.org/10.1016/j.bone.2013.12.021

Ferreira de Oliveira JMP, Remédios C, Oliveira H et al (2014) Sulforaphane induces DNA damage and mitotic abnormalities in human osteosarcoma MG-63 cells: correlation with cell cycle Arrest and apoptosis. Nutr Cancer 5581:37–41. https://doi.org/10.1080/01635581.2014.864777

Gomes A, Fernandes E, Lima JLFC. et al (2008) Molecular mechanisms of anti-inflammatory activity mediated by flavonoids. Curr Med Chem 15:1586–1605

González-Gallego J, García-Mediavilla MV, Sánchez-Campos S, Tuñón MJ (2010) Fruit polyphenols, immunity and inflammation. Br J Nutr 104:S15–S27. https://doi.org/10.1017/S0007114510003910

Haddad AQ, Venkateswaran V, Viswanathan L et al (2006) Novel antiproliferative flavonoids induce cell cycle arrest in human prostate cancer cell lines. Prostate Cancer Prostatic Dis 9:68–76. https://doi.org/10.1038/sj.pcan.4500845

Horcajada MN, Offord E (2012) Naturally plant-derived compounds: role in bone anabolism. Curr Mol Pharmacol 5:205–218. https://doi.org/10.2174/1874467211205020205

Kansara M, Teng MW, Smyth MJ, Thomas DM (2014) Translational biology of osteosarcoma. Nat Rev Cancer 14:722–735. https://doi.org/10.1038/nrc3838

Khan N, Afaq F, Syed DN, Mukhtar H (2008) Fisetin, a novel dietary flavonoid, causes apoptosis and cell cycle arrest in human prostate cancer LNCaP cells. Carcinogenesis 29:1049–1056. https://doi.org/10.1093/carcin/bgn078

Kim YH, Kim JL, Lee EJ et al (2014) Fisetin antagonizes cell fusion, cytoskeletal organization and bone resorption in RANKL-differentiated murine macrophages. J Nutr Biochem 25:295–303. https://doi.org/10.1016/j.jnutbio.2013.11.003

Lee JD, Huh JE, Jeon GS et al (2009) Flavonol-rich RVHxR from Rhus verniciflua Stokes and its major compound fisetin inhibits inflammation-related cytokines and angiogenic factor in rheumatoid arthritic fibroblast-like synovial cells and in vivo models. Int Immunopharmacol 9:268–276. https://doi.org/10.1016/j.intimp.2008.11.005

Léotoing L, Wauquier F, Guicheux J et al (2013) The polyphenol fisetin protects bone by repressing NF-kappaB and MKP-1-dependent signaling pathways in osteoclasts. PLoS One 8:1–14. https://doi.org/10.1371/journal.pone.0068388

Léotoing L, Davicco MJ, Lebecque P et al (2014) The flavonoid fisetin promotes osteoblasts differentiation through Runx2 transcriptional activity. Mol Nutr Food Res 58:1239–1248. https://doi.org/10.1002/mnfr.201300836

Li J, Cheng Y, Qu W et al (2011) Fisetin, a dietary flavonoid, induces cell cycle arrest and apoptosis through activation of p53 and inhibition of NF-kappa B pathways in bladder cancer cells. Basic Clin Pharmacol Toxicol 108:84–93. https://doi.org/10.1111/j.1742-7843.2010.00613.x

Li JM, Li WY, Huang MY, Zhang XQ (2015) Fisetin, a dietary flavonoid induces apoptosis via modulating the MAPK and PI3K/Akt signalling pathways in human osteosarcoma (U-2 OS) cells. Bangladesh J Pharmacol 10:820–829. https://doi.org/10.3329/bjp.v10i4.23039

Liao Y-C, Shih Y-W, Chao C-H et al (2009) Involvement of the ERK signaling pathway in fisetin reduces invasion and migration in the human lung cancer cell line A549. J Agric Food Chem 57:8933–8941. https://doi.org/10.1021/jf902630w

Lim DY, Park JHY (2009) Induction of p53 contributes to apoptosis of HCT-116 human colon cancer cells induced by the dietary compound fisetin. Am J Physiol Gastrointest Liver Physiol 296:G1060–G1068. https://doi.org/10.1152/ajpgi.90490.2008

Lockwood WW, Stack D, Morris T et al (2011) Cyclin E1 is amplified and overexpressed in osteosarcoma. J Mol Diagn 13:289–296. https://doi.org/10.1016/j.jmoldx.2010.11.020

Lu X, Jung J, Cho HJ et al (2005) Fisetin inhibits the activities of cyclin-dependent kinases leading to cell cycle arrest in HT-29 human colon cancer cells. J Nutr 135:2884–2890

Luetke A, Meyers PA, Lewis I, Juergens H (2014) Osteosarcoma treatment—Where do we stand? A state of the art review. Cancer Treat Rev 40:523–532. https://doi.org/10.1016/j.ctrv.2013.11.006

Masuda H, Miller C, Koeffler HP et al (1987) Rearrangement of the p53 gene in human osteogenic sarcomas. Proc Natl Acad Sci USA 84:7716–7719. https://doi.org/10.1073/pnas.84.21.7716

Murtaza I, Adhami VM, Hafeez B, Bin et al (2009) Fisetin, a natural flavonoid, targets chemoresistant human pancreatic cancer AsPC-1 cells through DR3-mediated inhibition of NF-κB. Int J Cancer 125:2465–2473. https://doi.org/10.1002/ijc.24628

Pal HC, Sharma S, Elmets CA et al (2013) Fisetin inhibits growth, induces G2/M arrest and apoptosis of human epidermoid carcinoma A431 cells: role of mitochondrial membrane potential disruption and consequent caspases activation. Exp Dermatol 22:470–475. https://doi.org/10.1111/exd.12181.Fisetin

Pandey KB, Rizvi SI (2009) Plant polyphenols as dietary antioxidants in human health and disease. Oxidative Med Cell Longev 2:270–278. https://doi.org/10.4161/oxim.2.5.9498

Pfaffl MW (2001) A new mathematical model for relative quantification in real-time RT-PCR. Nucleic Acids Res 29:16–21. https://doi.org/10.1093/nar/29.9.e45

Rozen S, Skaletsky H (2000) Primer3 on the WWW for general users and for biologist programmers. Methods Mol Biol 132:365–386. https://doi.org/10.1385/1-59259-192-2:365

Sakai E, Shimada-Sugawara M, Yamaguchi Y et al (2013) Fisetin inhibits osteoclastogenesis through prevention of RANKL-induced ROS production by Nrf2-mediated up-regulation of phase II antioxidant enzymes. J Pharmacol Sci 121:288–298. https://doi.org/10.1254/jphs.12243FP

Shen CL, von Bergen V, Chyu MC et al (2012) Fruits and dietary phytochemicals in bone protection. Nutr Res 32:897–910. https://doi.org/10.1016/j.nutres.2012.09.018

Strick R, Strissel PL, Borgers S et al (2000) Dietary bioflavonoids induce cleavage in the MLL gene and may contribute to infant leukemia. Proc Natl Acad Sci USA 97:4790–4795. https://doi.org/10.1073/pnas.070061297

Suh Y, Afaq F, Johnson JJ, Mukhtar H (2009) A plant flavonoid fisetin induces apoptosis in colon cancer cells by inhibition of COX2 and Wnt/EGFR/NF-κB-signaling pathways. Carcinogenesis 30:300–307. https://doi.org/10.1093/carcin/bgn269

Sung B, Pandey MK, Aggarwal BB (2007) Fisetin, an inhibitor of cyclin-dependent kinase 6, down—regulates nuclear factor-κB-regulated cell proliferation, antiapoptotic and metastatic gene products through the suppression of TAK-1 and receptor-interacting protein—regulated IκBα kinase activ. Mol Pharmacol 71:1703–1714. https://doi.org/10.1124/mol.107.034512

Syed DN, Afaq F, Maddodi N et al (2011) Inhibition of human melanoma cell growth by the dietary flavonoid fisetin is associated with disruption of Wnt/β-catenin signaling and decreased Mitf levels. J Invest Dermatol 131:1291–1299. https://doi.org/10.1038/jid.2011.6

Touil YS, Auzeil N, Saighi H et al (2011a) Fisetin disposition and metabolism in mice: Identification of geraldol as an active metabolite. 82:1731–1739. https://doi.org/10.1016/j.bcp.2011.07.097

Touil YS, Seguin J, Scherman D, Chabot GG (2011b) Improved antiangiogenic and antitumour activity of the combination of the natural flavonoid fisetin and cyclophosphamide in Lewis lung carcinoma-bearing mice. Cancer Chemother Pharmacol 68:445–455. https://doi.org/10.1007/s00280-010-1505-8

Vella S, Tavanti E, Hattinger CM et al (2016) Targeting CDKs with roscovitine increases sensitivity to DNA damaging drugs of human osteosarcoma cells. PLoS One 11:e0166233. https://doi.org/10.1371/journal.pone.0166233

Walker JV, Nitiss JL (2002) DNA topoisomerase II as a target for cancer chemotherapy. Cancer Invest 20:570–589. https://doi.org/10.1081/CNV-120002156

Wang J, Xu G, Shen F, Kang Y (2014) miR-132 targeting cyclin E1 suppresses cell proliferation in osteosarcoma cells. Tumor Biol 35:4859–4865. https://doi.org/10.1007/s13277-014-1637-2

Yang J, Zhang W (2013) New molecular insights into osteosarcoma targeted therapy. Curr Opin Oncol 25:398–406. https://doi.org/10.1097/CCO.0b013e3283622c1b

Ying TH, Yang SF, Tsai SJ et al (2012) Fisetin induces apoptosis in human cervical cancer HeLa cells through ERK1/2-mediated activation of caspase-8-/caspase-3-dependent pathway. Arch Toxicol 86:263–273. https://doi.org/10.1007/s00204-011-0754-6

Zhao S, Fernald RD (2005) Comprehensive algorithm for quantitative real-time polymerase chain reaction. J Comput Biol 12:1047–1064. https://doi.org/10.1089/cmb.2005.12.1047.Comprehensive
Acknowledgements
This work was supported by Grants from the Portuguese Foundation for Science and Technology—Fundação para a Ciência e a Tecnologia (SFRH/BPD/74868/2010 to J.M.P.F.O, SFRH/BPD/111736/2015 to H.O.).
Ethics declarations
Ethical statement
The manuscript does not contain clinical studies or patient data.
Conflict of interest
The authors declare that they have no conflict of interest.
About this article
Cite this article
Ferreira de Oliveira, J.M.P., Pacheco, A.R., Coutinho, L. et al. Combination of etoposide and fisetin results in anti-cancer efficiency against osteosarcoma cell models. Arch Toxicol 92, 1205–1214 (2018). https://doi.org/10.1007/s00204-017-2146-z
Received:

Accepted:

Published:

Issue Date:
Keywords
Osteosarcoma

P53

Combination therapy

Fisetin

Etoposide

Cell cycle regulators

MG-63 cells

Saos-2 cells