Identification and hazard prediction of tattoo pigments by means of pyrolysis—gas chromatography/mass spectrometry
Open Access
Analytical Toxicology
Abstract
The implementation of regulation for tattoo ink ingredients across Europe has generated the need for analytical methods suitable to identify prohibited compounds. Common challenges of this subject are the poor solubility and the lack of volatility for most pigments and polymers applied in tattoo inks. Here, we present pyrolysis coupled to online gas chromatography and electron impact ionization mass spectrometry (py-GC/MS) as quick and reliable tool for pigment identification using both purified pigments and tattoo ink formulations. Some 36 organic pigments frequently used in tattoo inks were subjected to py-GC/MS with the aim to establish a pyrogram library. To cross-validate pigment identification, 28 commercially available tattoo inks as well as 18 self-made pigment mixtures were analyzed. Pyrograms of inks and mixtures were evaluated by two different means to work out the most reliable and fastest strategy for an otherwise rather time-consuming data review. Using this approach, the declaration of tattoo pigments currently used on the market could be verified. The pyrolysis library presented here is also assumed suitable to predict decomposition patterns of pigments when affected by other degradation scenarios, such as sunlight exposure or laser irradiation. Thus, the consumers' risk associated with the exposure to toxicologically relevant substances that originate from pigment decomposition in the dermal layers of the skin can be assessed. Differentiation between more or less harmful pigments for this field of application now will become feasible.
Keywords
Tattoo inks 
Pyrolysis 
Organic pigments 
Tattoo toxicity 
Pigment degradation 
Introduction
Over the past few decades, inorganic pigments as coloring agents in tattoo inks were succeeded by organic compounds. This development was mainly triggered by an increased color brilliance of the latter and their lower contamination with heavy metal impurities such as nickel, chromium or cobalt (Dirks 2015). In addition, the European Resolution on requirements and criteria for the safety of tattoos and permanent makeup [ResAP(2008)1] highlighted pigments that should not be used in tattoo inks. This judgement was based on the EU cosmetics regulation (Council of Europe 2008). In the past years, ResAP(2008)1 was converted into law by some countries, including Germany, thereby prohibiting some 100 colorants (TätoV 2008). However, the implementation of this regulation can only succeed if pigments become accessible by analytical means used in routine monitoring. Previous studies have reported up to two-third of false declaration of tattoo inks with one-third of the inks containing prohibited pigments (Hauri and Hohl 2015). The lack of standard methods for the identification of pigments in tattoo inks leaves space to bypass regulation simply by non-detectable false declaration.
To date, identification of tattoo pigments is mainly carried out using liquid chromatography (LC) in the case of soluble pigments (Engel et al. 2006) or, if insoluble, Raman spectroscopy as well as Fourier transform infrared (FT-IR) spectroscopy (Poon et al. 2008; Timko et al. 2004). In addition, techniques of inorganic element analysis such as inductively coupled plasma mass spectrometry (ICP-MS) (Forte et al. 2009) and energy dispersive X-ray spectroscopy (EDX) are applied to characterize tattoo inks (Taylor et al. 1991; Timko et al. 2004). Recent investigations proved laser desorption ionization time-of-flight mass spectrometry (LDI-ToF–MS) also being suitable for pigment identification (Boon and Learner 2002; Hauri 2014). Disadvantages of single methods are either their low sensitivity and/or their specificity toward organic pigment mixtures (FT-IR and Raman spectroscopy), an insufficient solubility of the analytes under assay conditions (LC–MS), rather long data evaluation times (LDI-ToF–MS) and the lack of suitable spectra libraries (LDI-ToF–MS). Therefore, combinations of complementary methods such as LC and LDI-ToF–MS have been used in the past to identify coloring agents in tattoo inks (Hauri 2011, 2014).
Organic pigments in paintings and varnishes are often identified using pyrolysis coupled to gas chromatography/mass spectrometry (py-GC/MS) (Chiantore et al. 2003; Ghelardi et al. 2014; Russell et al. 2011; Sonoda 1999). Pigments are first subjected to decomposition at high temperatures, and emerging pyrolysis product patterns are then used to identify the corresponding parent compounds. With this method, polymers can be simultaneously analyzed as well (Chiantore et al. 2003; Kleinert and Weschler 1980; Schossler et al. 2013; Silva et al. 2010; Wallisch 1974). In the literature, the specific patterns of main pigment fragments have been reported, unfortunately sometimes lacking unidentified fragments or smaller molecules with toxicological relevance (Chiantore et al. 2003; Ghelardi et al. 2014; Russell et al. 2011; Sonoda 1999). Losing some unique fragments makes identification of pigments more challenging though. Additionally, applied pyrolysis temperatures greatly vary between publications. Therefore, we tested the influence of different temperatures on the thermal stability of various pigments. Ultimately we provide a full database of the main fragments emerging upon pyrolysis of 36 among the most widely used organic tattoo pigments at 800 °C. The feasibility of this pyrogram library was then tested on 28 commercially available tattoo inks from different German and international manufacturers. Additionally, 18 self-made pigment mixtures were used to appraise limitations of the method.
The pyrolysis products presented in this paper were also reviewed for their toxicological properties. Recent studies have provided evidence that products of pyrolysis will be comparable to those obtained by laser irradiation (Engel et al. 2007; Schreiver et al. 2015), and some of them were also shown to occur upon sunlight exposure of pigments in vitro as well as in vivo (Cui et al. 2004; Engel et al. 2007, 2010; Hauri and Hohl 2015; Wenzel et al. 2013; Wezel 2013). Hence, the compiled pyrolysis fragments might be suitable to predict hazardous decomposition products of organic pigments that possibly evolve during laser irradiation or sunlight exposure of tattooed skin.
Materials and methods
Chemicals
For verification of retention times and mass spectra, chemical substances were either purchased from Sigma-Aldrich (St Louis, MO, USA) with purities of ≥97.0 % (sodium cyanide, benzonitrile, 1,2-benzenedicarbonitrile, chlorobenzene, 4-chlorobenzonitrile, xylene, benzamide, 2-ethoxyaniline) or, as analytical standards, from Fluka (Sigma-Aldrich, St Louis, MO, USA; naphthalene, 1,2,3,4-tetrachlorobenzene, hexachlorobenzene, pentachlorobenzene, aniline, 3,3′-dichloro-1,1-biphenyl, 2,5-dichloroaniline) and Sulpeco (i.e., Sigma-Aldrich; pentachlorobenzene). Shellac was obtained as food-grade and orange shellac from Kremer Pigmente (Aichstetten, Germany).
Py-GC/MS
A 7890A gas chromatograph system coupled to a 5975C inert XL MSD with Triple-Axis Detectors (both from Agilent Technologies, Waldbronn, Germany) was used. Ionization was induced with an inert electron impact (EI) ion source at 70 eV and helium (purity of 99.999 %) from Air Liquide (Düsseldorf, Germany) was used as carrier gas.
For py-GC/MS the gas chromatograph was equipped with an HP-5MS column (30 m × 0.25 mm i.d. × 0.25 µm; Agilent Technologies, Waldbronn, Germany). Small samples of pigments or tattoo inks were placed inside a glass tube and then automatically inserted into the pyrolysis module of the thermal desorption unit (TDU) (both from Gerstel, Mühlheim, Germany) of the GC/MS inlet system. For tattoo inks, a solvent vent method was used to dry the samples and to analyze for semi-volatile compounds prior to the onset of pyrolysis. Therefore, the TDU was ramped after 0.5 min from initial 50–90 °C (100 °C/min) and kept at this temperature for further 1.5 min. The solvent vent quit after 1.9 min. Afterward, the TDU was heated to 320 °C (720 °C/min) for 3.5 min to evaporate volatile compounds, which were subsequently captured in the Cold Injection System (CIS) at −150 °C. The temperature of the TDU was held for 2 min before ramping to 320 °C (12 °C/min). The starting temperature of the oven was held at 50 °C for 2 min and then ramped with 10 °C/min to reach 320 °C for 5 min. The carrier gas flow rate was 1 ml/min with a split ratio of 1:30.
Pyrolysis of dried inks and pigments was carried out at varying temperatures for 6 s. Parameters for the pyrolysis of pure pigments were the same as stated above with following adaptations: The temperature of the CIS was kept constant at 320 °C. The TDU was ramped from 50 to 320 °C (720 °C/min) and then kept constant for further 1.6 min.
Data were analyzed using Enhanced ChemStation (E02.02.1431) from Agilent Technologies. Firstly, the mass spectra recorded were compared to the mass spectral library of unknown peaks (see Tables S1–11) considering all peaks with a peak area of ≥0.2 % of the total. If matches were below 80 with the self-made library (ChemStation score, with 100 being the best possible match), the NIST MS library (MS Search version 2.0 g) was used for spectral comparison. In this case, matches with scores higher than 90 were accounted true.
Altogether 36 pigments were pyrolyzed at 800 °C to identify specific cleavage sites of each pigment (Table S12). If a pigment was in stock from more than one supplier, only mutual peaks of the respective pyrograms were depicted in Tables S1–11.
Pigment mixtures
For suspension of pigments, 18 g glycerol and 15 g propylene glycol (≥99.5 %) were dissolved in a 40/60 (v/v) mix of 2-propanol (≥99.5 %, all from Sigma-Aldrich, St Louis, MO, USA) and deionized water (MilliQ Advantage A10; Merck, Darmstadt, Germany) with a resistance of 18.2 MΩ at 25 °C. 50 mg of each pigment was added to 3 ml of the suspension. Homogenization took place in a Sonorex Digitec ultrasonic water bath with 50/60 Hz (Bandelin Electronic, Berlin, Germany) for 60 min at <40 °C.
Results and discussion
Thirty-six pigments have been pyrolyzed at 800 °C to create a library of specific pyrolysis decomposition patterns (Tables S1–11). The pigments investigated were chosen according to their popularity in use for tattoo inks taken from ink declarations and published surveys (BAG 2009; CVUA 2011).
To determine a suitable pyrolysis temperature, six pigments which cover the most abundant organic structures used in tattoo inks were pyrolyzed at 200, 400, 600, 800 and 1000 °C. Areas of the extracted molecular mass ions, normalized to the total chromatogram area, were found increasing and thus confirm the expected temperature-dependent formation of decomposition products (Fig. 
1
). Some pigments, such as pigment orange (P.O.) 13 and pigment red (P.R.) 170, decompose at rather low temperatures (<400 °C) which becomes apparent by rising peak ratios of cleavage products and color changes in sample holders (Fig. 
1
). In these cases, the thermal instability is caused by incorporated azo bonds which are prone to cleavage already at temperatures starting at 200 °C (Az et al.
1991
). On the other hand, extremely stable pigments such as pigment violet (P.V.) 19 and pigment blue (P.B.) 15 remain more or less unaffected below 800 °C. Based on these observations, a pyrolysis temperature of 800 °C was chosen for the generation of a pyrogram library and the following tattoo ink analyses to ensure cleavage of all targeted pigments.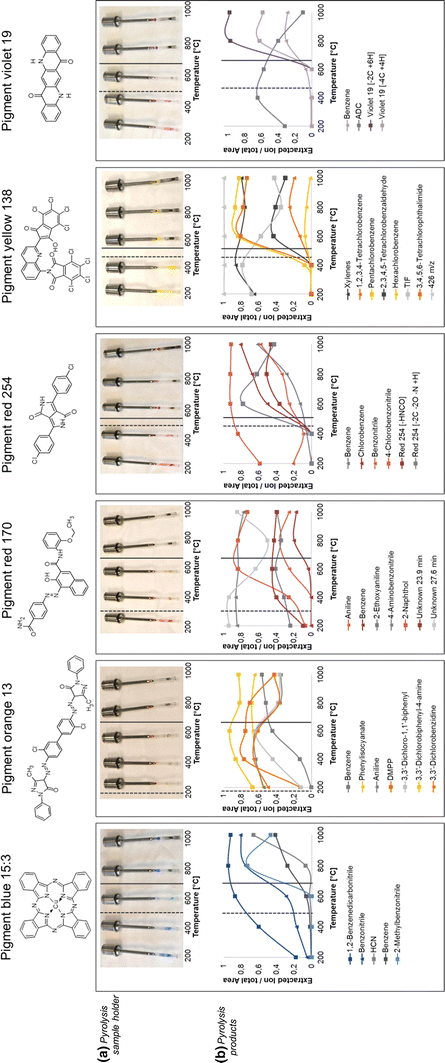 Occasionally it was impossible to identify all pyrolysis products using either an MS library, as provided by the US National Institute of Standards and Technology (NIST), or via judgement of the mass spectrum taking into account the pigment's molecular structure. Since the occurrence of such as yet unknown molecule descendants is unique to certain pigments, we added these fragments as unknowns to the lists of decomposition products. Basically all pyrolysis products representing >1 % of the total peak area were included in the pyrogram library, with a few exceptions only (Tables S1–11). In the following, all different classes of organic pigments used in tattoo inks are discussed in terms of their main pyrolysis products and accompanying toxicological hazards.
Conclusions
We were able to prove py-GC/MS suitable for the identification of polymers and pigments used in tattoo inks. Main advantages of this method are the absence of any sample purification steps and a relatively high sensitivity in distinguishing different ingredients of multi-component inks. Py-GC/MS is applicable to a wide range of pigments, including phthalocyanines, diketopyrrolopyrrols, quinophthalones, triphendioxazines and, most importantly, azo pigments. However, in some of the commercial inks investigated some of the pigments could not be identified that have been declared on the label of the container. Occasionally pigments are only used in minute amounts to achieve a certain color shade. Hence, their concentrations might have fallen below the detection limit. Additionally, quinacridones could not be sufficiently identified and thus were a cause for false or incomplete identification. Our results are in accordance with the literature and demonstrate the unsuitability of py-GC/MS for identification of quinacridones (Ghelardi et al. 2014; Russell et al. 2011). Similarly, the polycyclic P.O.43, P.R.179 and other similar structures could not be identified in pigment mixtures. Like quinacridones, these pigments miss specific cleavage sites making identification through py-GC/MS rather difficult.
The unfeasibility to identify pigments without characteristic cleavage sites is a limiting factor of the py-GC/MS approach applied. Methods such as LDI-ToF–MS (insoluble pigments) or LC–MS (soluble pigments) may serve as suitable complementary techniques for the identification of pigments in complex mixtures (Hauri 2014). In addition, FT-IR and Raman spectroscopy might help to pinpoint the most abundant pigments, but will be of limitation in mixtures (Poon et al. 2008; Timko et al. 2004).
Currently, the tattoo ink regulation is highly discussed on the European level (Laux et al. 2016). In the past and due to their insolubility in physiological media, pigments were assumed biochemically inert. In the case of the quinacridones P.V.19 and P.R.122 no toxic endpoint was ever reported based on animal studies of the sole and pure pigments (CPMA 2006). Yet, there were two reported cases of allergic reactions toward tattoo inks containing either of the pigments (Gaudron et al. 2015). Copper phthalocyanine was also judged non-toxic by the OECD (1995). Even azo pigments including P.Y.13 and P.Y.74 did neither show organ toxicity nor mutagenicity or carcinogenicity in animals (Ollgard et al. 1998). It is to be noted, however, that routine toxicity testing does not consider the unique intradermal routes of exposure being operative in tattoos. Unlike irritation and allergic reactions that usually occur directly at the side of the tattoo, the epidemiological proof of systemic adverse effects in humans is extremely difficult and biased by many factors and complex influences.
Although toxicity of the pigments as such is generally not expected it still might result from metabolites or cleavage products emerging after UV light exposure (sun bathing) or laser tattoo removal (Cui et al. 2005; Engel et al. 2007; Hauri and Hohl 2015; Schreiver et al. 2015; Serup and Carlsen 2014). We therefore propose that the pyrogram library introduced—comprising decomposition fragments of the most abundant pigments present in tattoo inks to date—might be used as tool to predict the emergence of potentially toxic and carcinogenic compounds under real-life conditions including laser removal of permanent skin paintings (Engel et al. 2010; Schreiver et al. 2015). To this end, all pyrolysis products of each pigment were also reviewed for their carcinogenicity category according to the GHS classification and their acute oral toxicity (LD50 value) in rats (see Tables S1–11). Our data demonstrate that genotoxic pAAs can make up to 20 % of the total peak area in the pyrograms of azo pigments (Table S3). Conversely, other carcinogens such as benzene and naphthalene mostly occur in minor amounts representing only about 1–2 % of the total peak areas. Along with cyanides, both kinds of aromatics are also produced upon combustion of any organic materials, e.g., in fires. It is therefore little surprising that these compounds are released in nearly all of the pigments analyzed. However, effective degradation of pigments may only occur upon laser irradiation at temperatures beyond 800 °C (Schreiver et al. 2015; Engel et al. 2010). On the other hand, none of these fragmentation products have ever been reported upon UV and/or visible light exposure of tattoo pigments (Wezel 2013). This provides evidence that phthalocyanines, quinacridones and other very light fast pigments are advantageous regarding its decomposition behaviors when compared to azo pigments and other amine- or amide-containing pigments such as P.V.37.
Notes
Acknowledgments
The authors would like to thank Dr. Urs Hauri (State Laboratory Basel-Stadt) for providing additional pigments. This research was funded by the intramural research project 1322-536 at BfR.
Compliance with ethical standards
Conflict of interest
The authors declare no conflict of interest.
Copyright information
© The Author(s) 2016
Open AccessThis article is distributed under the terms of the Creative Commons Attribution 4.0 International License (http://creativecommons.org/licenses/by/4.0/), which permits unrestricted use, distribution, and reproduction in any medium, provided you give appropriate credit to the original author(s) and the source, provide a link to the Creative Commons license, and indicate if changes were made.