Abstract
Multi-energy systems combine different energy vectors (e.g. electricity, heat, cooling) and operate at different levels (e.g. building, district, and region). Although in theory, multi-energy systems should allow for lower carbon impacts compared to systems in which single energy vectors are considered individually, implementation of multi-energy systems is often difficult due to the number of technologies and actors involved and the complexity of their interactions. In this article, we conduct a bibliometric analysis based on over 20,000 articles from the Web of Science to investigate how knowledge on two important multi-energy systems, Microgrids and Smart Grids, has developed. Our findings identify areas that have been under-researched to date, offer a means of transferring learning between different multi-energy systems and provide practical guidance for the implementation of multi-energy systems.
This is a preview of subscription content, log in to check access.
Access options
Buy single article
Instant access to the full article PDF.
US$ 39.95
Price includes VAT for USA
Subscribe to journal
Immediate online access to all issues from 2019. Subscription will auto renew annually.
US$ 99
This is the net price. Taxes to be calculated in checkout.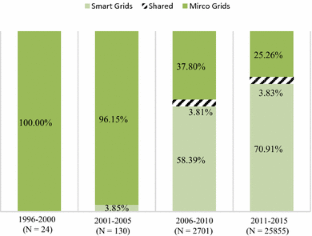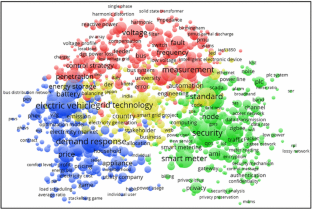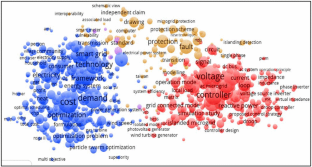 References
1.

Mancarella P (2014) MES (multi-energy systems): An overview of concepts and evaluation models. Energy 65:1–17

2.

Manfren M, Caputo P, Costa G (2011) Paradigm shift in urban energy systems through distributed generation: Methods and models. Appl Energy 88(4):1032–1048

3.

Coll-Mayor D, Paget M, Lightner E (2007) Future intelligent power grids: Analysis of the vision in the European Union and the United States. Energy Policy 35(4):2453–2465

4.

Krause T, Kienzle F, Andersson G (2011) Modeling interconnected national energy systems using an energy hub approach. In: 2011 IEEE Trondheim PowerTech, pp 1–7

5.

Erlinghagen S, Markard J (2012) Smart grids and the transformation of the electricity sector: ICT firms as potential catalysts for sectoral change. Energy Policy 51:895–906

6.

Lee CISG, Felps W, Baruch Y (2014) Toward a taxonomy of career studies through bibliometric visualization. J Vocat Behav 85(3):339–351

7.

Markoulli M, Lee CISG, Byington E, Felps W (2017) Mapping Human Resource Management: Reviewing the field and charting future directions. Hum Resour Manage R (forthcoming)

8.

Lee PC, Su HN (2011) Quantitative mapping of scientific research—the case of electrical conducting polymer nanocomposite. Technol Forecast Soc Change 78(1):132–151

9.

Rizzi F, van Eck NJ, Frey M (2014) The production of scientific knowledge on renewable energies: Worldwide trends, dynamics and challenges and implications for management. Renew Energy 62:657–671

10.

Leydesdorff L, Heimeriks G, Rotolo D (2016) Journal Portfolio Analysis for countries, cities, and organizations: Maps and comparisons. J Assoc Inf Sci Technol 67(3):741–748

11.

Han YJ (2015) Analysis of essential patent portfolios via bibliometric mapping: an illustration of leading firms in the 4G era. Technol Anal Strateg Manag 27(7):809–839

12.

Kullenberg C, Nelhans G (2015) The happiness turn? Mapping the emergence of 'happiness studies' using cited references. Scientometrics 103(2):615–630
Acknowledgments
The work in this study is related to the 'Future Energy Efficient Buildings and Districts' (FEEB&D) project funded by CTI's Swiss Competence Center for Energy Research (SCCER) (KTI.1155000149).
About this article
Cite this article
Balakrishnan, D., Haney, A.B. & Meuer, J. What a MES(s)! A bibliometric analysis of the evolution of research on multi-energy systems. Electr Eng 98, 369–374 (2016). https://doi.org/10.1007/s00202-016-0427-9
Received:

Accepted:

Published:

Issue Date:
Keywords
Multi-energy systems

Knowledge development

Bibliometric analysis

Smart Grids

Microgrids