Subtrochanteric fractures after long-term treatment with bisphosphonates: a European Society on Clinical and Economic Aspects of Osteoporosis and Osteoarthritis, and International Osteoporosis Foundation Working Group Report
Open Access
Position Paper
Abstract
Summary
This paper reviews the evidence for an association between atypical subtrochanteric fractures and long-term bisphosphonate use. Clinical case reports/reviews and case–control studies report this association, but retrospective phase III trial analyses show no increased risk. Bisphosphonate use may be associated with atypical subtrochanteric fractures, but the case is yet unproven.
Introduction
A Working Group of the European Society on Clinical and Economic Aspects of Osteoporosis and Osteoarthritis and the International Osteoporosis Foundation has reviewed the evidence for a causal association between subtrochanteric fractures and long-term treatment with bisphosphonates, with the aim of identifying areas for further research and providing recommendations for physicians.
Methods
A PubMed search of literature from 1994 to May 2010 was performed using key search terms, and articles pertinent to subtrochanteric fractures following bisphosphonate use were analysed.
Results
Several clinical case reports and case reviews report a possible association between atypical fractures at the subtrochanteric region of the femur in bisphosphonate-treated patients. Common features of these 'atypical' fractures include prodromal pain, occurrence with minimal/no trauma, a thickened diaphyseal cortex and transverse fracture pattern. Some small case–control studies report the same association, but a large register-based study and retrospective analyses of phase III trials of bisphosphonates do not show an increased risk of subtrochanteric fractures with bisphosphonate use. The number of atypical subtrochanteric fractures in association with bisphosphonates is an estimated one per 1,000 per year. It is recommended that physicians remain vigilant in assessing their patients treated with bisphosphonates for the treatment or prevention of osteoporosis and advise patients of the potential risks.
Conclusions
Bisphosphonate use may be associated with atypical subtrochanteric fractures, but the case is unproven and requires further research. Were the case to be proven, the risk–benefit ratio still remains favourable for use of bisphosphonates to prevent fractures.
Keywords
Atypical 
Bisphosphonate 
Femur 
Low trauma 
Osteoporosis 
Subtrochanteric 
Introduction
Treatment with bisphosphonates significantly reduces the risk of fractures in men and women with osteoporosis. The evidence is based on high-quality phase III randomized controlled trials (RCTs) with fracture as an endpoint [1, 2, 3, 4, 5, 6, 7, 8, 9, 10]. The benefits of bisphosphonates also extend to other disorders of bone metabolism such as glucocorticoid-induced osteoporosis [11], Paget's disease [12] and bone metastases [13, 14].
Treatment with bisphosphonates is not without adverse effects, but they are generally minor and occur in a minority of patients. The most common adverse effect is gastrointestinal upset with the oral formulations, the frequency of which decreases with intermittent treatment such as once-weekly or monthly regimens. Intravenous (IV) administration of nitrogen-containing bisphosphonates may induce an acute phase reaction which manifests as fever, myalgia and arthralgia, although these side effects usually resolve within a few days of onset [3, 7, 15]. High doses of bisphosphonates given intravenously may impair renal function, and the kidney is a major route of elimination of the bisphosphonates. For this reason, bisphosphonates are not recommended for use in patients with severe renal impairment [16, 17, 18]. The use of bisphosphonates has been associated with osteonecrosis of the jaw, but most cases have occurred in patients receiving high-dose IV bisphosphonates for neoplastic bone disease, and osteonecrosis of the jaw has rarely been reported in patients with benign bone diseases [19, 20]. An increased risk of atrial fibrillation has been reported for zoledronic acid [3], but the association may be coincidental [7]. Other uncommon or rare side effects of bisphosphonates include anaemia [21], urticaria [22, 23] and symptomatic hypocalcaemia [22].
In recent years, several clinical case reports and case reviews have reported an association between atypical fractures in patients receiving treatment with bisphosphonates. The majority of these cases have described fractures at the subtrochanteric region of the femur [24, 25, 26, 27, 28, 29, 30, 31].
Against this background, the aim of this report was to critically review the evidence for an increased incidence of subtrochanteric fractures after long-term treatment with bisphosphonates, to identify gaps in our knowledge that warrant further research and to provide guidance for healthcare professionals. A PubMed search of literature from 1994 to May 2010 was performed using the search terms 'bisphosphonate(s)' AND/OR 'alendronate' AND/OR 'risedronate' AND/OR 'ibandronate/ibandronic acid' AND/OR 'zoledronate/zoledronic acid' AND/OR 'subtrochanter(ic)' AND 'fracture' AND/OR 'femur/femoral' AND/OR 'atypical' AND/OR 'low-trauma' AND/OR 'low-energy'. Scientific papers pertinent to subtrochanteric fractures following bisphosphonate use were analysed and included in the evidence base.
Characteristics of subtrochanteric fractures
Subtrochanteric fractures have been defined as occurring in a zone extending from the lesser trochanter to 5 cm distal to the lesser trochanter [32]. However, this anatomical classification of subtrochanteric fracture has several variations [33, 34], resulting in variable definitions in published studies [26, 30, 35].
Regardless of the definition used, many case reports and case reviews have suggested that there are several common features of subtrochanteric fractures associated with bisphosphonate use. Major features were that the fractures arose with minimal or no trauma and, on radiography, the fracture line was transverse. Minor features were that fractures were commonly preceded by prodromal pain and, on radiographs, there appeared beaking of the cortex on one side and bilateral thickened diaphyseal cortices [26, 28, 36, 37, 38, 39]. This fracture pattern has often been referred to as an 'atypical subtrochanteric fracture' [40, 41, 42] although, as reviewed below, the distinction between typical and atypical subtrochanteric fractures has not yet been firmly established.
It is worth noting that, on radiography, the appearance of atypical subtrochanteric fractures is similar to that of stress fractures, including a periosteal reaction, linear areas of bone sclerosis and a transverse fracture line. Prodromal pain prior to diagnosis is also common [43]. However, stress fractures are more commonly associated with repeated episodes of increased activity (e.g. participation in sports). Nevertheless, stress fractures due to non-traumatic loading in patients with low bone density do occur (insufficiency fractures) [43]; thus, the terms 'atypical' and 'stress' are often used interchangeably or in conjunction to describe subtrochanteric fractures in this context. However, this terminology also requires clarification, as not all stress fractures are atypical.
Epidemiology of subtrochanteric fractures
Subtrochanteric fractures are a relatively rare type of hip fracture [
44
,
45
,
46
], usually resulting from high-energy trauma, pathologic fracture or, in the elderly, low-energy injury involving osteoporotic bone. Several series report the incidence of this fracture [
25
,
26
,
27
,
28
,
30
,
36
,
37
,
47
], although the definition of the subtrochanteric site has varied. Nieves et al. reported a large, 11-year epidemiological study of fractures of the hip, subtrochanter, femoral shaft and distal femur in the US population aged ≥50 years using National Hospital Discharge Survey data from the National Center for Health Statistics and MarketScan® (medical claims experience) data [
46
]. Of all femoral fractures, 3% were at the subtrochanteric region, 5% at the femoral shaft, 5% at the distal femur and 87% were at the proximal femur (i.e. hip). Importantly, this study classified fractures solely according to their location in the femur and did not evaluate the fracture patterns radiographically. Thus, they were not able to determine the incidence of 'typical' vs 'atypical' subtrochanteric fractures. In men and in women, the incidence rate of each type of fracture remained stable over 5 years but increased exponentially with age (Fig. 
1
). Each fracture type was more prevalent in women than in men. Seventy-five percent of all femur fracture cases were in women. The mean age at fracture was 80 years old, and those with a subtrochanteric fracture were of a similar age to those with a hip fracture.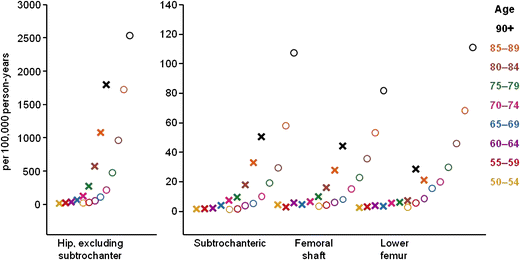 Leung et al. published a retrospective analysis that aimed to document the incidence of low-trauma subtrochanteric or femoral diaphyseal fractures in a Hong Kong hospital over a 5-year period [42]. In all, 88 cases of subtrochanteric fractures and 66 of diaphyseal fractures were identified, accounting for 3.9% and 2.9% of all recorded osteoporotic fractures, respectively.
Thus, although the incidence of subtrochanteric fractures is much lower than other femoral fractures, they are not rare and account for about 3% of all femoral fractures in the elderly. If these estimates were applied to the UK, then more than 2,000 subtrochanteric fractures are expected to occur each year [48], and approximately 48,000 are expected annually worldwide [49].
Subtrochanteric fractures and bisphosphonate exposure
Summary of evidence
The view that bisphosphonates increase the risk of subtrochanteric femoral fractures arises from the case reports and retrospective case reviews that have reported 'atypical' subtrochanteric and diaphyseal fractures in patients exposed to bisphosphonates. In all, these data highlight the scope of the problem, i.e. a trend that warrants further investigation. However, the data in their entirety are insufficient proof that long-term bisphosphonate use is the only cause of atypical low-trauma subtrochanteric fractures.
There are several limitations to the existing evidence base: lack of a consensus definition of an atypical subtrochanteric fracture, small numbers of patients involved, lack of radiographs which precludes characterization of the radiographic features of the fractures and incomplete reporting of subject characteristics. In addition, subtrochanteric fractures in general are not atypical fractures; rather, they are part of the natural history of fragility fractures in osteoporosis. They increase in frequency with age in much the same way as does the incidence of other osteoporotic fractures [95]. Although their incidence is much lower than other femoral fractures, they are not rare and account for approximately 3% of all femoral fractures [46]. Thus, the term 'atypical' is not synonymous with 'unexpected' which is the common interpretation. Rather, the term should be reserved for subtrochanteric fractures that have atypical features, of which some are similar to with those associated with stress.
Therein lies an additional problem in that it has been difficult to provide characteristics of the fracture that are associated with the use of bisphosphonates. Candidate features, which include the prodromal manifestation of incomplete (fissure) fractures, a thickened cortex and a transverse fracture pattern with cortical beaking may be associated with the use of bisphosphonates but, in the absence of blinded evaluation in all cases, may be subject to large observer biases. In addition, in many instances, cases have been complicated, for example, by concomitant exposure to glucocorticoids [25, 26, 27, 28, 31, 39, 50, 55, 58, 63, 65], which appears to be a risk factor for subtrochanteric fractures [46].
In terms of evidence-based medicine, the ultimate arbiter for a causal relationship between subtrochanteric fractures and exposure to bisphosphonates might be expected to derive from information from RCTs. All the information available fail to show an association of this fracture with exposure to bisphosphonates, although all RCTs were completed before attention was drawn to the problem, so the documentation of the sites of fracture and any associated features is inevitably incomplete. Furthermore, the frequency of the event is sufficiently low that even large RCTs are insufficiently powered to identify meaningful associations with drug exposure. Finally, the duration of exposure to bisphosphonates may be too short in the setting of RCTs if, as has been suggested, the complication were to increase in frequency with exposure time. Against this background, data from observational studies might be expected to contribute to our understanding, but such studies are fraught with biases and limitations for which it may be difficult to adjust.
Research agenda
The ultimate question for physicians is what type of patient is at the highest risk of an atypical low-trauma subtrochanteric fracture. Thus far, apart from long-term alendronate therapy, suggested risk factors include glucocorticoid, proton-pump inhibitor or calcitonin use and female gender [
26
,
46
,
67
]. Thus, a number of urgent issues and areas for research have been identified as follows:
1.

Standardized definition of 'subtrochanteric fracture', including a definition of 'atypical' and 'typical' fractures

 

2.

Provision of descriptive epidemiology based on large-scale studies with characterization of radiographic features

 

3.

Definition of fracture incidence by femoral location, mechanism of injury and underlying pathology

 

4.

Identification of risk factors, with greater clarity as to the precise risk factors in patients taking bisphosphonates

 

5.

Pathophysiological studies in relation to risk factors

 

6.

Pathophysiological studies at the tissue level, i.e. is the mechanism of atraumatic (insufficiency) fractures different to that of low-trauma fractures?

 

7.

Long-term, large, prospective, observational studies to assess incidence of subtrochanteric fractures in bisphosphonate-treated vs bisphosphonate-naïve patients. Methods should include (1) futility analysis and (2) radiographic measurements. Outcomes should include (1) adherence, (2) number needed to harm and (3) assessment of temporal relationship between bisphosphonate treatment and fracture type

 

8.

Long-term, large, prospective, observational studies allowing for systematic follow-up of patients with subtrochanteric fractures treated long-term with bisphosphonates, in order to assess fracture healing characteristics (e.g. time to healing, choice of fracture treatment device, adjuvant bone anabolic intervention etc.)

 

9.

Large, prospective, randomized, controlled clinical trials of the efficacy and safety of pharmacological treatment (e.g. strontium ranelate, teriparatide) for patients with subtrochanteric fractures

 
Conclusions and recommendations
A sense of proportion may be helpful in alleviating the concerns of the medical community. A plausible scenario is that long-term exposure to bisphosphonates (more than 5 years) increases the risk of subtrochanteric femoral fractures twofold. In the UK, using the guidance of the National Osteoporosis Guideline Group, the relative risk of hip fracture is expected to be approximately threefold increased in postmenopausal women identified for treatment [96]. Assuming that the average population risk of hip fracture is 1% per year in postmenopausal women, then 300 hip fractures are expected for every 10,000 patients identified to be at high risk. If these patients were treated and assuming an effectiveness of bisphosphonates of 36% (RR = 0.64) [97], then 108 hip fractures are averted by treatment (and approximately 750 fractures at other sites). On the debit side, three subtrochanteric fractures (both typical and atypical) are to be expected, which might increase to six if bisphosphonates doubled the risk of all subtrochanteric fractures. Under the assumptions of this scenario, the risk–benefit ratio remains very favourable.
Evidence, including that from an EMEA class review, suggests that alendronate use may potentially increase the risk for atypical, low-trauma subtrochanteric fractures, although it is unclear whether this applies to other bisphosphonates. Irrespective of exposure to bisphosphonates, the occurrence of subtrochanteric fractures is an expected finding in patients with osteoporosis. If atypical fractures do occur, then their characteristics are poorly defined, their causality with bisphosphonate exposure insecure and their frequency rare. Bisphosphonates as the cause of atypical fractures at the subtrochanteric site is therefore still merely a hypothesis, though no less important for that. Clearly more research is required from well-designed prospective observational studies, meta-analyses and nested case–control studies.
Thus, the available evidence does not suggest that the well-known benefits of bisphosphonate treatment are outweighed by the risk of these rare, atypical, low-trauma subtrochanteric fractures. Nevertheless, it is recommended that physicians remain vigilant in assessing their patients treated with bisphosphonates for osteoporosis or associated conditions. They should continue to follow the recommendations on the drug label when prescribing bisphosphonates and advise patients of the potential risks. Patients with pain in the hips, thighs or femur should be radiologically assessed and, where a stress fracture is evident, the physician should decide whether bisphosphonate therapy should be discontinued pending a full evaluation, based on an individual benefit–risk assessment. The radiographic changes should be evaluated for orthopaedic intervention—since surgery prior to fracture completion might be advantageous—or be closely monitored.
Notes
Acknowledgements
The Working Group meeting was supported by an unrestricted educational grant from the European Society for Clinical and Economic Aspects of Osteoporosis and Osteoarthritis. Editorial assistance for the manuscript was provided by Sola Neunie of BioScience Communications, supported by a financial grant from Novartis Pharmaceuticals.
Conflicts of interest
Rene Rizzoli has attended paid advisory boards and received consultancy and lecturing fees from Servier, Novartis, Eli Lilly, Amgen, Roche, Nycomed, Merck Sharp and Dohme and Danone. Kristina Åkesson has received lecturing fees from Medtronics, Novartis, Amgen, Merck and Nycomed. Mary Bouxsein has undertaken consultancy and lecturing commitments for Amgen and Merck & Co. John A. Kanis consults or has received research support from a large number of pharmaceutical companies involved in marketing products for treatment of osteoporosis. He is president of the International Osteoporosis Foundation and serves on its Committee of Scientific Advisors. Nicola Napoli has received grant support from Merck Sharpe and Dohme. Socrates Papapoulos has received consultancy and lecturing fees from Alliance for Better Bone Health, Amgen, Eli Lilly, GSK, Merck & Co, Novartis, Pfizer and Roche. Jean-Yves Reginster has received consulting fees and attended paid advisory boards for Servier, Novartis, Negma, Lilly, Wyeth, Amgen, GlaxoSmithKline, Roche, Merckle, Nycomed, NPS, Theramex and UCB. He has received invited lecture fees from Merck Sharp and Dohme, Lilly, Rottapharm, IBSA, Genevrier, Novartis, Servier, Roche, GlaxoSmithKline, Teijin, Teva, Ebewee Pharma, Zodiac, Analis, Theramex, Nycomed and Novo Nordisk. He has received grant support from Bristol Myers Squibb, Merck Sharp & Dohme, Rottapharm, Teva, Lilly, Novartis, Roche, GlaxoSmithKline, Amgen and Servier. Cyrus Cooper has undertaken consultancy and lecturing commitments for Alliance for Better Bone Health, Eli Lilly, Novartis, GSK Roche, Servier, MSD and Amgen.
Open Access
This article is distributed under the terms of the Creative Commons Attribution Noncommercial License which permits any noncommercial use, distribution, and reproduction in any medium, provided the original author(s) and source are credited.