Abstract
Detonation velocity as a function of charge diameter is reported for Alliant Bullseye powder. Results are compared to those of mixtures of ammonium nitrate mixed with aluminum and ammonium nitrate mixed with fuel oil. Additionally, measurements of free surface velocity of flyers in contact with detonating Bullseye are presented and results are compared to those of hydrocode calculations using a Jones–Wilkins–Lee equation of state generated in a thermochemical code. Comparison to the experimental results shows that both the free surface and terminal velocities were under-predicted.
This is a preview of subscription content, log in to check access.
Access options
Buy single article
Instant unlimited access to the full article PDF.
US$ 39.95
Price includes VAT for USA
Subscribe to journal
Immediate online access to all issues from 2019. Subscription will auto renew annually.
US$ 99
This is the net price. Taxes to be calculated in checkout.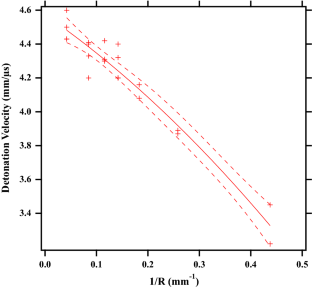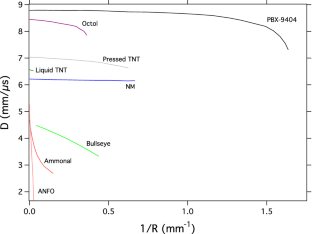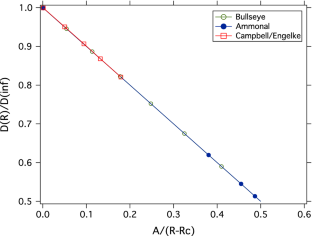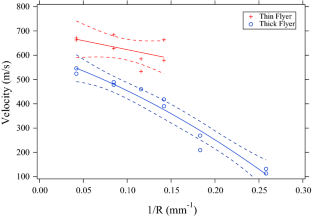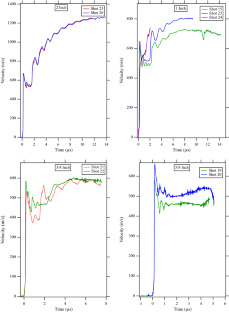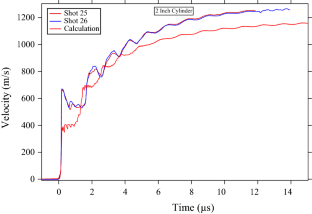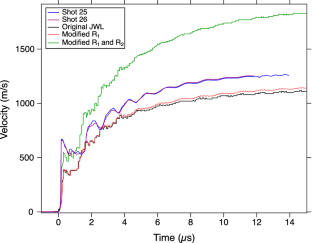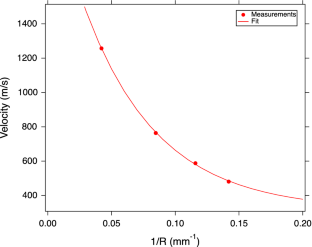 References
1.

Campbell, A.W., Engelke, R.: The diameter effect in high-density heterogeneous explosives. Sixth Symposium (International) on Detonation, Office of Naval Research (1976)

2.

Lorenz, K.T., Lee, E.L., Chambers, R.: A simple and rapid evaluation of explosive performance—the disc acceleration experiment. Propellants Explos. Pyrotech. 40, 95–108 (2015). https://doi.org/10.1002/prep.201400081

3.

Sandstrom, M.M., Brown, G.W., Preston, D.N., Pollard, C.J., Warner, K.F., Sorensen, D.N., Remmers, D.L., Phillips, J.J., Shelley, T.J., Reyes, J.A., Hsu, P.C., Reynolds, J.G.: Integrated Data Collection Analysis (IDCA) Program—Bullseye Smokeless Powder, Lawrence Livermore National Laboratory Report LLNL-TR-637818 (2013)

4.

Cooper, P.W.: Explosives Engineering. VCH (1996)

5.

Robbins, D.L., Anderson, E.K., Anderson, M.U., Jackson, S.I., Short, M.: Cylinder test characterization of an ammonium nitrate and aluminum powder explosive. Fifteenth Symposium (International) on Detonation, Office of Naval Research (2014)

6.

Catanach, R.A., Hill, L.G.: Diameter effect curve and detonation front curvature measurements for ANFO. AIP Conf. Proc. 620, 906–909 (2002). https://doi.org/10.1063/1.1483684

7.

Kury, J.W., Hornig, H.C., Lee, E.L., McDonnel, J.L., Ornellas, D.L., Finger, M., Strange, F.M., Wilkins, M.L.: Metal acceleration by chemical explosives. Fourth Symposium (International) on Detonation, Office of Naval Research (1965)
Acknowledgements
Sandia National Laboratories is a multi-mission laboratory managed and operated by National Technology and Engineering Solutions of Sandia, LLC, a wholly owned subsidiary of Honeywell International Inc., for the U.S. Department of Energy's National Nuclear Security Administration under Contract DE-NA0003525. This paper describes objective technical results and analysis. Any subjective views or opinions that might be expressed in the paper do not necessarily represent the views of the U.S. Department of Energy or the United States Government.
Additional information
Publisher's Note
Springer Nature remains neutral with regard to jurisdictional claims in published maps and institutional affiliations.
Communicated by A. Higgins.
About this article
Cite this article
Miner, T., Dalton, D., Romero, D. et al. The diameter effect in Bullseye powder. Shock Waves 30, 41–47 (2020). https://doi.org/10.1007/s00193-019-00917-z
Received:

Revised:

Accepted:

Published:

Issue Date:
Keywords
Bullseye

Diameter effect

JWL