Abstract
Introduction and hypothesis
To investigate the long-term feasibility, safety and effectiveness of intravesical chondroitin sulfate therapy in patients with one or more forms of chronic cystitis.
Methods
The study included 62 female patients with interstitial cystitis/painful bladder syndrome (IC/PBS) who received intravesical chondroitin sulfate (40 ml/80 mg) therapy between 2014 and 2018. A total of 15 doses of intravesical treatment were applied, once weekly in the first month and once monthly from the second month onward. A 3-day voiding diary, a visual analog scale (VAS), the O'Leary Sant Indexes (ICSI/ICPI), the Pelvic Pain and Urgency/Frequency Symptom (PPUFS) Scale and PPUF Bother scores were recorded and evaluated through prospective comparison before treatment and at the first month and first year. Patients were also assessed using the Global Response Assessment (GRA) at the end of the first month and first year to assess the effectiveness of responses to treatment.
Results
In the first month of treatment, 0.2% chondroitin sulfate was ineffective in 22.5% of patients, with mild improvement observed in 40.0% and moderate-good improvement in 37.0%. Evaluation at the end of the first year revealed mild improvement in 21.0% of patients and moderate-good improvement in 79.0%. Statistically significant improvements were observed in all scoring systems at 1 and 12 months compared with pre-treatment values (p < 0.001).
Conclusion
Long-term intravesical chondroitin sulfate therapy is a safe and highly successful therapeutic modality that produces significant improvement in patients' quality of life and symptoms in the treatment of IC/PBS.
This is a preview of subscription content, log in to check access.
Access options
Buy single article
Instant access to the full article PDF.
US$ 39.95
Price includes VAT for USA
Subscribe to journal
Immediate online access to all issues from 2019. Subscription will auto renew annually.
US$ 199
This is the net price. Taxes to be calculated in checkout.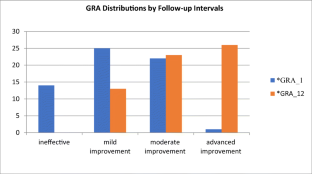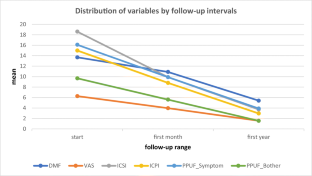 References
1.

Van de Merwe JP, Nordling J. Interstitial cystitis: definitions and confusable diseases. ESSIC meeting 2005. Baden. Eur Urol Today. 2006;18(6, 7):16–7.

2.

Abrams P, Cardozo L, Fall M, Griffiths D, Rosier P, Ulmsten U, et al. The standardisation of terminology of lower urinary tract function: report from the Standardisation Sub-committee of the International Continence Society. Neurourol Urodyn 2002;21(2):167–178.

3.

Davis NF, Brady CM, Creagh T. Interstitial cystitis/painful bladder syndrome: epidemiology, pathophysiology and evidence-based treatment options. Eur J Obstet Gynecol Reprod Biol. 2014 Apr;175:30–7.

4.

Rovner E, Propert KJ, Brensinger C, Wein AJ, Foy M, Kirkemo A, et al. Nyberg LM. Treatments used in women with interstitial cystitis: the interstitial cystitis data base (ICDB) study experience. The Interstitial Cystitis Data Base Study Group. Urology. 2000 Dec 20;56(6):940–5.

5.

Michael YL, Kawachi I, Stampfer MJ, Colditz GA, Curhan GC. Quality of life among women with interstitial cystitis. J Urol. 2000 Aug;164(2):423–7.

6.

Hanno P, Lin A, Nordling J, Nyberg L, van Ophoven A, Ueda T, et al. Bladder Pain Syndrome Committee of the International Consultation on Incontinence. Neurourol Urodyn. 2010;29(1):191–8.

7.

Poggi MM, Johnstone PA, Conner RJ. Glycosaminoglycan content of human bladders. A method of analysis using cold-cup biopsies. Urol Oncol. 2000 Sep 1;5(5):234–7.

8.

Nickel JC, Cornish J. Ultrastructural study of an antibody-stabilized bladder surface: a new perspective on the elusive glycosaminoglycan layer. World J Urol. 1994;12(1):11–4.

9.

Hurst RE, Roy JB, Parsons CL. The role of glycosaminoglycans in normal bladder physiology and the pathophysiology of interstitial cystitis. In: Sant GR, editor. Interstitial Cystitis. Philadelphia (PA): Lippincott-Raven; 1997. p. 93–100.

10.

Sorensen RB. Chondroitin sulphate in the treatment of interstitial cystitis and chronic inflammatory disease of the urinary bladder. European Urology Supplements. 2003;2(4):16–8.

11.

Porru D, Campus G, Tudino D, Valdes E, Vespa A, Scarpa RM, et al. Results of treatment of refractory interstitial cystitis with intravesical hyaluronic acid. Urol Int. 1997;59(1):26–9.

12.

Bade JJ, Laseur M, Nieuwenburg A, van der Weele LT, Mensink HJ. A placebo-controlled study of intravesical pentosanpolysulphate for the treatment of interstitial cystitis. Br J Urol. 1997 Feb;79(2):168–71.

13.

Parsons CL, Koziol JA, Proctor JG, Zupkas P, Argade S. Heparin and alkalinized lidocaine versus alkalinized lidocaine for treatment of interstitial cystitis symptoms. Can J Urol. 2015 Apr;22(2):7739–44.

14.

Gillenwater JY, Wein AJ. Summary of the National Institute of Arthritis, Diabetes, Digestive and Kidney Diseases Workshop on Interstitial Cystitis, National Institutesof Health, Bethesda, Maryland, August 28-29, 1987. J Urol. 1988;140(1):203–6.

15.

Hanno P, Baranowski A, Fall M, Gajewskı J, Nordlıng J, Nyberg L, et al. Painful bladder syndrome (including interstitial cystitis). In: Abrams PH, Wein AJ, Cardozo L, editors. Incontinence. 3rd ed. Paris: Health Publications Limited; 2005. p. 1456–520.

16.

Parsons CL, Boychuk D, Jones S, Hurst R, Callahan H. Bladder surface glycosaminoglycans: an epithelial permeability barrier. J Urol. 1990 Jan;143(1):139–42.

17.

Leiby BE, Landis JR, Propert KJ, Tomaszewski JE. Interstitial Cystitis Data Base Study Group. Discovery of morphological subgroups that correlate with severity of symptoms in interstitial cystitis: a proposed biopsy classification system. J Urol. 2007 Jan;177(1):142–8.

18.

Akbay E, Çayan S, Kılınç C, Bozlu M, Tek M, Efesoy O. The short-term efficacy of intravesical instillation of hyaluronic acid treatment for bladder pain syndrome/interstitial cystitis. Turk J Urol. 2018 Dec 20;45(2):129–34.

19.

Wyndaele JJJ, Riedl C, Taneja R, Lovász S, Ueda T, Cervigni M. GAG replenishment therapy for bladder pain syndrome/interstitial cystitis. Neurourol Urodyn. 2019 Feb;38(2):535–44.

20.

Vázquez JA, Rodríguez-Amado I, Montemayor MI, Fraguas J, González Mdel P, Murado MA. Chondroitin sulfate, hyaluronic acid and chitin/chitosan production using marine waste sources: characteristics, applications and eco-friendly processes: a review. Mar Drugs. 2013 Mar 11;11(3):747–74.

21.

Bladder Pain Syndrome/Interstitial cystitis: Aspects on out come after intravesical and surgical treatment Josefine Rössberger2010. Department of Urology Institute of Clinical Sciences The Sahlgrenska Academy, University of Gothenburg Göteborg, Sweden ISBN: 978-91-628-8177-1 Printed by Chalmers Reproservice, Gothenburg, Sweden © Josefine Rössberger, 2010-s22.

22.

Kushner L, Moldwin RM. Efficiency of questionnaires used to screen for interstitial cystitis. J Urol. 2006 Aug;176(2):587–92.

23.

Propert KJ, Mayer RD, Wang Y, Sant GR, Hanno PM, Peters KM, et al. Interstitial Cystitis Clinical Trials Group. Responsiveness of symptom scales for interstitial cystitis. Urology. 2006 Jan;67(1):55–9.

24.

Kallestrup EB, Jorgensen SS, Nordling J, Hald T. Treatment of interstitial cystitis with Cystistat: a hyaluronic acid product. Scand J Urol Nephrol. 2005;39(2):143–7.

25.

Burak Arslan B, Gönültaş S, Gökmen E, Özman O, Avci MA, Özdemir E. Outcomes of intravesical chondroitin-sulfate and combined hyaluronic-acid/chondroitin-sulfate therapy on female sexual function in bladder pain syndrome. Int Urogynecol J. 2019 Nov;30(11):1857–62.

26.

Gülpınar Ö, Esen B, Kayış A, Gökçe Mİ, Süer E. Clinical comparison of intravesical hyaluronic acid and chondroitin sulfate therapies in the treatment of bladder pain syndrome/interstitial cystitis. Neurourol Urodyn. 2018 Jan;37(1):257–62.

27.

Thakkinstian A, Nickel JC. Efficacy of intravesical chondroitin sulphate in treatment of interstitial cystitis/bladder pain syndrome (IC/BPS): Individual patient data (IPD) meta-analytical approach. Can Urol Assoc J. 2013 May-Jun;7(5-6):195–200.

28.

Hazewinkel MH, Stalpers LJ, Dijkgraaf MG, Roovers JP. Prophylactic vesical instillations with 0.2% chondroitin sulfate may reduce symptoms of acute radiation cystitis in patients undergoing radiotherapy for gynecological malignancies. Int Urogynecol J. 2011 Jun;22(6):725–30.
Ethics declarations
Conflict of interest
The authors declare they have no conflicts of interest. There was no funding for this study.
Research involving human participants and/or animals
This article does not contain any studies with animals performed by any of the authors.
Ethical approval
All procedures performed in studies involving human participants were in accordance with the ethical standards of the institutional and/or national research committee and with the 1964 Helsinki Declaration and its later amendments or comparable ethical standards. The study protocol (2018/18-171) was approved by the ethics committee of the Health Sciences University Erzurum Regional Education and Research Hospital.
Informed consent
Informed consent was obtained from all individual participants included in the study.
Additional information
Publisher's note
Springer Nature remains neutral with regard to jurisdictional claims in published maps and institutional affiliations.
About this article
Cite this article
Kocatürk, H., Atasoy, N., Bedir, F. et al. Questionnaire-guided evaluation of the effectiveness of long-term intravesical 0.2% chondroitin sulfate therapy in interstitial cystitis. Int Urogynecol J (2020). https://doi.org/10.1007/s00192-020-04245-0
Received:

Accepted:

Published:
Keywords
Interstitial cystitis

Painful bladder syndrome

Intravesical chondroitin sulfate

Questionnaires