Abstract
Introduction and hypothesis
The aim of this study was to compare pelvic floor muscle strength (PFMS) and the prevalence of urinary incontinence (UI) and pelvic organ prolapse(POP) in women with and without diastasis recti abdominis (DRA) at 6–8 weeks postpartum.
Methods
Three hundred and ten women underwent routine examinations, including POP quantification (POP-Q), PFMS measurement, DRA evaluation, and UI determination. Chi-squared tests and independent sample t test were used to compare the differences between women with DRA and without DRA.
Results
Women with DRA presented significantly lower prepregnancy body mass index (BMI), predelivery BMI, and postpartum BMI; greater gestational age; and higher birth weights than women without DRA(p < 0.05). Moreover, DRA incidence was significantly higher in those who underwent cesarean section (CS) than in those who underwent vaginal delivery (VD)(p = 0.045). Although the PFMS of the DRA group was weaker and the prevalence of UI and POP was slightly higher than those of the no DRA group, the results were not statistically significant. The PFMS of the CS group was stronger than that of the VD group. Urinary incontinence and prolapse incidence were higher in the VD group than in the CS group. Women who underwent CS had a shorter genital hiatus (Gh) and smaller Ba and Bp values than those in the VD group. Women without DRA had an increased chance of Bp ≥ −2 and Gh ≥ 3(p < 0.05).
Conclusions
Women with DRA were not more likely to have weakened PFMS and increased UI or POP at 6–8 weeks postpartum.
This is a preview of subscription content, log in to check access.
Access options
Buy single article
Instant access to the full article PDF.
US$ 39.95
Price includes VAT for USA
Subscribe to journal
Immediate online access to all issues from 2019. Subscription will auto renew annually.
US$ 199
This is the net price. Taxes to be calculated in checkout.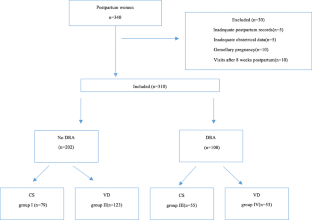 References
1.

Haylen BT, de Ridder D, Freeman RM, et al. An International Urogynecological Association (IUGA)/International Continence Society (ICS) joint report on the terminology for female pelvic floor dysfunction. Neurourol Urodyn. 2010;29(1):4–20.

2.

Vergeldt TF, Weemhoff M, Inthout J, et al. Risk factors for pelvic organ prolapse and its recurrence: a systematic review. Int Urogynecol J. 2015;26(11):1559–73.

3.

Diez-Itza I, Arrue M, Ibañez L, et al. Postpartum impairment of pelvic floor muscle function: factors involved and association with prolapse. Int Urogynecol J. 2011;22(12):1505–11.

4.

Wu JM, Kawasaki A, Hundley AF, et al. Predicting the number of women who will undergo incontinence and prolapse surgery, 2010 to 2050. Am J Obstet Gynecol. 2011;205(3):230–1.

5.

Cerruto MA, D'Elia C, Aloisi A, et al. Prevalence, incidence and obstetric factors' impact on female urinary incontinence in Europe: a systematic review. Urol Int. 2013;90(1):1–9.

6.

Sangsawang B. Risk factors for the development of stress urinary incontinence during pregnancy in primigravidae: a review of the literature. Eur J Obstet Gynecol Reprod Biol. 2014;178:27–34.

7.

Boissonnault JS, Blaschak MJ. Incidence of diastasis recti abdominis during the childbearing year. Phys Ther. 1988;68(7):1082–6.

8.

Wade M. Diastasis recti and low back pain. Orthop Phys Ther Pract. 2005;17(3):20–2.

9.

Spitznagle TM, Leong FC, Van Dillen LR. Prevalence of diastasis recti abdominis in a urogynecological patient population. Int Urogynecol J. 2007;18:321–8.

10.

Bø K, Hilde G, Tennfjord MK, et al. Pelvic floor muscle function, pelvic floor dysfunction and diastasis recti abdominis: prospective cohort study. Neurourol Urodyn. 2017;36(3):716–21.

11.

Mota P, Pascoal AG, Carita AI, et al. Prevalence and risk factors of diastasis recti abdominis from late pregnancy to 6 months postpartum, and relationship with lumbo-pelvic pain. Man Ther. 2015;20:200–5.

12.

Gluppe SL, Hilde G, Tennfjord MK, Engh ME, Bø K. Effect of a postpartum training program on the prevalence of diastasis recti abdominis in postpartum primiparous women: a randomized controlled trial. Phys Ther. 2018;98(4):260–8.

13.

Parker MA, Millar AL, Dugan SA. Diastasis recti abdominis and lumbo-pelvic pain and dysfunction—are they related? J Womens Health Phys Ther. 2009;33:15–22.

14.

Sperstad JB, Tennfjord MK, Hilde G, et al. Diastasis recti abdominis during pregnancy and 12 months after childbirth: prevalence, risk factors and report of lumbopelvic pain. Br J Sports Med. 2016;50(17):1092–6.

15.

Sapsford RR, Hodges PW, Richardson CA, et al. Co-activation of the abdominal and pelvic floor muscles during voluntary exercises. Neurourol Urodyn. 2001;20:31–42.

16.

Critchley D. Instructing pelvic floor contraction facilitates transversus abdominis thickness increase during low-abdominal hollowing. Physiother Res Int. 2002;7(2):65–75.

17.

Benjamin DR, Frawley HC, Shields N, van de Water ATM, Taylor NF. Relationship between diastasis of the rectus abdominis muscle (DRAM) and musculoskeletal dysfunctions, pain and quality of life: a systematic review. Physiotherapy. 2019;105(1):24–34.

18.

Van de Water ATM, Benjamin DR. Measurement methods to assess diastasis of the recti abdominis muscle (DRAM): a systematic review of their measurement properties and meta-analytic reliability generalisation. Man Ther. 2016;21:41–53.

19.

Candido G, Lo T, Janssen PA. Risk factors for diastasis of the recti abdominis. J Assoc Chart Physiother Womens Health. 2005;97:49–54.

20.

Lo T, Candido G, Janssen P. Diastasis of the recti abdominis in pregnancy: risk factors and treatment. Physiother Can. 1999;51:32.

21.

Mota P, Pascoal AG, Sanchos F, et al. Reliability of the inter recti distance measurement by palpation. Comparison of palpation and ultrasound measurement. Manual Ther. 2013;18:294–8.
Acknowledgements
We thank Professor Wang Haibo of Peking University Clinical Research Institute for his valuable advice on statistical analysis. The study was funded by the National Key R&D Program of China (2018YFC2002200) and Major Scientific and Technological Project of Beijing Science and Technology Committee(D151100001915003).
Ethics declarations
Conflicts of interest
None.
Additional information
Publisher's note
Springer Nature remains neutral with regard to jurisdictional claims in published maps and institutional affiliations.
About this article
Cite this article
Wang, Q., Yu, X., Chen, G. et al. Does diastasis recti abdominis weaken pelvic floor function? A cross-sectional study. Int Urogynecol J 31, 277–283 (2020). https://doi.org/10.1007/s00192-019-04005-9
Received:

Accepted:

Published:

Issue Date:
Keywords
Diastasis recti abdominis

Pelvic floor muscle strength

Pelvic organ prolapse

Postpartum

Urinary incontinence