Abstract
Introduction and Hypothesis
The objective of this video is to describe the technique for laparoscopic implantation of electrodes for bilateral neuromodulation of S3 and pudendal nerves. We report a successful case of a 48-year-old woman with spina bifida occulta referred with a 14-year history of intense acyclic pelvic pain, urinary hesitancy, and intermittent flow refractory to various conservative measures.
Methods
The procedure began with the removal of two previously placed InterStims. A quadripolar electrode was then laparoscopically inserted into Alcock's canal and attached to the pelvic pectineal line. Another lead was placed juxtaneurally to S3. Lead contacts were then exteriorized, and the peritoneum closed. The same procedure was then performed on the contralateral side. The leads were connected to a 16-pole rechargeable pulse generator. Postoperatively, the patient developed an acute dissection and partial thrombosis of the external iliac artery, which was treated endovascularly.
Results
Complete pain resolution was observed with simultaneous S3 and pudendal stimulation, with pudendal stimulation turned off for voiding.
Conclusions
We conclude that laparoscopic implantation of neuromodulation electrodes allows simultaneous stimulation of S3 and pudendal nerves, providing more programming options and possibly increasing success rates in complex pelvic floor dysfunction cases.
This is a preview of subscription content, log in to check access.
Access options
Buy single article
Instant unlimited access to the full article PDF.
US$ 39.95
Price includes VAT for USA
Subscribe to journal
Immediate online access to all issues from 2019. Subscription will auto renew annually.
US$ 199
This is the net price. Taxes to be calculated in checkout.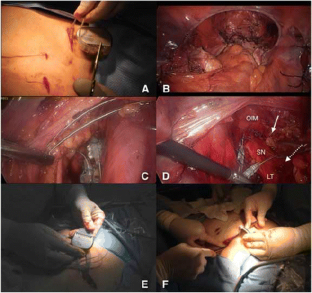 References
1.

Possover M, Baekelandt J, Chiantera V. The laparoscopic approach to control intractable pelvic neuralgia: from laparoscopic pelvic neurosurgery to the LION procedure. Clin J Pain. 2007;23(9):821–5.

2.

Peters KM, Killinger KA, Boguslawski BM, Boura JA. Chronic pudendal neuromodulation: expanding available treatment options for refractory urologic symptoms. Neurourol Urodyn. 2010;29(7):1267–71.

3.

Haylen BT, de Ridder D, Freeman RM, et al. An international Urogynecologic association (IUGA)/ international continence society (ICS) joint report on the terminology for female pelvic floor dysfunction. Int Urogynecol J. 2010;21:5–26.

4.

Latthe P, Latthe M, Say L, Gulmezoglu M, Khan KS. WHO systematic review of prevalence of chronic pelvic pain: a neglected reproductive health morbidity. BMC Public Health. 2006;6:177.

5.

Mathias SD, Kuppermann M, Liberman RF, Lipschutz RC, Steege JF. Chronic pelvic pain: prevalence, health-related quality of life, and economic correlates. Obstet Gynecol. 1996;87(3):321–7.

6.

Siegel S, Paszkiewicz E, Kirkpatrick C, Hinkel B, Oleson K. Sacral nerve stimulation in patients with intractable pelvic pain. J Urol. 2001;166:1742–5.

7.

Siegel SW, Catanzaro F, Dijkema HE, Elhilali MM, Fowler CJ, Gajewski JB, et al. Long-term results of a multicenter study on sacral nerve stimulation for treatment of urinary urge incontinence, urgency-frequency, and retention. Urology. 2000;4:87–91.

8.

Brookoff DM, Bennett DS. Neuromodulation in intractable interstitial cystitis and related pelvic pain syndromes. Pain Med. 2006;7(S1):S166–84.

9.

Ramsey LB, Wright J, Fischer JR. Sacral neuromodulation in the treatment of vulvar vestibulitis syndrome. Obstet Gynecol. 2009;114:487–9.

10.

Possover M. A new technique of laparoscopic implantation of stimulation electrode to the pudendal nerve for treatment of refractory fecal incontinence and/or overactive bladder with urinary incontinence. J Minim Invasive Gynecol. 2014;21(5):729.

11.

Lemos N, D'Amico N, Marques R, Kamergorodsky G, Schor E, Girão MJ. Recognition and treatment of endometriosis involving the sacral nerve roots. Int Urogynecol J. 2016;27(1):147–50.

12.

Lemos N, Marques RM, Kamergorodsky G, Ploger C, Schor E, Girão MJ. Vascular entrapment of the sciatic plexus causing catamenial sciatica and urinary symptoms. Int Urogynecol J. 2016;27(2):317–9.

13.

Possover M, Forman A. Pelvic neuralgias by neuro-vascular entrapment: anatomical findings in a series of 97 consecutive patients treated by laparoscopic nerve decompression. Pain Physician. 2015;18(6):E1139–43.

14.

Possover M. Laparoscopic management of endopelvic etiologies of pudendal pain in 134 consecutive patients. J Urol. 2009;181(4):1732–6.

15.

Possover M. Recovery of sensory and supraspinal control of leg movement in people with chronic paraplegia: a case series. Arch Phys Med Rehabil. 2014;95(4):610–4.

16.

Possover M. The LION procedure to the pelvic nerves for recovery of locomotion in 18 spinal cord injured peoples - a case series. Surg Technol Int. 2016;XXIX:19–25.

17.

Lemos N, Bichuetti DB, Marques RM, Conde MS, Oliveira AS, Girão MJ. Laparoscopic implantation of neuromodulators for treating urinary dysfunctions and improving locomotion in multiple sclerosis patients. Int Urogynecol J. 2015;26(12):1871–3.
Acknowledgements
The original version of this video was awarded the prize for best video in pelvic pain during the 2015 AAGL Global Congress (15–19 November 2015, Las Vegas, NV, USA) and submitted to the IUJ for publication. The current version is improved with suggestions of IUJ reviewers. The patient signed an informed consent before each procedure performed and authorized the use of all images and data for scientific purposes. The consent form was revised and approved by the Committee for Ethics in Human Research of the Federal University of São Paulo.
Ethics declarations
Disclosures
Nucelio Lemos received research grants from Medtronic Inc. and Laborie Inc. and proctorship grants from Medtronic Inc. and Johnson & Johnson. None of these grants are directly related to the current publication. None of the coauthors have anything to disclose.
Additional information
Consent
Written informed consent was obtained from the patient for publication of this video article and any accompanying images.
Electronic supplementary material
About this article
Cite this article
Li, A.L.K., Marques, R., Oliveira, A. et al. Laparoscopic implantation of electrodes for bilateral neuromodulation of the pudendal nerves and S3 nerve roots for treating pelvic pain and voiding dysfunction. Int Urogynecol J 29, 1061–1064 (2018). https://doi.org/10.1007/s00192-017-3411-7
Received:

Accepted:

Published:

Issue Date:
Keywords
Chronic pelvic pain

Neuromodulation

Pudendal

LION procedure

Laparoscopy