Abstract
Introduction and hypothesis
This video's proposal was to present one of the pelvic floor muscle (PFM) training programs used in our research, and to study the effects of abdominopelvic kinesiotherapy on female PFM function.
Methods
A total of 82 women participated in this study, 11 nulliparous, 13 primiparous pregnant, 20 primiparous postpartum and 38 postmenopausal women, who were evaluated first by digital palpation, then by either electromyography or vaginal dynamometry to investigate their PFM strength, followed by ICIQ UI-SF and ICIQ-OAB to evaluate urinary symptoms. This intervention protocol lasted for 60 min, three times a week, with a total of 10 sessions, and was supervised by a physiotherapist, using a gym ball, according to Marques and collaborators.
Results
A significant increase in PFM strength was observed by digital palpation in all groups. This finding was confirmed by electromyography in both pregnant (p = 0.0001) and postpartum (p = 0.0001) groups, as well as in 20 of the 38 women from the postmenopausal group (p = 0.003) then by vaginal dynamometry (p = 0.02) in the rest of the women (18) from the same group, with a concomitant decrease in urinary symptoms (p < 0.05).
Conclusion
The abdominopelvic kinesiotherapy program promotes an increase in pelvic floor muscle strength and a decrease in urinary symptoms.
This is a preview of subscription content, log in to check access.
Access options
Buy single article
Instant unlimited access to the full article PDF.
US$ 39.95
Price includes VAT for USA
Subscribe to journal
Immediate online access to all issues from 2019. Subscription will auto renew annually.
US$ 199
This is the net price. Taxes to be calculated in checkout.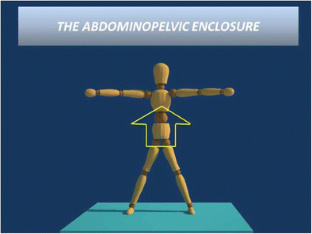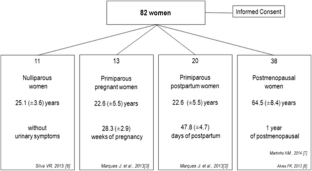 References
1.

Stupp L, Resende APM, Petricelli CD, Nakamura MU, Alexandre SM, Zanetti MRD (2011) Pelvic floor muscle and transversus abdominis activation in abdominal hypopressive technique through surface electromyography. Neurourol Urodyn 30:1518–1521

2.

Kamel DM, Thabet AA, Tantaw SA, Radwa MM (2013) Effect of abdominal versus pelvic floor muscle exercises in obese Egyptian women with mild stress urinary incontinence: a randomised controlled trial. Hong Kong Physiother J 31:12–18

3.

Marques J, Botelho S, Pereira LC, Lanza AH, Amorim CF, Palma P, Riccetto C (2013) Pelvic floor muscles training program increases muscular contractility during first pregnancy and postpartum: electromyographic study. Neurourol Urodyn 32(7):998–1003

4.

Junginger B, Baessler K, Sapsford R, Hodges PW (2010) Effect of abdominal and pelvic floor tasks on muscle activity, abdominal pressure and bladder neck. Int Urogynecol J 21(1):69–77

5.

Pereira LC, Botelho S, Marques J, Amorim CF, Lanza AH, Palma P, Riccetto C (2013) Are transversus abdominis/oblique internal and pelvic floor muscles coactivated during pregnancy and postpartum? Neurourol Urodyn 32(5):416–419

6.

Silva VR (2015) Comportamento dos músculos do assoalho pélvico e transverso do abdômen/oblíquo interno frente a dois programas de treinamento abdominopélvico em mulheres jovens nulíparas, continentes. Estudo controlado, randomizado. Master's thesis, Universidade Estadual de Campinas

7.

Martinho NM (2014) O treinamento por meio de reabilitação virtual melhora a funcionalidade dos músculos do assoalho pélvico de mulheres na pós-menopausa? Master's thesis, Universidade Federal de Alfenas

8.

Alves FK (2013) O efeito de um programa em grupo de treinamento dos músculos do assoalho pélvico para mulheres na pós-menopausa. Master's thesis, Universidade Estadual de Campinas

9.

Laycock J, Jerwood D (2001) Pelvic floor muscle assessment: the perfect scheme. Physiotherapy 87(12):631–642

10.

Botelho S, Pereira LC, Marques J, Lanza AH, Amorim CF, Palma P, Riccetto C (2013) Is there correlation between electromyography and digital palpation as means of measuring pelvic floor muscle contractility in nulliparous, pregnant, and postpartum women? Neurourol Urodyn 32(5):420–423

11.

Martinho NM, Silva JM, Silva VR, Silva SL, Carvalho LC, Botelho S (2014) Intra and inter-rater reliability study of pelvic floor muscle dynamometric measurements. Braz J Phys Ther http://www.ics.org/Abstracts/Publish/218/000671.pdf

12.

Tamanini JTN, Dambros M, D'Ancona CL, Palma P, Rodrigues Netto NJ (2004) Validação para o português do "International Consultation on Incontinence Questionnaire—Short Form" (ICIQ-SF). Rev Saude Publica 38:438–444

13.

Pereira SB, Thiel RRC, Riccetto C, Silva JM, Pereira LC, Hermann V et al (2010) Validação do International Consultation on Incontinence Questionnaire Overactive Bladder (ICIQ-OAB) para a língua portuguesa. RBGO 32:273–278
Acknowledgements
To CAPES (Coordenação de Aperfeiçoamento de Pessoal de Nível Superior); FAPEMIG (Fundação de Amparo à Pesquisa do Estado de Minas Gerais)—(APQ- 02794–11); UNIFAL/MG (Universidade Federal de Alfenas) for granting both the PIB Pós scholarship and CEAD (Centro de Educaçao a Distancia).
Conflicts of interest
None.
Additional information
Consent
Written informed consent was obtained from the patient for publication of this video article and any accompanying images
Study was conducted by the UroFisioterapia Laboratory of the Course of Physiotherapy (Nursing School) of the Federal University of Alfenas (UNIFAL/MG), Alfenas, Minas Gerais, Brazil
Electronic supplementary material
Below is the link to the electronic supplementary material.
The proposal of this video was to present one of the pelvic floor muscle (PFM) training programs used in our research, study the effects of abdominopelvic kinesiotherapy on female PFM function. (MP4 25207 kb)
The proposal of this video was to present one of the pelvic floor muscle (PFM) training programs used in our research, study the effects of abdominopelvic kinesiotherapy on female PFM function. (MP4 25207 kb)
About this article
Cite this article
Botelho, S., Martinho, N.M., Silva, V.R. et al. Abdominopelvic kinesiotherapy for pelvic floor muscle training: a tested proposal in different groups. Int Urogynecol J 26, 1867–1869 (2015). https://doi.org/10.1007/s00192-015-2699-4
Received:

Accepted:

Published:

Issue Date:
Keywords
Pelvic floor

Electromyography

Muscle strength dynamometer

Digital palpation

ICIQ UI-SF

ICIQ-OAB