Abstract
Introduction and hypothesis
As sacral colpopexy (SC) is increasingly utilised in the surgical management of apical prolapse, we will undoubtedly be asked to manage recurrent prolapse after SC. We present a four-step technique of performing a repeated laparoscopic sacral colpopexy (LSC) for the surgical management of recurrent upper vaginal prolapse after SC surgery.
Methods
Between July 2012 and July 2013 women presenting with symptomatic post-SC vault prolapse were prospectively evaluated. Peri-operative morbidity and short-term complications were recorded. Surgical outcomes were objectively assessed utilising the Pelvic Organ Prolapse Quantification (POP-Q) system, the Australian Pelvic Floor Questionnaire (APFQ) and the Patient Global Impression of Improvement (PGI-I).
Results
Five women underwent LSC. Extensive adhesiolysis was required in three patients and the dissection was characterised by marked fibrosis. The mesh remained attached to the sacrum and had limited contact with the anterior vagina and vault in all cases. At a mean follow-up of 8.5 months all women had resolution of the awareness of prolapse, less than stage 2 prolapse on examination and high levels of satisfaction on PGI-I.
Conclusions
While the repeat LSC is feasible, safe and effective, adhesions and marked fibrosis make this a challenging intervention. Further evaluation is required.
This is a preview of subscription content, log in to check access.
Access options
Buy single article
Instant unlimited access to the full article PDF.
US$ 39.95
Price includes VAT for USA
Subscribe to journal
Immediate online access to all issues from 2019. Subscription will auto renew annually.
US$ 199
This is the net price. Taxes to be calculated in checkout.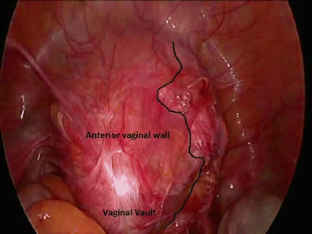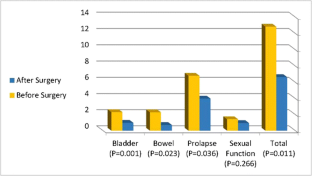 References
1.

Maher C, Feiner B, Baessler K, Schmid C (2013) Surgical management of pelvic organ prolapse in women. Cochrane Database Syst Rev 4:CD004014

2.

Barber MD, Maher C (2013) Epidemiology and outcome assessment of pelvic organ prolapse. Int Urogynecol J 24:1783–1790

3.

Bracken JN, Tran DH, Kuehl TJ, Larsen W, Yandell PM, Shull BL (2012) A novel transvaginal approach to correct recurrent apical prolapse after failed sacral colpopexy: case series. Int Urogynecol J 23:1429–1433

4.

Baessler K, O'Neill SM, Maher CF, Battistutta D (2010) A validated self-administered female pelvic floor questionnaire. Int Urogynecol J 21:163–172
Consent
Written informed consent was obtained from the patient for publication of this video article and any accompanying images.
Financial disclaimer/conflict of interest
None.
Authors' contributions
N. Haya: project development, data collection, manuscript writing; M. Maher: manuscript editing, video and audio editing; E. Ballard: management data analysis, manuscript editing.
Electronic supplementary material
Below is the link to the electronic supplementary material.
About this article
Cite this article
Haya, N., Maher, M. & Ballard, E. Surgical management of recurrent upper vaginal prolapse following sacral colpopexy. Int Urogynecol J 26, 1243–1245 (2015) doi:10.1007/s00192-015-2633-9
Received:

Accepted:

Published:

Issue Date:
Keywords
Laparoscopic sacral colpopexy

Apical prolapse

Mesh